Lexus ES vs Lexus GS: Two very different cars
Lexus brings out front-wheel and rear-wheel hybrid models in its 300 range
What's in a name? Not a lot if these Lexus ES and GS models are anything to go by. They share the "300h" model designation (2.5-litre four-cylinder Atkinson cycle petrol engine, battery-electric hybrid system) and are the same size, with only 50mm difference in overall length. Yet they couldn't be more different in concept and execution.
This is not a comparison test. How could it be? Both are the flagships of their respective 300h ranges, yet the ES300h Limited pictured here costs $94,995, while the GS300h F Sport next to it is $118,500. The former is front-drive, the latter rear-drive. They appeal to completely different people.
But these two models do have the same basic powertrain and present themselves in the same executive-car segment. Together, they're a fascinating study of how two dramatically different models can spring from the same carmaker.
Toyota/Lexus likes to define these two model ranges as being tailored towards different buyer profiles: comfort (ES) and sports (GS). Ostensibly, that's true. Although the reality is that they are different products that have evolved along separate lines, rather than being deliberately engineered as counterpoints to each other.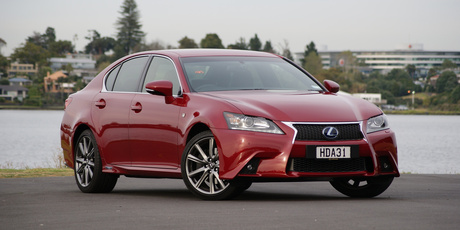 Lexus GS hybrid. Photo / David Linklater
The GS is based upon a rear-drive platform that's unique to Lexus, a key player in a triumvirate of models that includes the smaller IS and larger LS. The ES is front-drive and is based on a platform shared with parent company Toyota: for this model the American-market Avalon, although past generations have been closely related to Camry.
So it's easy to argue that the GS is the pure Lexus, while the ES is something of a pretender. But you have to give the ES its due: it's the second-longest running Lexus of the entire range, behind the LS. The first ES was launched in the United States back in 1989. Despite skipping a generation in New Zealand (the fifth-gen model was not produced in right-hand drive) it's been in production continuously since then.
The GS (now in its fourth generation) was launched in 1991. It has always been regarded as a car with sporty handling - such is its mission in life, to compete with the likes of the Audi A6 and BMW 5-series. Where it has often fallen short is coherence within the Lexus lineup. Past generations of GS have been highly distinctive, which is a good thing, but they've also looked completely different from other Lexus models inside and out - which is a bad thing for a relatively young luxury-car brand trying to build credibility and a loyal customer base.
The same has been true of other Lexus models in the past: each seemed to have their own styling ethos but none looked like they belonged to the same company. That was partly because some models - including ES and GS - were sold in Japan as Toyotas, before the Lexus brand was introduced there in 2005.
That's all changed now and Lexus has made a mighty effort to establish a strong (some might say over-the-top) corporate styling template of its own. Different as the ES and GS are in terms of chassis engineering and dynamic character, they clearly now belong to the same family.
For machines powered by essentially the same hybrid powerplant, they are astonishingly different to drive. As with any Toyota/Lexus petrol-electric vehicle, both are smooth, impressively resilient on electric-only power in slow-moving traffic and able to switch seamlessly between modes as you drive.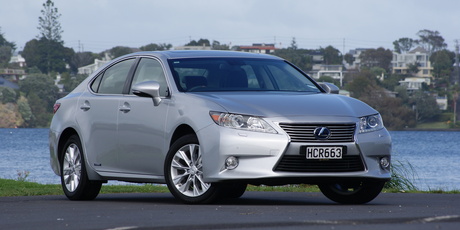 Lexus ES hybrid. Photo / David Linklater
The ES is not a driver's car by any means: it's front-drive, the suspension is soft and body control poor when you throw it around. That's not a major issue because it really does feel quite luxurious, with superb refinement and a supple (if sometimes overly soft) ride. There is absolutely no compulsion to hurry in this car, which is why the 300h is a much more appealing ES-model than the 3.5-litre V6-powered ES350.
The GS is all about hurrying, especially in F Sport specification (you can also buy a more sedate Limited model). It looks and feels aggressive, with the handling demeanour that you only get from a rear-drive car - not to mention variable-ratio steering, active rear-steer on the back axle, adaptive suspension and a special Sport+ driving mode for the powertrain and all of the above.
The GS is pretty agile, which is why the 300h powertrain doesn't quite do it justice. You are compelled to drive it enthusiastically, and while it has a little more power and torque in GS specification than in the ES (164kW/221Nm versus 151kW/213Nm) it still feels lacking.
Perhaps if it sounded better: Lexus has such a love of artificial engine-noise generators (the IS300h has one, for example), it's surprising the GS300h doesn't get an enhanced soundtrack.
It might also surprise you to learn that the less powerful, larger ES is actually a little quicker in a straight line: 8.5 seconds to 100km/h compared with 9.2 for the GS300h. That's because it's also lighter.
You walk away from these two cars with your expectations turned upside down. The GS is a muscular and impressive machine in its larger-engined incarnations (including the 450h), but the 300h powertrain - slick as it is - doesn't live up to the car's sporting pretensions. It just doesn't feel right; especially in the F Sport specification of our test car.
This hybrid powerplant is ideal in the ES300h, though. This is a car that does exactly what it says on the box, providing supreme ride comfort and a spacious cabin. This might be a budget Lexus in some respects, but you still get the same interior styling themes, build quality and equipment as any Lexus vehicle.
The GS is certainly a much more sophisticated and driver-focused car. However, if we're comparing 300h models, the ES is arguably the more honest one.