Car Buyers' Guide: Looking at mid-size sedans
Ann read a recent Buyers' Guide column regarding a reader's dilemma around vehicle width and narrow garages but her dilemma is more about finding a suitable vehicle to match her height.
"I'm around 162cm and in the market for a new vehicle. Everybody is telling me to go for a small/mid-size SUV but I'm finding them all too overpowering," she said.
"The height has its obvious benefits but I just don't feel comfortable or in total control of the vehicles I've driven so far, especially on windy roads.
"I'm also a bit of a clean freak and like a well-groomed car. So short of getting a step ladder out to give the top half a regular scrub I'm relying on either hubby or a local car wash."
Ann and her husband have been Holden Commodore owners for many years but are not totally committed to the brand and her preference is for a 2-litre sedan.The Budget: $50,000
SUVs are currently definitely winning the popularity race over sedans, but the one disadvantage they do have is a tendency for extra body roll when cornering at motorway speeds. For the nervous driver this can mean a lot of panic braking at the wrong time.
Their one benefit is ease of entry and exit but even that can be exaggerated at times.
Getting in or getting out of busy car parking spots is another advantage with SUVs but if a sedan has parking sensors and/or a reverse camera then that argument is also not as strong as it once was.
On average, there is around 199mm in actual exterior height difference between a mid-size sedan and SUV so the reach to the roof top would be a struggle for some.
Holden Malibu CDX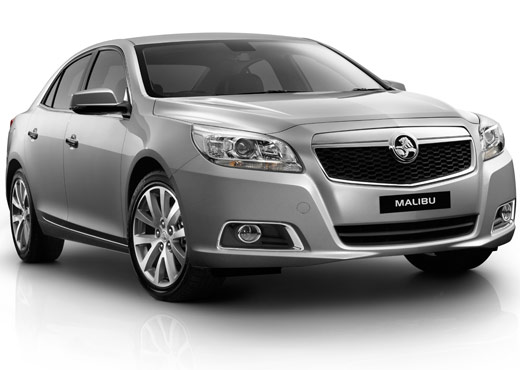 Holden Malibu CDX
Regardless of whether you are a Holden fan or not, the Malibu is one vehicle worth checking out if you're in the market for a mid-size sedan. Costing $45,990 for the 2.4l, features include 9-way power adjust leather bound and heated front seats, dual zone electronic climate control, touch screen, 9-speaker sound system, reverse camera and parking sensors. The 2.4-litre engine puts out 123kW and 225Nm and combined with the 6-speed auto has a claimed combined fuel consumption of 8.0L/100km. 
On the open road the Malibu is a very good driver's car.
Toyota Camry RZ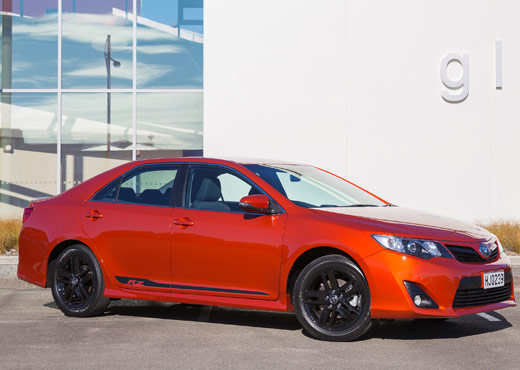 Toyota Camry RZ
Crazy as it may sound there are four Camry models in the range starting with the base model GL at $44,990 and topping out with the RZ (135Kw/235Nm/7.8L/100km) at $38,990. The RZ has a current Recommended Special Price (RSP) rather than a Recommended Retail Price (RRP), meaning Toyota has set its own no haggle bottom line price.
It's been dressed up with a body kit, decals and 17-inch black alloy wheels and is similar in specification levels to the Holden but misses out when you do a direct comparison to the Mazda6.
Mazda6 GSX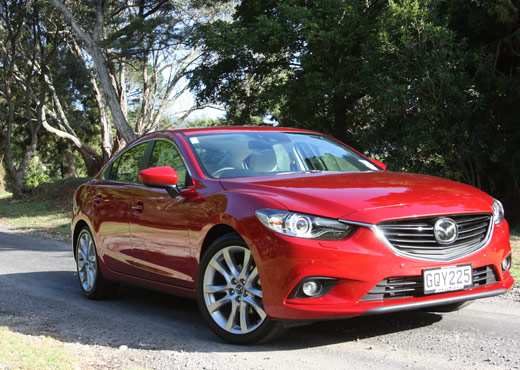 Mazda6
The Mazda6 sets the bench in this market segment. Extras over the Holden and Toyota include blind spot monitoring, which is an awesome safety feature, and navigation. The $49,795 2.5-litre engine also gets the win with 138kW, 250Nm and like the Malibu and Camry has a 6-speed auto to help it achieve a claimed fuel consumption of just 6.6L/100km.
The big question is; is it worth paying an extra $3800 more than the Holden and a staggering $10,800 more than the Toyota?
Driven recommends

You won't buy the Camry any cheaper but you may close the gap with negotiation with the other brands, especially as we head towards year end.
By Jack Biddle • 07/12/2014
Tags