Car Care: Understanding hidden costs
Motorists expect complimentary extras as part of vehicle service
Has the motor industry dug a rather large hole for itself in recent years by promising to provide a host of feel-good extras when vehicles are in for general servicing or repairs?
What was once a generous unexpected treat has now become an expectation from many customers with a high percentage of owners or drivers no longer backward in coming forward asking for a loan vehicle when booking in for a service or repair.
Plus, the expectation is their vehicle will be washed and vacuumed on collection and the coffee needs to be fresh if they have to wait in the customer lounge too long at time of arrival or vehicle collection.
Most of the larger franchise dealers offer the complete package in an attempt to retain a customer long term, but even the smaller workshops are often under pressure to deliver at least a loan car.
Have our expectations become too high in this regard? Well I haven't met anyone yet who enjoys taking their vehicle into their preferred repairer for a regular service or repair mainly due to the cost and inconvenience factor.
So is the use of a loan vehicle, the wash, vacuum, and coffee now considered a standard procedure to help overcome the resistance of returning a vehicle to the workshop rather than a pleasant and unexpected surprise?
Some customers even get a little picky on the type of loan vehicle offered at times or complain that the "valet" was not up to scratch.
Wind the clock back a few years to when these "extras" were not offered. The big difference was customers felt a big improvement when vehicles were driven away after general servicing; the engines ran smoother and the brakes felt tighter.
With modern technology, all those mechanical adjustments are now pretty much taken care of automatically so there is no instant "wow" factor as customers drive away. It's been replaced by the wash and vac and offer of a free loan vehicle. But is it really complimentary?
How many loan cars are returned with the same amount of fuel in them as when collected? Plus, add the cost to initially purchase then maintain, relicense and insure the loaners and it's hard to imagine it's not factored into the technician's hourly rate or the "consumables" customers are often charged with on their invoices these days.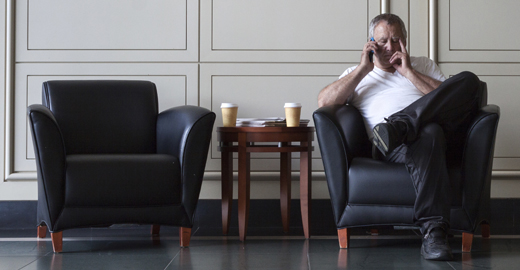 A comfortable wait in the customer lounge - but at what cost? Picture / Getty Images
Certainly, motorists' expectations from some vehicle service outlets can be a lot higher in comparison to what's expected at some of the public medical services, which can be just as inconvenient to use.
As an example, for the last two years I have been under a specialist for a health issue which required a specific expertise. The specialist was an expert in his field, has done an amazing job, has monitored my progress, done regular follow ups and recently gave me a clean bill of health. End result is one very happy customer.
But it wasn't cheap, was inconvenient and often I had to sit in the waiting room long after my scheduled appointment time waiting to see the specialist. No coffee was offered and the expectation was I would turn up on time and find my own way of getting to his rooms.
What I got was value for money because my health issues were initially bought under control and ultimately cured (touch wood).
In the motor industry I wonder if the cost of servicing would be reduced if a customer was given the option of no loan vehicle, no wash and no vacuum. And should we be looking more at the reason we need to take our vehicles into a particular outlet in the first place, as inconvenient as it may be at times?
We need the expertise that garages provide to ensure our vehicles are as safe and reliable as possible. That often requires special tools, expensive electronic equipment and ongoing training to keep technicians updated; a built-in cost we simply have to accept as being fair and reasonable.
For those who make the effort to find other travel arrangements and whose only expectation is their vehicles will be serviced properly, the question could well be, are they paying too much?
Not sure what the answer is to be honest, but we can't complain about the cost of servicing or repairs if we take full advantage of all the so-called freebies on offer.
Silly if we don't really, especially if there is no financial disadvantage.