1931 Bedford truck: Green machine with character
When Murray Firth's grandfather bought a property, sight unseen, in the Waitakere Ranges just before World War I, he eventually realised he'd need transport.
His grandfather built a homestead, and planted the orchards in apples and pears, peaches, plums and citrus, vegetables, and had a house cow in the then remote part of Auckland.
By 1931 he'd made enough money to buy a brand new Bedford truck.
Back then the engine and running gear were imported to New Zealand for local coachbuilders to finish, so it was an Auckland business that constructed the kauri wood cab for this British Bedford, one of the first to be manufactured.
Before that GM had imported Canadian-assembled Chev trucks into the UK, but eye-watering British tariffs led GM - which had bought Vauxhall in 1925 - to establish Bedford in 1930 to build commercial vehicles in England.
So this truck is British-built.

By the 1950s, Murray's father had taken over both orchard and truck. "I remember him saying, 'Your business is growing apples, the carrier's business is taking them to market'," said Murray.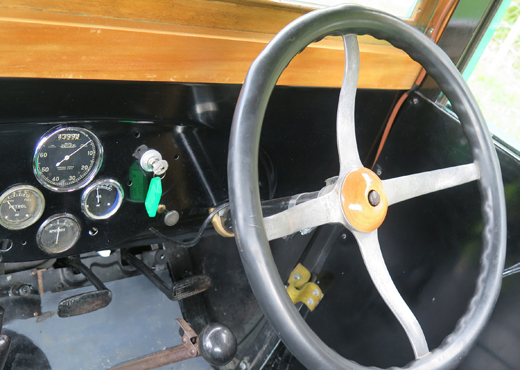 The gearbox on the 1931 Bedford truck requires the rare driver's skill of a double-declutch.
So his father sold this truck to a builder up the road who used it as a builder's lorry.
But four years ago, Murray bought the truck off the builder, Jack.
"I've known Jack all my life. He had petrol running in his veins. The truck never left this road, and I said I wouldn't mind getting my hands on it," said Murray.
By then Murray and his wife, Penny, had turned the declining orchard business into a native plant nursery, which they were winding down with an eye on retirement.
Eventually there was time to strip the Bedford to the last nut and bolt, then send it away for sandblasting before Murray rebuilt it.
"That was so much fun, I loved every bit of it."
Jack hadn't changed a thing, so it was tired but complete and all original, which meant any parts that did need replacing existed to form a pattern.
"Most of the wood I saved, I had to put some new bits in, all kauri again. There was a lot of rust in the metalwork, I didn't do that myself."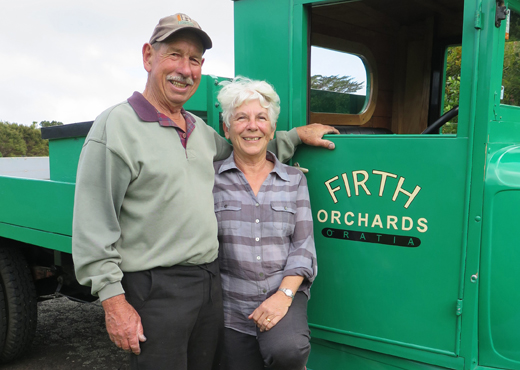 Murray and Penny Firth (left).
The bottom of the scuttle was rusted out and was reconstructed, as was the petrol tank, which sits under the seat.
Murray's not a trained mechanic, "But if you take things apart, with old things like this they make sense, and I enjoy figuring it out."
The speedo cable turned out the most complex and pricey part to fix.
Long story short, there were some gears missing. Bedford had made eight different types to suit the different tyres.
"Robinson Instruments worked it all out, and Gillespies made me a new gear - the speedo cost well over $1000 to fix, it's crazy the things you do."
Now back to the original green and in lovely condition, the truck is powered by a 3.0-litre engine and was rated to carry two tons.
"I've had 35mph [56km/h] out of it," he says.
No, it's not quick, but the very low gears and massive torque mean it'll pull away in second, and plug up Waitakere hills fully loaded.
There's a manual four-speed crash box so you have to double-declutch every gear (which literally means press the clutch in, change to neutral, release, depress, change gear and release ... luckily the truck likes methodical treatment).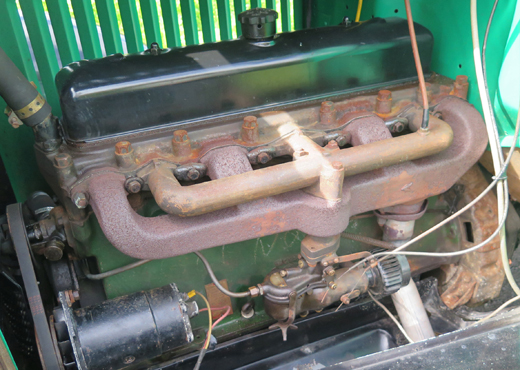 There's no power steer. There are drum brakes on all four wheels with leaf spring suspension all round, and a single vacuum-operated wiper "which doesn't work at all on uphills."
There are also indicators, since "people don't understand hand signals any more".
Driving it is interesting - there's a groove in the floor from over 80 years worth of boots.
It's noisy but awash with character and quite capable of keeping up with round-town traffic, though the nation's highways are a different matter.
Not that the couple are fazed, they're just back from eight days round the East Cape in it, around 1200km, or more if you include a wrong turn that became a bit of a goat track, though the truck wasn't worried.
The box out back was half full of tools and spare parts, and Penny wielded sponges when it rained.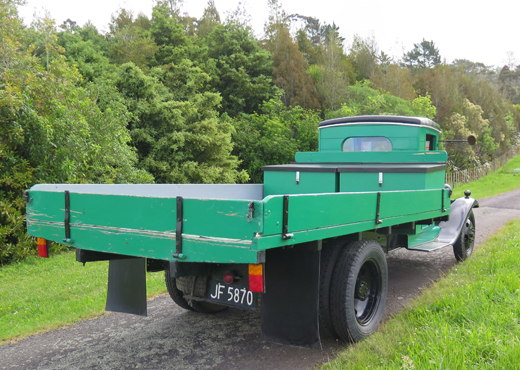 "At 30mph [50km/h] you can see, but it leaks like you wouldn't believe," as you'd expect when wood beading is the only window seal and the wood-framed windscreen hinges to open ...
By Jacqui Madelin • 09/11/2014