1969 Shelby GT500 beast has thirst for petrol
Jacqui Madelin meets a couple who have owned 14 ponies
I counted five Fords in this garage and they don't all belong to Rob Scott, for his wife Jan shares his passion, one that's advertised over every square centimetre of a garage covered in badges, certificates and advertising posters - some featuring the car I'm here to see.
It's certainly eye-catching, this 1969 GT500 Shelby. That's a hot Mustang to the uninitiated, but it's not the only wild pony in this stable, for Jan owns a 2014 Stage 3 Roush Mustang and Rob's also got a 1969 Mach 1, presumably for those days he's not in an eyeball-searing yellow mood.
The couple have a bit of history with this beast. They bought it when living in England in the 80s, brought it back with them but sold it, in 1987, when life meant cash took priority over cars.
"And 17.5 years later we bought it back, at an inflated price," Rob tells me.
"When we sold it was the highest price paid for a Mustang, but it needed work, we had kids and couldn't do it ourselves." The car was black originally, and was painted red a week before the sale. The new owner sorted this yellow, but by the sound of it didn't do much else. The car did only 12,880km during those 17 years, and just 800 in the six years the last owner had it. But, "We take it out and thrash it ... we get told we're wrecking it ... "
Clearly it also gets the care to cope, as it should, being a bit of a rarity - only 448 were built with this 400kW/750Nm 7.0-litre 428 Cobra Jet motor and transmission. Ford delivered a Mach 1 base to Shelby, which took over (it stepped back somewhat by the end of 1969). The guards, bonnet, boot and rear corners were fibreglass Shelby mods. The car uses the factory four-speed stick-shift and a largely stock motor, lightly modified last year to go faster. Rob says the block's standard, but inside it? "That's secret," he says with a naughty grin, "but it was built by Marsh Motorsport." Enough said, at least in the right circles ...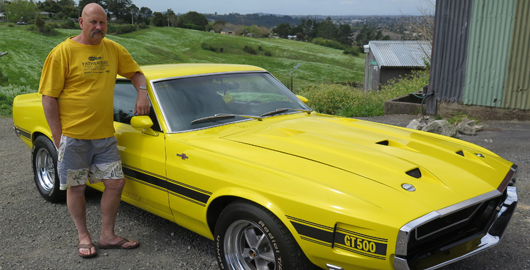 Rob Scott and his low mileage 1969 Shelby GT500 Mustang - second time around. It was red when he originally sold it, now it's canary yellow.
The couple take it drag racing for fun. It has wider rear wheels and rubber to suit. They go to Ohakune on club runs and the Ellerslie concours, taking part in the club display and the motorkhana. Which must be a sight as that's an agility course set by the winner - invariably the Mini or MG Midget club - and cars like this require tyre-sliding rubber-smoking action to get round the cones. "We got last."
Jan's been involved in Mustangs since she was 14, so it must have been a marriage made in heaven as they've had 14 Mustangs since.
I want to suggest they buy a 15th to avoid repeating numbers, but they probably would.
By now I'm strapped into the four-point harness and Rob's fired it up. It's like sitting on an earthquake, the idle is so extremely assertive, and it breaks traction in a heartbeat. Rob gives it a sneaky boot-full as we pull out and the tail literally waggles down the road, with the pair of us grinning like loons, and leaving a young man on the pavement pumping his fist and howling at the moon. No wonder it sucks petrol - it does 4mpg, Rob says, a bank-draining 70.6 litres per 100km if that's an imperial gallon, though I suspect it's American, for a still astonishing 58.8l/100km. His local BP must declare a holiday every time he pulls up. They can certainly hear it coming - it sounds almost bronchial at round-town speeds, but when he floors it and it gets on the cam it's all crisp aggression - like a cosmic bandsaw, my notes say.
No wonder Rob isn't tempted to hot it up further. "A car like this is completely street-able, it doesn't overheat in traffic. There are faster, but this is quick enough to get into trouble, low maintenance and runs on pump fuel."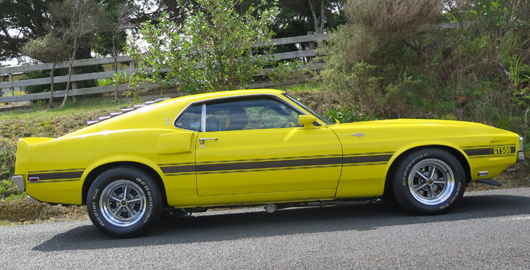 He pauses. "Drinking it quite quickly ... " But at the end of the day, "it's not a supercar, it's a cave car, it's 1969 technology."
Clearly the American Muscle Car and Mustang Owner clubs are part of the appeal for this duo, as there's passionate camaraderie - and competition - at both. Part of the appeal of this car is its history with the family. Their now adult boys aren't into it - despite one once travelling to New Plymouth in a baby seat strapped in the back - but Rob wouldn't sell it.
"I paid too much [the second time] and I've been offered nearly twice what I paid. But what would I use the money for? To buy the things I want," he says.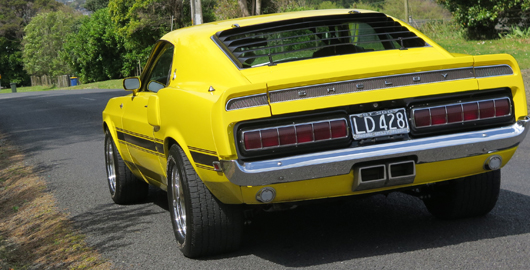 That means he'd just have to buy it back again, then. And get more shares in his local BP.
By Jacqui Madelin • 12/10/2014
Tags