Classic Ford Transit nets starring role
Look once, look twice, and you still wouldn't think of this plumber's van as a film star - but it is. It appeared in Underbelly as a police surveillance van and as a security van in the prequel to Outrageous Fortune, due out next year.
But the old-fashioned sink plunger, the pipe bender and assorted tools aren't props. Jackson Foster is a plumber and this is his work van - one of two Ford Mk II Transits he owns.
He's a bit of a Ford nut. As well as the 1979 and 1981 vans he's got a rare Escort RS2000 and an Escort panel van converted to race. He's done a Targa in it.
Jackson's been plumbing more or less since he left school, and bought this van in 2010 to replace his Mk II Ford Escort van, which took over from an Mk III long-wheelbase Transit, which replaced a 1977 Escort van ...
Jackson Foster is sticking with his Ford vans, although he doesn't want to become "one of those guys who has sheds full of them".
The Mk III - Jackson's newest Ford - died when a trucker left the handbrake off, ramming it under a house.
He says: "I don't like new cars, and I don't like flat-front vans. I've seen a few T-boned and the fire brigade cutting the driver out ... I prefer a van with a nose, and I like my Fords."
The Mk IIs were rolling off showroom floors as he began his career, but now, "It's a bit of an adventure driving an old one, it might not start, or get there. But my van's pretty reliable.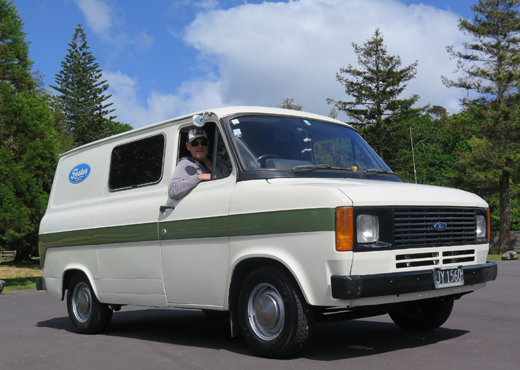 "I can't see the point in paying 50 grand for a modern one. Something like this holds its value."
That's because they're rare now - they're generally worked into the ground. 
"This one was in good running order, I only took it off the road to touch up some rust and give it a paint job at a lady panelbeater's I know."
The second van arrived two years later, bought to convert into a camper and as a spare in case the work van breaks down.
The Transit had a facelift in 1978, when the Essex V4 motor was replaced with a 2-litre Pinto in-line four-cylinder unit - "the engine in Cortinas, Capris, early Sierras".
It does about 580km to a $120 fill of petrol (around 9 or 10l/100km). "It'd go well with a V8. That's a nice conversion. But it'd be nice to leave it standard, too."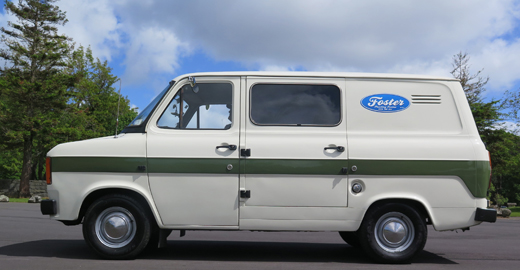 Jackson jokes that the van's film role makes it famous, but it does draw attention. "People come up and chat, you get more attention than driving a Ferrari because people remember them, or did their apprenticeship in them. You get that whole nostalgia thing." 
He works all round Auckland, driving his tools as far afield as Pauanui and Warkworth. 

"I don't know how many times it's been around the clock, but I've done 60,000km in four years."
The cabin's a typically messy tradesman's office, with a rubber duck guarding the original radio atop the dash - he uses the modern radio, iPod, hands-free set-up tucked underneath the glovebox. Otherwise it's all standard as far as he knows, with disc brakes front and drum rear, leaf-spring suspension "and shocks, a funny sort of set-up".
Naturally there are no safety features, other than the cargo barrier and seatbelts, and there's no air con - "It gets a bit hot in summer. Passing through Mission Bay sometimes you have to stop for a swim."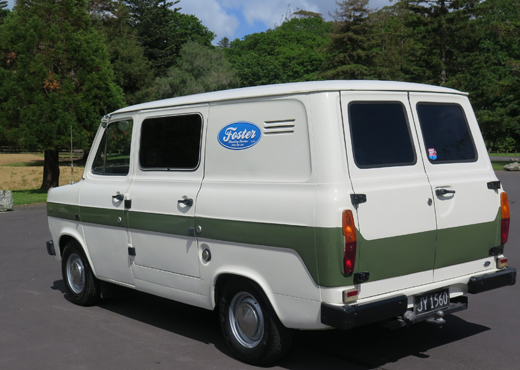 But there are "new" comfy seats from a MkIV Cortina, already fitted when he bought it from a guy in Taupo.
Would he ever sell it? "I don't need any more ... I'd like a Mk I Escort coupe next. There's that formula, N+1, where N is what you have now - you always need one more, but you end up being one of those guys who has sheds full of them."
It might almost be worth it, as there's a bit of a cult following for old Transits in the UK now.
"But in a way, like the Kombi, it's quite iconic. It was a bus, a camper van, a tow truck and tip truck - every configuration possible, but you don't see them for sale now.
"You have to know someone who knows someone ..."