Emotional all over a Rover SD1
Paul Strong's clearly a bit besotted with his early Rover SD1. Built in Nelson in 1979, and sold in Tauranga on September 4 that year with 28km on the clock, it had three previous owners when he bought it off a website eight years ago, sight unseen.
Called the SD1 because it was the first car to come from the in-house Specialist Division, it's sometimes called the last true Rover as it was the last model built at Solihull, UK, before production moved to BMC factories at Longbridge and Cowley, on cars based on Honda and then BMW underpinnings.
It was a simple design, with a live rear axle suspension and rear drum brakes (though front discs), the Rover 3.5 V8 engine and a three-speed BorgWarner auto - later models went to a GM Trimatic four-speed.
"These are agricultural but they do the job, with all the torque they've got it stays in top, even crossing the Desert Road it only drops to second once," says Paul.
It's economical, too, says Paul, returning around 9l/100km on one trip round the South Island, as far as Invercargill, and over the Crown Range where it'll return in 2016 for the Easter Rally.
It's travelled a genuine 108,000km.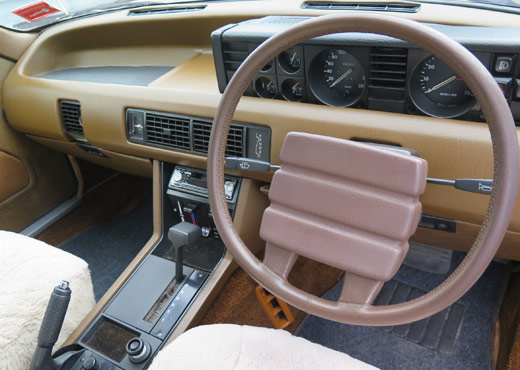 "When I first bought it and saw the mileage I wanted to keep it low, but why buy it if you're not going to drive and enjoy it - you don't get any enjoyment parking it in the garage."
Fortunately it's reliable - only letting him down once, just outside Napier, when an oil pressure switch that cuts fuel if it registers a problem worked loose - and it's more practical than the sloping roofline suggests. The immaculate boot with its original carpet is shallow, but long, and the rear seats fold down to offset space limitations from the sloping tail.
Paul says they tended to rust if not looked after, "except the front sills, as air is designed to blow through them so they don't rust. I've spent $600 on sorting rust, not bad for a 35-year-old car".
Directly in front of the passenger there's a square air intake and on the right, the instrument binnacle sits atop the dash, almost like a separate unit just plonked there.
And that's almost how it is, for in cars aimed at the left-drive American market the steering column sprouts from the hole for that air vent - which moves to the steering's former position - and the instrument binnacle simply sits atop the left of the dash, making the conversion from left- to right-drive markets a simple one.
By now we're strapped in - on to the sheepskin covers over the rather odd-looking cinnamon-coloured nylon velour - and I'm admiring the fairly simple layout.
"When it came out traditional Rover owners were shocked it had no leather, or the wood the model before it had. Rover facelifted it and put leather and wood into the Series II."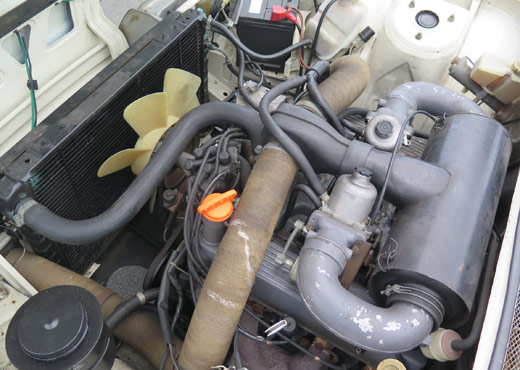 The SD1 didn't come out with a radio - Paul's went in later - but it did have a glovebox both sides, heavily padded to protect the knees in a crash, and a hole in the dash side that married to one in the door panel to send warm air up the side windows to demist them, plus central locking and electric windows, as you'd hope for a car this pricey.
Paul says homes in Mt Eden cost $15,000 - $16,000 back then, while the invoice for this car, which he pulled from the glovebox, reveals that first owner paid $18,148 for it - including $5 for the numberplate, and $96 for the registration, though the "cash" price was $23,047 - the difference being the trade-in value of the previous car.
The government inflation calculator puts that at $97,700 today.
Paul has replaced the original pressed stainless-steel hubcaps with period alloys as they look nicer, and the originals rattled. He'd like to remove the sunroof, also not original.
"In the 1980s people popped them in left, right and centre. I don't think people bought them [Rover SD1s] thinking they'd last, but Rover people get attached to them."
Clearly this is a long-term love-affair for Paul, who doesn't keep his modern cars for long.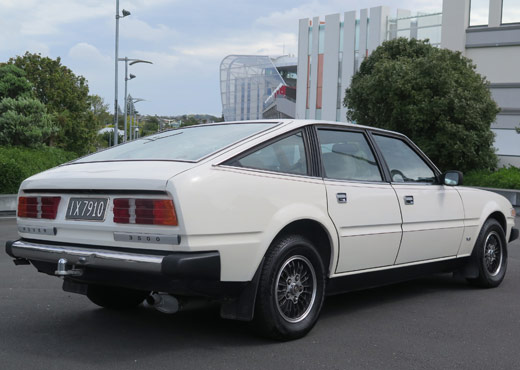 "I worked for a dealer in the 1970s who had a beautiful Rover and I got hooked. Not everyone wants them but I'm very English and I like English cars."
Would he sell it? "I've never even had an inkling I'd want to sell her. I'm leaving her to a friend when I'm gone - he reminds me every now and again ..."
Clearly it's a good car. Certainly it must have impressed when new - John Steed drove one in The New Avengers as did George Cowley in The Professionals, and the British Police used them, too. And it still impresses at times.
"A wee boy, all of about 6, stopped and said he thought it was the car from Back to the Future. His father knew what it was.
"We get a hard time for owning them. They're not your Camaro or Firebird, but they weren't designed to be. They were designed as a big family touring car, and they do it perfectly."