Home
/
Classic cars
/ 'Flattering accessory' sounds as feral as a 1968 Monaro should
'Flattering accessory' sounds as feral as a 1968 Monaro should
Jacqui Madelin checks out a Holden that's a Targa veteran
This 1968 Monaro was built in the model's first year, as GTS with full instrumentation, including a tacho, and the Chevrolet-sourced 5.3-litre, 186kW V8 engine.
One of these cars won the Bathurst 500 in 1968 with Bruce McPhee and Barry Mulholland at the wheel - McPhee having won pole, set the fastest race lap and driven 129 of the 130 laps completed.
But it wasn't Bathurst which led to Anne Storey acquiring her three-owner Monaro. Her husband, Mack, remembers standing gazing over the fence at the Monaro next door to his grandmother's when he was 12.
Eventually Mack took up racing, and used to see the Monaro being raced at Pukekohe by Mike Duffy. Then one day it came up for sale on Trade Me.
Anne gives him a look. "I said no as he already had a race car."
So what does a man do when he's not allowed a car? Milestone birthday, surprise party.
Anne got a Lion Red T-shirt and a car - "wrapped" in a giant plywood box to hide its shape.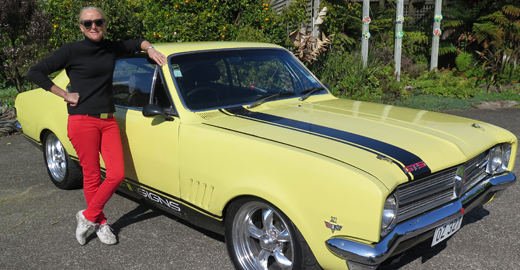 Anne Storey with her 1968 Holden Monaro GTS. The car has been repainted in its original Warwick Yellow colour.
But if you thought she'd hand it over, think again.
"I took it into our paddock and rarked it up, for fun!"
It was Anne's suggestion they pair up to take on the 2010 and 2011 Targa rallies, though Mack was entered as driver in deference to his greater race experience. He just had to live with the phrase on the boot, "The most flattering accessory a beautiful woman can own", lifted straight from a 1960s Monaro ad.
The couple recall doing the last few Targa stages in third gear.
"You had to start the car in third and keep it going - the clutch had gone - and we managed Wellington in third, but when we got it to Parc Ferme that was that, we pushed it against a fence and parked it. A week of it is tough for a 40-year-old car."
And with no power steering, the petite Anne clearly recalls the narrow gravel of the Whangamomona Road, and the tight bends over the Akatarawas that almost needed a three-point turn to get round.
But they don't take the racing seriously. It's about having fun.
They've just driven it back from New Plymouth, where Steve Hildred - "he's got the world's fastest Monaro" - had fettled the diff. It needs to be in good nick, as it'll race Targa 2014 in the South Island in October.
This Monaro was converted for racing in 1990, and competed in that year's Silver Fern rally. It has campaigned in three Targas, at Bay Park, Pukekohe and Hampton Downs, both before and after Anne's purchase of it in 1998.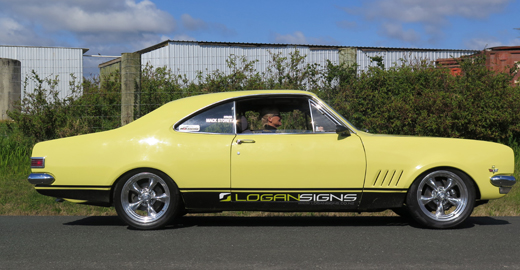 The couple don't take track work seriously these days. This car's too original to be quick in the muscle-car classes and they want to keep it that way. "It's not a show pony."
They're not exaggerating about its racing conversion. It retains much of the original dash, door trim and the steering wheel, but everything else has been stripped. There's a roll cage, two racing seats and four-point harnesses. Plus a pair of ear protectors each. I soon discover why you'd want them ...
The engine's "pretty true to original spec" and now puts out 224kW plus an impressive 750Nm of torque - according to a recent dyno test - and it sounds every bit as feral as it looks on paper. Subtle it ain't, and we've barely got going.
Anne says she keeps wanting a fifth gear from the four-speed Muncie transmission, which sends power to those rears via a nine-inch limited-slip diff. Suspension comes courtesy of adjustable Konis and a 27mm front sway bar, and the brakes have been upgraded to Wilwood four-pot calipers, which meant replacing the original 15-inch wheels with 17s so the discs would fit.
Somehow this Monaro feels bigger than it is; perhaps it's the feral bellow, the way the rear tyres scrabble even at a fairly sedate departure from the drive; the way it dominates the tarmac up ahead. Anne' has shown me photos of it at speed on the Silver Fern, launching across a ford with water and gravel spraying from all sides - no wonder the Warwick Yellow paint (the original hue, repainted five years ago) shows a few scratches here and there, some from a fence they collected in their last Targa.
Anne is clearly very confident behind the wheel. It's hard not to grin broadly when there's this much raucous sound and fury going on, and it seems to dominate the road, though we're just cruising round the back-blocks near home. The car creates a lot of interest, she says, "So many people say they owned one, and 'we should never have sold it', they say."
Anne doesn't plan to sell hers.
"The boys would get up in arms," though they'd have a willing buyer.
"A friend of ours does keep asking, 'How's my Monaro?'" she says as she tucks the keys very firmly in her pocket.