Ken Block unveils latest hoon machine at SEMA
Ken Block has finally unveiled latest gymkhana hoon machine, a heavily modified 1965 Ford Mustang
Founder of DC shoes, Ken Block, doesn't know the meaning of the word subtle.
Renowned for his high octane antics and custom built race cars on YouTube, Block has made an art-form out of high risk driving with smoke continuously pouring off all four wheels. His new car for the seventh installment of his Gymkhana series is no exception.
Starting off life as a 1965 Ford Mustang, Block's latest car, dubbed "the Hoonicorn", has been two years in the making. Built by ASD Motorsports in Charlotte, North Carolina, the Mustang notchback is thought to be the world's first performance all-wheel drive 1965 Ford Mustang.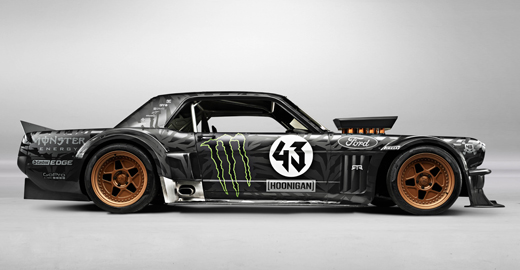 With everything from custom ASD Motorsports-designed suspension, to the one off widebody designed by RTR, Ken Block and Hoonigan, an ASD Motorsports full tubular chassis, including a custom roll-cage, door bars and front/rear suspension mounts, and RTR carbon fiber body panels housing giant 18 inch wheels, the car has transformed from a quiet classic to an eye popping work of fabricated art.
The wait has obviously been worth it for Ken Block, with Ford Motors borrowing the car to star in their booth at the annual SEMA show in Las Vegas.
"I'm stoked to be able to publicly unveil this car for the first time at SEMA in the Ford booth," said Block.
"This is a project that I've been working on for two years, so to see it fully come to fruition and be able to drive it for Gymkhana SEVEN was absolutely amazing. I also knew that working with Vaughn [Gittin Jr.] and his RTR team was the right choice for this project since Mustang's are their world, but they really went above and beyond on this car. The attention to detail with the fabrication and bodywork blows my mind. This is hands-down the best Gymkhana car I've had yet."
With a huge Roush Yates 410 cubic inch Ford V8 powering the all four of the iconic American car's wheels with 630kW and a tyre burning 976 Nm of torque this is one monster pony car.
Block's Gymkhana videos can be watched on the DC Shoes channel on YouTube.
The specs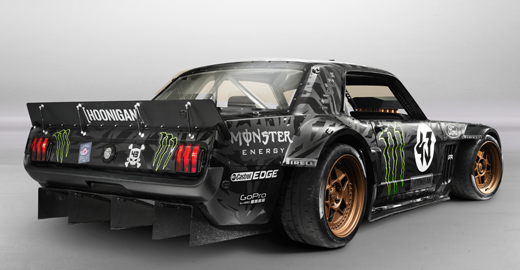 MOTOR: Roush Yates 410 cubic inch Ford V8, 630 kW/ 976Nm with ITBs
TRANSMISSION: 6-speed Sadev SC90-24 all-wheel drive transmission with a hydraulic handbrake system
SUSPENSION: Custom ASD Motorsports-designed geometry and components
BODY: 1965 widebody Ford Mustang designed by RTR, Ken Block and Hoonigan, ASD Motorsports full tubular chassis, ASD Motorsports custom roll-cage, door bars and front/rear suspension mounts, RTR carbon fiber body panels
WHEELS: fifteen52 three-piece R40, 18" x10.5"
TIRES: Pirelli Trofeo R, 295/30/18, custom Ken Block compound
By Mathieu Day • 05/11/2014
Tags