Lotus 7 makes for a breathless drive in the open air
Jacqui Madelin gets to savour the total driver experience in a Lotus 7
Philip Adamson's spoiled for choice when he goes into the garage, for he's greeted by four sports cars and an array of PlayStations -- his mates include "Racing" Ray Williams and have a regular series going.
But it's the 1959 Series 1 Lotus 7 I'm here to see, the long, low, stripped-to-the-basics car that's perfect for this sunny winter day.
It's got a 948cc BMC engine, "so basically a Morris Minor," he says, producing 47kW (65hp in the old money).
Torque? "Very little! But it's working on 400kg, plus passengers, and you really do notice an extra body."
But with just the driver aboard, "it'll do 0-100km/h in under seven seconds, as power-to-weight is similar to an STI Subaru," and as he says that, he floors the accelerator.
My golly, you know you're travelling in this thing. The tyres are wriggling over the road, his hands moving rapidly from tiny wheel to the gear lever tucked inconveniently under the dash, the wind barely interrupted by the low screen -- I spot my face rippling in the side mirror, my hair's literally standing on end and breathing is a strictly ram-air affair.
"It can be hard to breathe," Philip shouts, as his glasses blow off ... usually he wears contacts and goggles, make that always, from now on. I slide down a bit ...
"Power is very peaky, it's got nothing under 3500rpm, nothing at all and it pops and bangs until it warms up."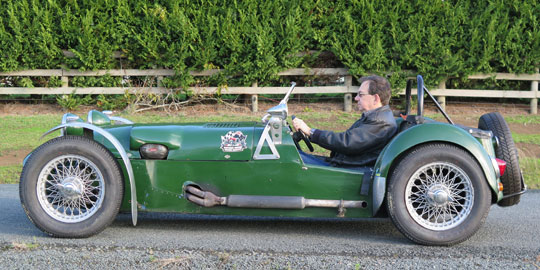 No wonder he loves this car, it really is an elemental driving experience connecting its pilot directly to the road, and delivering shedloads of fun on any bendy tarmac without needing to challenge the speed limit, though "it'll do 185 with the windscreen off," achieved at 6500rpm on the back straight at Pukekohe, "and 125 with it on."
He's had the car 15 years. It's his fourth Lotus 7 but it's the same car that sparked his passion.
He was driving to Pukekohe in the 1980s when a Lotus 7 overtook his Triumph Toledo.
"I was doing 65mph [104km/h] and saw this green dot in the mirror, then a roar as it passed me."
And that was it, he was hooked. He took photos of it, then saw the same car again as part of a deceased estate.
"I was anguishing as I had no spare money and my wife Vivienne said 'you should buy the car, we don't need to add on to the house,' so I had my dream car."
That's the Lotus you see here, though back then it was off the road.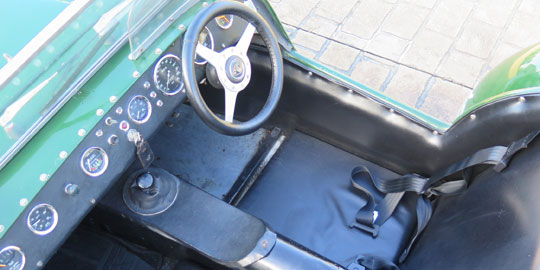 "We had to get seatbelts, it didn't have mirrors, I don't think it had the windscreen. It had been a track car, only, for a while."
Among the work, "I pulled the engine out. It's the original, but it breaks half shafts all the time. I have spares -- they were Morris Minor half shafts designed to cope with 35hp [26kW]."
The Lotus 7 is associated with kit cars, but this is factory-built with a Formula Junior engine, and it was raced in Ireland -- where it got the hotter cam and bigger carbs. He says it has put out 63kW at 7000rpm, and he's seen 7500rpm on the tacho "back when I was really keen, but I don't want to wreck it." The car remains pretty much original -- the front brakes are disc, not drum, also fitted in Ireland. "Discs were a factory option at the time. Lotus built the suspension. There are some Triumph bits in the front and Austin A35 in the rear ... that's just what Lotus used to do. The rest is just lots of welded-up tubes."
It certainly seems to work well ... though accessing the four-speed Austin Healey Sprite gearbox is less than handy, the lever's under-dash location causing skinned knuckles, while the handbrake is mounted across the passenger footwell.
By now we're talking about other old cars we'd like to own and Vivienne's joined in.
The couple have nine cars altogether, some -- like the BMW CSi Batmobile -- out on long-term loan to other enthusiasts. They met at a race track flag point, so were always going to have a petrolhead existence, though he uses the Lotus less nowadays, more often over summer for car club runs.
"Perhaps I've got older, I like things a bit more useable so it has to be a special day that I want to drive the Lotus to work."