Passion for Minis a life-long love affair
This 34 year old looks like it's straight off the production line, says Jacqui Madelin
Mike Bates could be described as detail-oriented. His three Minis have been restored to as-new condition, and as I arrived he was worrying about bubbles under the sponsor stickers on the welcome arch for this weekend's Mini Nationals at Mt Smart Stadium.
Which initially left me to a solo wander around his collection, ending with this Mini Clubman Estate, a 1980 Leyland Mini originally bought in Surrey, England, on October 27, and one of the last of the 197,606 production run - yes, Monday is its birthday.
The first owner sent Mike photos of the car in the UK, on family holidays, and of the ship that carried it to New Zealand in 1982 as it departed the UK, followed by a few pics of its life here before she sold it in May 2007.
It had led a hard life by then, at one point used as a tractor carting fencing posts about the property, and it changed hands again before finding its way into Mike's garage in 2011.
He and his wife, Jan, brought it home on a trailer and started work next day, "I didn't even start it."
The idea was to restore it to as close to original condition as possible, sourcing original (but never used) parts where replacements were required, or recycling items in good condition, like the sound deadening stripped from the car and the original seat foam before the pews were re-upholstered.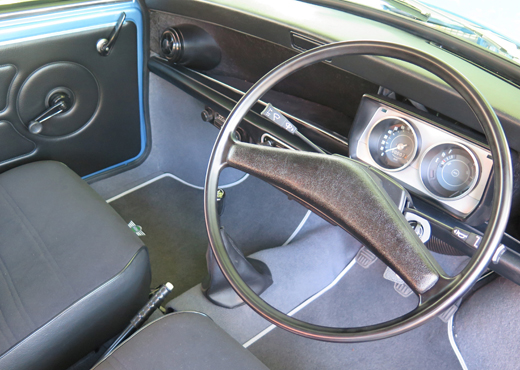 Some things were beyond saving - the wiper nuts had to be cut off, and the wiring was in a sad state. I didn't have to take Mike's word for it - he has an astonishingly comprehensive photo album detailing the work, step by laborious step. I got to see the cracked dash, the furred muffler, every paint chip and stain as the car was stripped down to the skin (which was fortunately in good nick), and watch as Jan was rapidly upskilled to assist. "She's really handy for things like engine mount bolts, with her skinny fingers, and going underneath the car," though she's not got fond memories of the sanding on a very hot day, "A labour of love."
The car even spent time on a borrowed rotisserie in the garage, with rotted parts of the floor cut out, until the time came to sandblast, paint (this is the original Denim Blue) and commence the rebuild.
Mike wanted the car to not only look as if it had just come off the production line, but to actually be as close to that as possible, so he even bought vintage tyres - part of a pile of parts that arrived in a container from the UK, the shopping list eventually including carpet from England, new pistons, valves and bearings, a reconditioned alternator and starter, a cabinet sand blaster so he could do that work himself, a period radio off a NZ website, a fuel tank.
"A lot of Clubman parts are hard to get and I wanted new old stock," he said.
Mike's a design engineer, not a mechanic, but did a lot of the work himself, discovering that even with original and never-used parts, the job's not that simple, as some bits still didn't necessarily fit straight on.
Why a Mini? He learned to drive in his brother's 1963 850 Mini, and his first car was a Mini 1000, bought in 1970 when he started work.
He had that Mini 1000 until 1974, when he needed something bigger, but when he married Jan they bought an Aussie 1100 Mini as their second car, and his commuter.
"We had it 20 years, then I bought a boat and needed a car to tow with."
His next Mini was in 2005, the blue 1977 1000 he spotted in a NZ Herald ad and now also restored.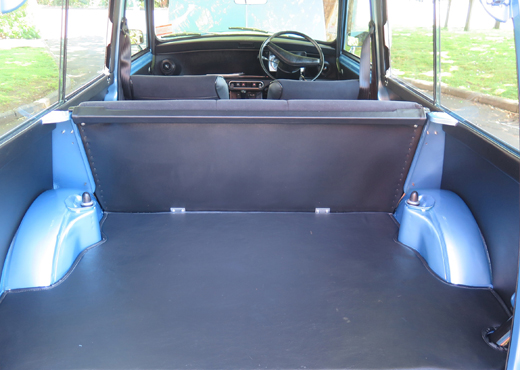 He and Jan have had six Minis in total. He even raced a 1275 GT at Taupo track days for a while.
But he'd always wanted a Mini Cooper, and after eight months looking he found a 1995 ex-Japan example in Palmerston North.
Jan took the 1977 car on, and the pair were happy enough until Mike helped a friend look for a Clubman Estate. He ended up buying this one to restore.
Clearly the impetus for this couple is working on their Minis.
"There's just something about them," he said.
There's also the very active club. Mike and Jan stick largely to shows rather than driving, but he did give me a quick run around in the recently-completed wagon.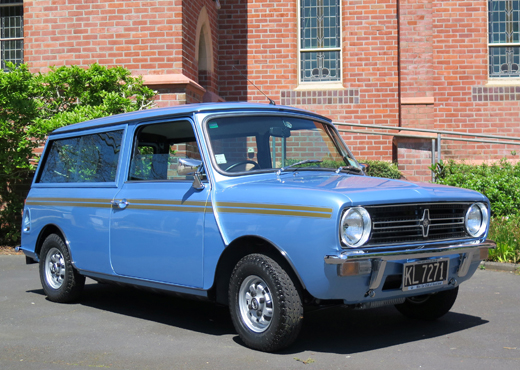 The vehicle was restored by sourcing original (but never used) parts when replacements were required.
It had the look and feel as if it was straight out of that 1980 showroom, when Minis were still built to a different scale. It's not often I feel short of headroom, but that back seat's clearly only meant for kids.
Would the couple buy another?
"There's room for one more in the garage," Jan says, "but there are also a lot of jobs to do round the house."