Rare Renault Alpine up for auction
Fans of the Renault Alpine name had their hopes of the A110 nameplate being revived last year dashed after the announced partnership between Alpine and Caterham fell apart. The Renualt Alpine A110-50 concept car, which made it all the way to the prototype stage before it all went to pot was going to be the successor to this car - the incredibly successful Renault Alpine A110 Coupe.
The rare and totally restored Renault Alpine A110 Coupe heads a collection of desirable classics going under the hammer at Shannons Melbourne Winter Auction on July 21.
Jean Rédélé's beautiful little Alpines based on Renault power trains are regarded as some of the greatest rally cars of all time, with the A110 model dominating the international stage in the 1960s and early 1970s, with Australian Rally Champion Bob Watson driving one to victory in the inaugural Don Capasco Rally in Canberra in 1974.
Believed originally to be a 'lightweight competition cliente' 1300S model dating from 1972, the Alpine A110 being auctioned by Shannons was one of a pair imported from New Caledonia in 1991.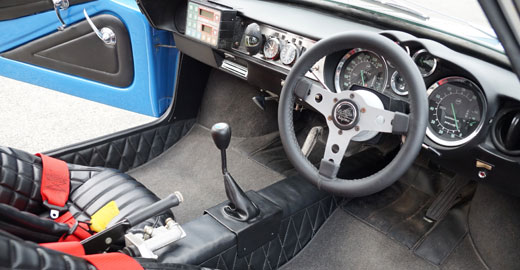 It was painstakingly restored for the current owner by marque specialist Colin Stark's Alpine Affaire over a 14-year period, where in the process, it was discovered to have a works lightweight tarmac specification chassis and competition lightweight fibreglass shell.
Sadly, the ravages of time and the harsh New Caledonian conditions put the shell beyond repair, however Stark fabricated a new body using his own ex-works Group 4 A110 as a mould and mounted it onto the original, freshly restored chassis.
The Alpine's mid-mounted 1296cc Renault engine was also enlarged to 1550cc at the same time, fitted with a special head with bigger valves and a rally camshaft along with twin 45DCOE Webers, giving 155HP at 7000 rpm, mated to a close-ratio five-speed gearbox with a Hewland locking diff.
The car was also converted to right-hand drive at the same time and its original and very rare Gotti rims were painstakingly restored
Appropriately, given its history, the A110 has been set-up for competition work, with a half-cage, Cibie spotlights, a 80-litre competition bladder tank, Monte Carlo brakes and Perspex side and rear screens, with a Terratrip completing the period feel.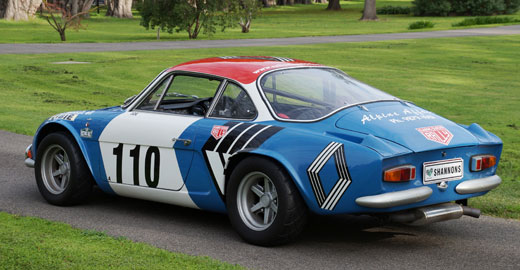 Finished in the works French blue/white/red colour scheme, the Alpine is eligible for number of local and International classic rallies, where its power and weight of just 615 kilograms will make it an exciting performer.
If you're in the market for a classic rally car to take on the next Targa rally you'd better jump the ditch with a lot of cash in hand. Shannons are expecting this superbly detailed, and highly collectable French sporting classic to sell in the range of $90,000-$120,000.