Home
/
Motorsport
/ Dissecting the state of NZ motorsport with a former V8 champ
Dissecting the state of NZ motorsport with a former V8 champ
NZV8 and Endurance Series champion John McIntyre on where Kiwi motorsport is in 2016
Few people would be better placed to assess the state of domestic tin top racing than John McIntyre.
The multiple championship winning driver spent 15 years racing V8s in the New Zealand domestic championships, has co-driven for V8 Supercar teams, been a team owner but has more recently been involved in GT endurance racing.
The landscape has changed a lot in recent years as V8 racing went through its civil war in New Zealand. During that time many fans, sponsors, drivers and team owners were casualties - leaving the sport or the category for good. In the past couple of years there has been a growing interest in GT racing - the world's big name car manufacturers with their latest technology on show - tugging a chord with motorsport fans.
While the growth of GT racing can only be a good thing it poses the question though as to whether the now amalgamated V8 Touring Car championship can flourish at the same time. Can these two different categories co-exist?
McIntyre says there are some obvious attractions to GT racing.
"I think it always comes down to what a driver actually wants and the driver wants to go as fast as they can and have as much grip as they possibly can and, to be honest, they also want as much help as they can to drive the car," he explains to nzherald.co.nz.
"The GT car has everything - it has looks, it has the sound, it has massive tyres, ABS brakes, traction control, front engine, rear engine and a lot of variety there. As a driver you are inside there, it is safe and you have paddle shifts on the gearbox - everything is real modern technology.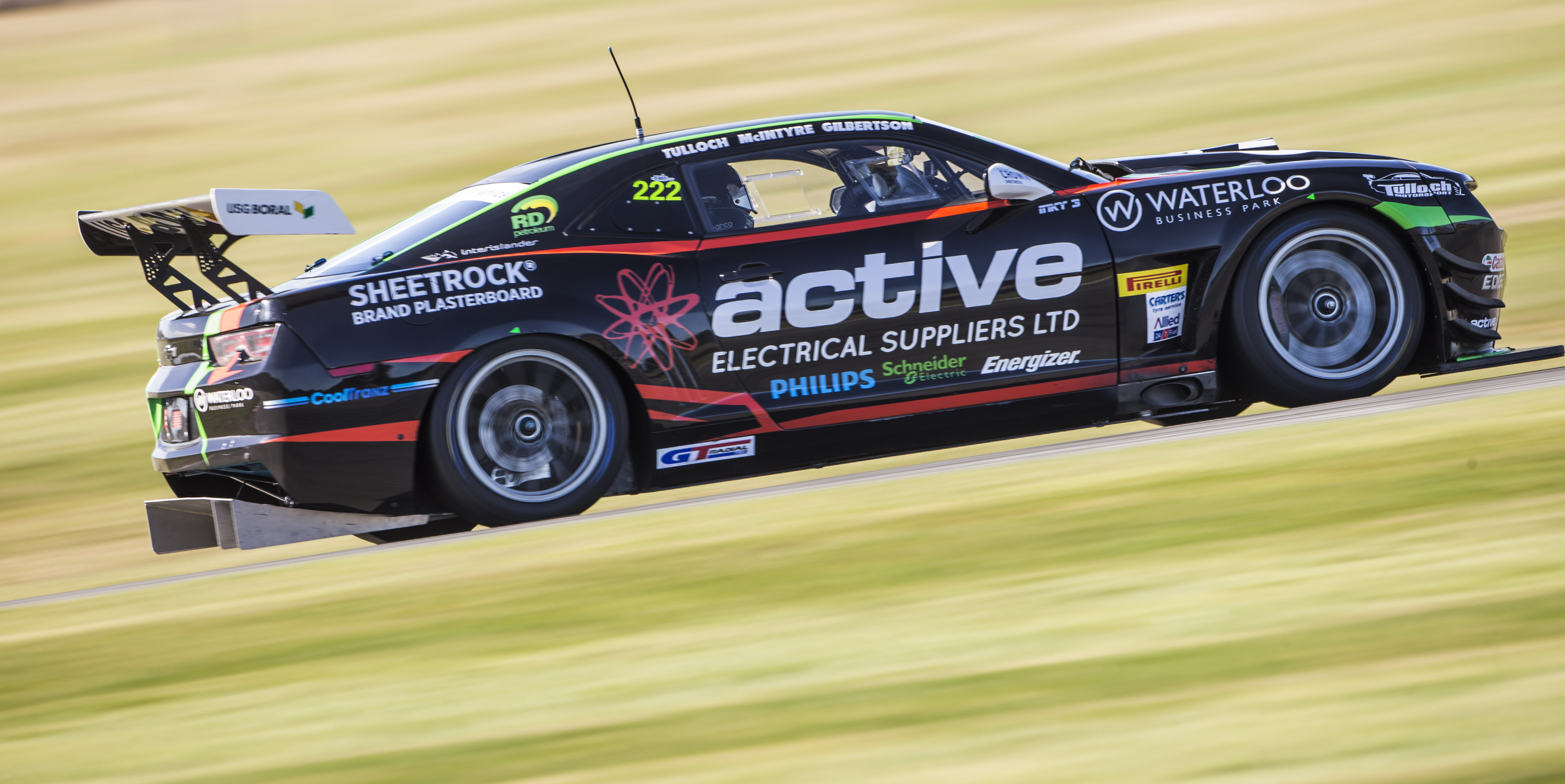 The Tulloch Motorsport Camaro in action last week at Teretonga. Photo / Supplied
"Racing tends to gravitate to what a driver and car owner wants to get out of it. That is where GTs fit the bill."
It is hard to argue with that logic but there is one clear downside to GT racing.
"The one thing that goes hand in hand with performance is cost. That is the reason why GTs are so expensive because they have all of that capability.
"The real success of GT racing comes down to the enthusiasm of the car owners. They are generally people that own the car and want to drive the car. That is why it is still the biggest of the growing categories around the world because you need someone to help fund that initial purchase and to run it.
"All around the world a lot of the series are run as an amateur and a professional. You have the car owner as the amateur and they bring along a professional to drive with them."
So how does that translate to the sport during a time where the civil war saw interest wane and the global financial crisis force sponsors to tighten their belts? Is it possible both series can grow at the same time?
"I think they are quite separate," McIntyre says. "The time of year the endurance racing is on is in the middle of the year and that is quite a different mindset to people who want to race in summer time and also those that want to race sprint races with just one driver.
"The difference with the endurance series is that it is all two drivers, it is all pro-am and it is completely open rules.
"Some of the appeal is that you get a lot of seat time. You could probably roll up on the Saturday morning, set up, go qualifying and then have your race and you go home that afternoon.
"Endurance racing probably wouldn't work in summer time and I think we have proven that sprint racing doesn't work in the middle of the year.
"The style is the racing is very different. If you are a young up and comer and you have visions of going overseas then you will need to do the Formula Ford, the Toyota Racing Series or the Toyota 86 series and possibly the touring cars before going overseas. There are some other guys that look at the endurance series as a way of getting a lot of mileage but if you're looking at door-to-door racing you probably need to go into those summer series to gain the necessary experience."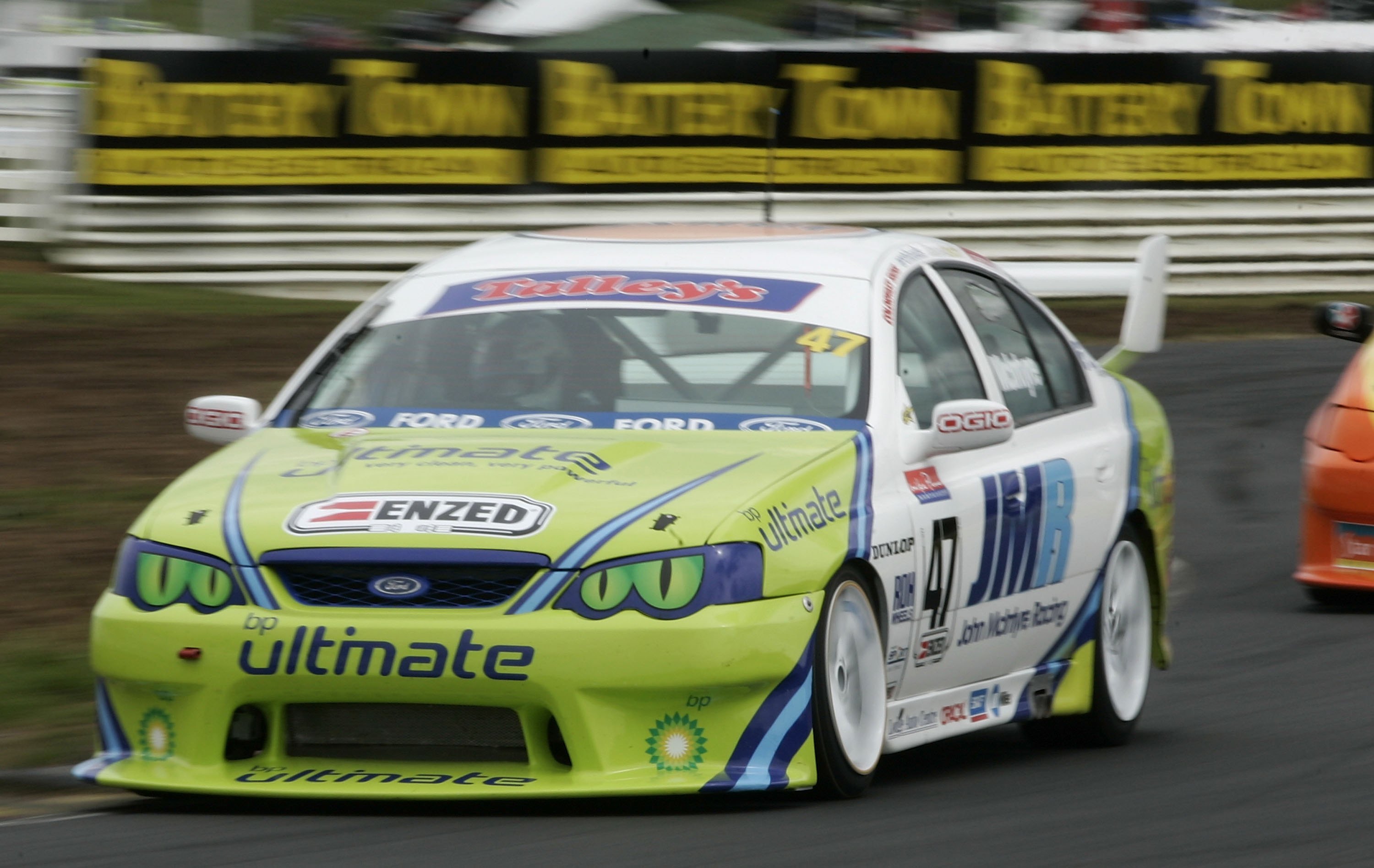 John McIntyre competing at Pukekohe in 2006. Photo / Getty Images
The new V8 Touring Car championship is a mix of the three different designs - the old NZV8s (TL cars), new-look NZV8s (TLX cars) and the V8 SuperTourers (ST cars).
It is a big challenge trying to push three different designs of car together and get a fair and level playing field but that is what had to happen if the category was to survive.
As we head into year two of the amalgamated championship McIntyre believes the series is heading in the right direction.
"I think everyone who has stayed involved has done a really good job to work together and it looks like this year they will definitely have some growth.
"I have had some involvement with Brock Cooley, who won the TL championship last year and now he is moving up into the group 1 cars with a Falcon SuperTourer. That is a good sign.
"Everyone involved is working more closely than they ever had and that is what was needed."
Race fans always roll their eyes when they hear the word parity mentioned. Defining parity is part of the problem - in a sport where engineering and car set-up is as important as driver ability being able to even identify what parity is can be hard enough.
Then when you throw in three different types of car, all designed differently and trying to find a fair balance across the class is not straight forward.
Championship organisers have made some rule changes this season to hopefully make racing more even.
McIntyre says it is vitally important for the series to do their best to have as much parity as possible.
"If you really want to benchmark yourself as a driver and you don't want it to be about equipment then you are really seeking parity," the former Prodrive Racing endurance driver says. "You do need to get as close as possible to parity but when you are trying to merge differently developed cars together it is always going to be a little bit difficult.
"The fact they are making some more adjustments to bring them closer together is a good thing. You can't just wave a magic wand and fix it overnight or even over one season. It will take two or three.
"I think it is positive that they are working towards that."
McIntyre says the most promising thing about the current landscape is the impressive numbers of cars in the entry-level series.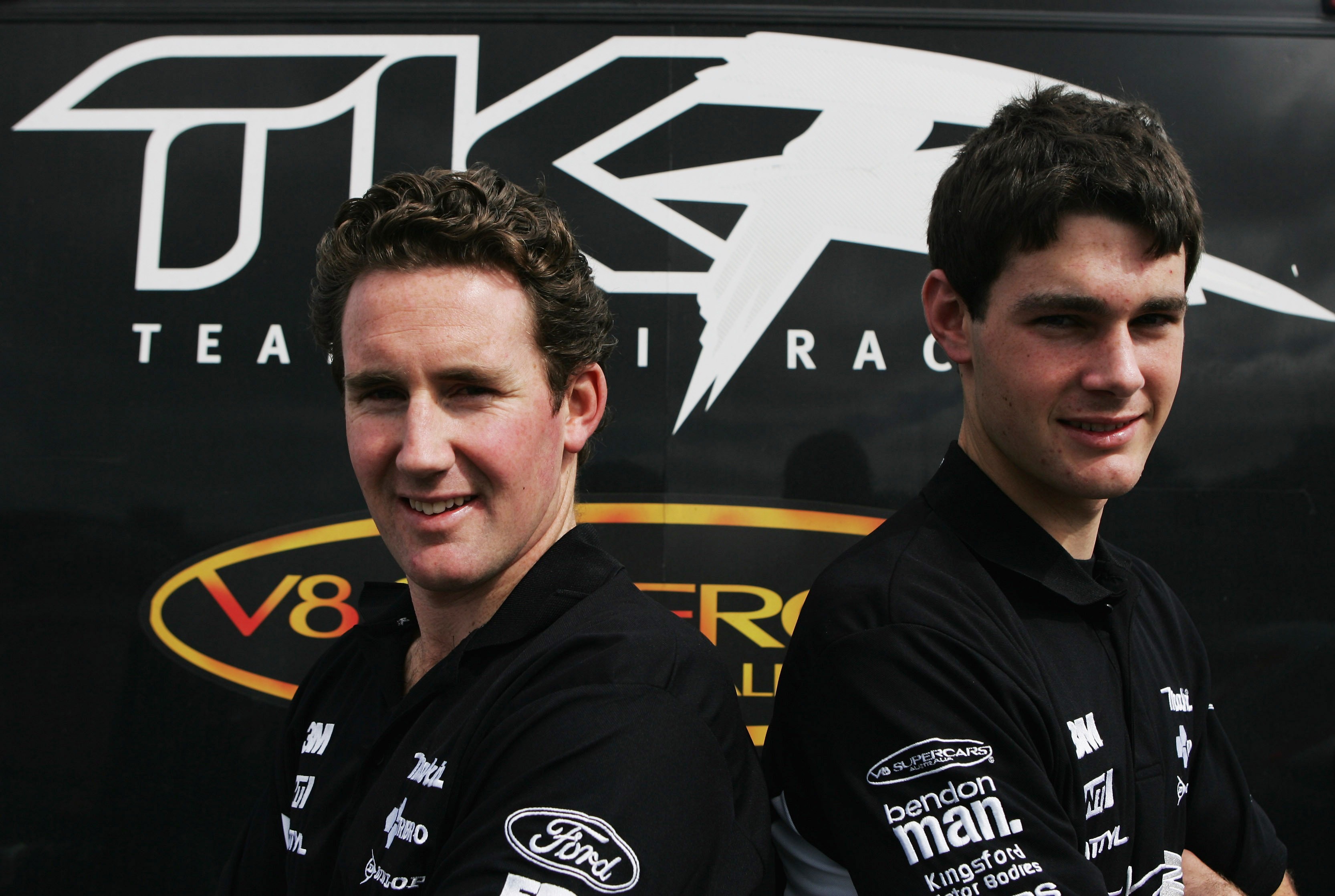 John McIntyre poses alongside a young Shane Van Gisbergen during their Team Kiwi days. Photo / Getty Images
"I think the thing that is exciting is that you have got something like the Toyota 86 category doing a very good job and building some really good numbers. If those guys are choosing to go into a tin top career earlier than say going into TRS then they are going to need to get that next level of experience that the touring cars provide.
"If the feeder categories are strong then the bigger categories will be strong. It doesn't work from a top down point of view.
"As long as touring cars remain a stepping stone to going somewhere else then it will have a future. You need to learn your trade and touring cars are one of the best ways to do that. If you go from a touring car to a GT car it is a lot easier than going from a GT car to a touring car."
The 39-year-old has driven the Tulloch Motorsport Camaro in the North Island and South Island endurance series this year and thoroughly enjoyed himself.
"I have changed my program around," he says. "I am really happy doing the endurance series with Tulloch Motorsport - we will have seven rounds this year from March to mid-October. I have some other things I am building up in other industries that I am putting a lot of focus on.
"If someone said 'here is a drive in a touring car and all you have to do is turn up with your helmet and away you go', sure I would happily look at it."
- Dale Budge
By Dale Budge • 16/09/2016