Home
/
Motorsport
/ F1 pundit's live "C*CK" up while discussing Brendon Hartley
F1 pundit's live "C*CK" up while discussing Brendon Hartley
A Formula One trackside commentator has been left red-faced after an inappropriate message appeared on his screen while displaying his phone on live television.
Ted Kravitz, a British racing pundit who works for Sky Sports, was showing images of New Zealand driver Brendon Hartley as a child during build-up to the Brazilian Grand Prix on Sunday, the Daily Mail reported.
A friend of Kravitz clearly saw the segment as an opportunity to stitch up his friend, as a contact under the name "MSY Mob" texted "C*CK" to the pundit.
"It's always a bit of risk when you do this because people text you with certain messages,' Kravitz said as he swiftly pulled the device away.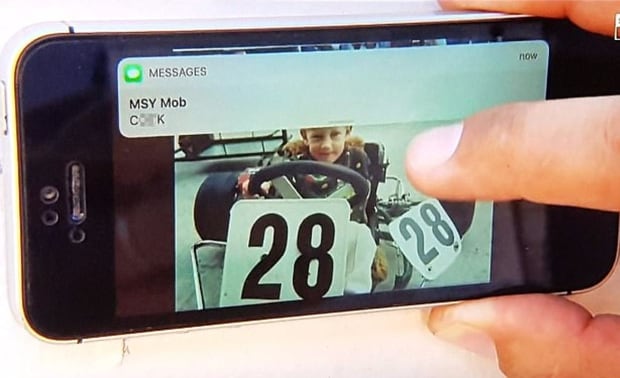 The rude message appeared above the image of Brendon Hartley as a young racer.
The Sky personality was leading his regular segment "Ted's Notebook" where he features human interest stories about the drivers and personalities of Formula One.
Kravitz was introducing the little-known Kiwi driver and identifying why he had chosen to race with no.28.
He was displaying pictures of Kiwi Hartley as a child, racing go-karts, a common pathway for F1 racers.
The 28-year-old raced under the number from a young age, and has kept it throughout his career.
Unfortunately, the focus quickly shifted from the adorable pictures of a young Hartley, as one of Kravitz's mates took it upon himself to embarrass the commentator.
Fans were quick to jump on the snafu on social media, with one personal labelling it the "blooper of the decade".
"Whoever text @TedKravitz simply saying 'C*CK', well played," one person said.
"Brilliant! @TedKravitz shows a photo on his phone on tv....so a quick thinking mate sends him a text that simply reads 'C*ck' and yes, we all saw it Ted!!" another person tweeted.
-Daily Mail
By Sam McPhee • 15/11/2017
Tags