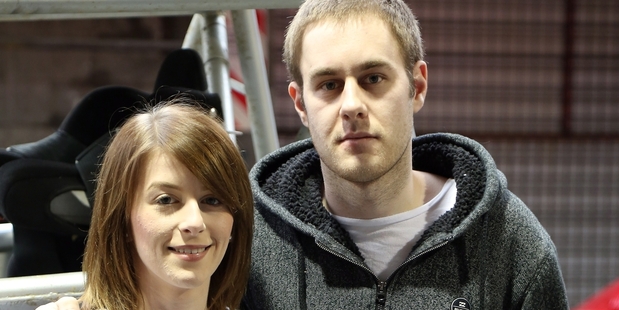 ROAD TO RECOVERY: Kyle Heibner and his staunchly-supportive partner Annaliese Best are back in Wanganui this week visiting family and friends during the long journey to recovery. PHOTO/STUART MUNRO 
Part of his recovery was to have a large piece of his skull surgically removed and frozen to allow for his swelling brain.
Once stabilised, Heibner was sent to the Laura Fergusson brain rehabilitation unit in Christchurch, where his recovery began to pick up pace with help from the expert staff. In May he was well enough to return home to Nelson, where he lives with his partner Annaliese Best at his mother Donna Elston's house. Annaliese stood by her man almost 24/7 during the six month ordeal.
Back in Wanganui this week to visit old mates and his dad Steve Heibner, the former racer said he does not remember anything about the incident at Oceanview.
"I don't even remember the teams racing the week before," Heibner said yesterday.
"The recovery was slow to start with but I'm getting better every day. I know there is a long way to go, but my next big goal is to return to work soon, even if it's part-time. The staff down in Christchurch were really good.
 "I spent most of my days in the gym during rehab, but they also gave me a notebook so I could write things down and reflect on them later to help with memory recovery. My memory is getting better, although I do have lapses now and again."
Heibner has accepted he will never race stockcars or superstocks again, but he and his supportive dad have long-term plans to maybe race super saloons.
"The danger of getting another head knock in superstocks is too great to contemplate," Heibner senior said.
"But we'll look at super saloons later on maybe - that's non-contact racing. In the meantime, we are getting the two superstocks ready to sell and keep the tank (stockcar) at this stage. Kerry Podjursky (Wanganui Warrior) will race it this season."
Both father and son have been blown away by the level of support throughout young Heibner's ordeal and have taken the opportunity to offer their thanks to everyone.