Larsen, Hunnibell star in drama-filled opener
A wet Saturday night saw the Vodafone Springs Speedway opening night event moved to Sunday where weather allowed for an action-packed start to the season.
Jamie Larsen survived the carnage in the sprint car feature race to take the chequered flag in the 1NZ car by 1.8s from Keaton Dahmn.
Dean Brindle was third with Michael Pickens fourth.
Pickens, Brindle and Larsen each won a heat earlier in the night but the biggest action was a crash by Jamie McDonald. The Aucklander was the big loser of the meeting where most of the other big names had strong results.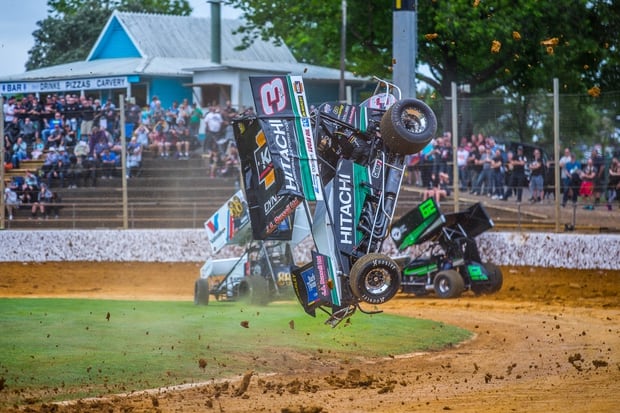 It was a chaotic opening night at Vodafone Springs Speedway. Photo / James Selwyn Photos
Peter Hunnibell claimed victory in the midget feature race beating Brad Mosen by just over half a second. Thomas McLean finished third.
Michael Morrison, Hunnibell, Shayne Alach had heat wins in the midgets.
Scott Baker took out the TQ midgets feature race while the F2 midget feature was won by Corbin Anderson.
-NZ Herald