McLaughlin completes Barbagallo clean sweep
Kiwi Scott McLaughlin made it back-to-back wins over the weekend with victory in Sunday's Supercars race at Barbagallo Raceway north of Perth.
The Shell V-Power Ford racer qualified on pole and led from start to finish to take maximum points from the weekend and close to within 31 points of teammate Fabian Coulthard in the championship standings.
Chaz Mostert (Ford) and Jamie Whincup (Holden) completed the podium in a race that was more about tyre conservation than hard racing although the Shell V-Power Fords were clearly the fastest cars on show.
McLaughlin's dominance came with iconic team owners Roger Penske and Dick Johnson watching from the garage. American Penske was on hand to see the young New Zealander get his first win for the team on Saturday while McLaughlin races with the number 17 that Johnson made so famous in the 1980s and 90s.
"We got the broom out and took some points," McLaughlin said of his weekend clean sweep.
"To get the #17 back in the number one spot is fantastic with Dick [team co-owner Dick Johnson] and the team.
"We just need to build on this and we should be alright.
"I was pretty nervous about my first race in front of the bosses but they employed me because they believe in me and that is all you can ask as a driver.
"To do it in front of them so they can see it rather than second hand text messages is awesome."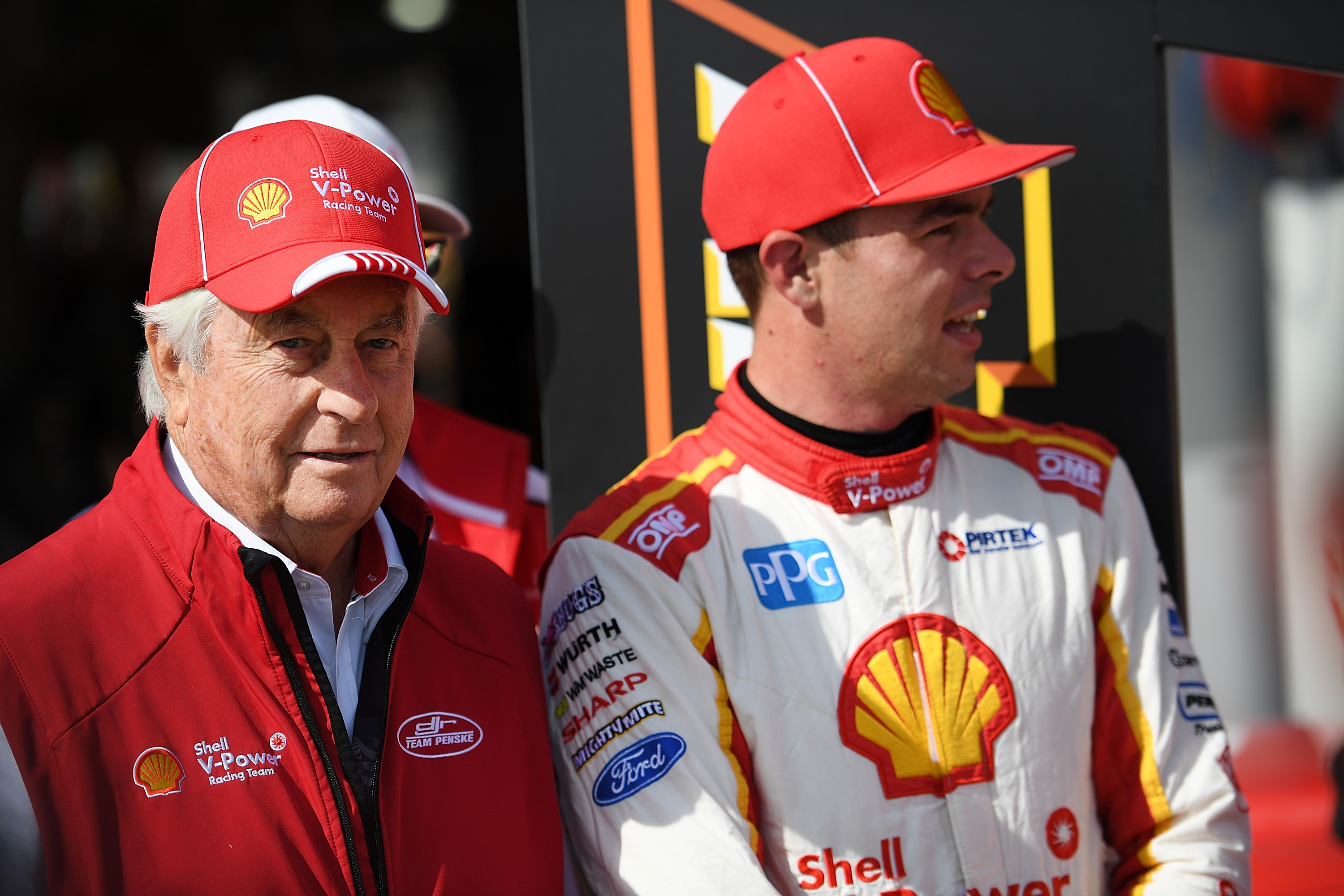 Scott McLaughlin celebrates with team co-owner Roger Penske. Photo / Getty Images
Reigning series champion Shane van Gisbergen had to settle for sixth after struggling to match his championship rivals with the set-up of his Red Bull Holden. His car came back to him late in the race and he managed to pass Coulthard with a lap remaining to reduce the latter's championship lead to 19 points.
Veteran Holden driver Craig Lowndes had an issue with his car on the warm-up lap and opted to drop to the rear of the field in fear that the car would not get away when the lights went out. He managed to recover from the problem and work his way to eighth at a venue where he's had plenty of prior success.
Both races across the weekend were free of drama or safety car intervention and drivers were frustrated having to drive to conserve tyres rather than fight all-out for position. It prompted van Gisbergen to comment over his team's radio about how boring the racing was.
The series moves to the rural Victoria track of Winton in a fortnight.
Championship Standings
Fabian Coulthard 802 points
Shane van Gisbergen -19
Jamie Whincup -22
Chaz Mostert -31
Scott McLaughlin -31
By Dale Budge • 08/05/2017
Tags