Motorsport: From racetrack to exam room
Young Kiwi's racing career is taking off, but he knows he needs education too
Formula Masters China champion James Munro is back in New Zealand on a flying visit for something he reckons is almost as important as trying to become a professional racing driver - his education.
The 17-year-old from Christchurch has Year 13 exams to finish at Christ's College, and knows a sound educational foundation is paramount if he wants to go to university at some stage.
"I've always had good marks at school and I hope I can keep the standard up this time," said Munro. "It's going to be hard though, as I've missed over a fifth of school time this year.
"I've got two exams to go and I'm going to have to miss one. I fly back to Asia [yesterday] and am coming back on Tuesday next week, which is when I have to sit them.
"It'll be tight but I've arranged to sit the last exam [physics] at King's College in Auckland straight from the airport.
"I'm pretty sure I'll still be able to get the required number of Level 3 credits to make sure I can get a place at university if I want to go there in a couple of years. It's always good to have a back-up plan."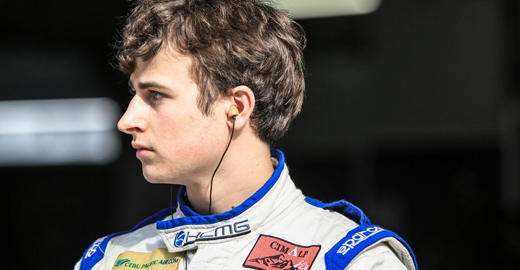 James Munro
Munro is testing a Lamborghini Huracan GT3 car at Sepang, Malaysia, this weekend. 
Lamborghini is part of the Volkswagen group which runs the Formula Masters category, and it decided to pick a few drivers to test.
"Three drivers were picked from Asia but it sounds like there will be about 50 drivers from all over the world testing," said Munro.
"It's going to be a shootout where we get only eight laps each. I want to do Formula Three next year, but if I can't get a budget for that it would be very nice to have a GT drive to fall back on."
The teenager began racing karts in 2009 and finished third in the 2011 New Zealand Rotax Max Junior category, following that with a fourth in the New Zealand Kartsport Sprint Championship.
Munro stepped up to the Formula Ford series and dominated last year's national championship, winning 10 of 15 races.
Just turned 17, he immediately moved to the internationally recognised Toyota Racing Series.
Despite a few hiccups through the five weekends, Munro finished seventh among some experienced international drivers.
Munro has learned more as a driver and in racecraft from the competitive Chinese series and wants to go testing in Europe.
"I'm going over to Spain for a couple of weeks in December. The first test is with Motopark [GP2, F3 and ADAC Formula Masters teams] and the second is in an FIA F3 car with Van Amersfoort Racing.
Follow Driven on Facebook and Twitter for the latest road tests and motoring news.
"They ran Richie Stanaway, when he won the German championship, and Max Verstappen, who's now in F1. I think getting a drive in F3 is a possibility and doing well in the Toyota series next year will help."
Munro is having another tilt at the TRS championship.
"I'm hoping to do even better than last year. Being able to go to potential sponsors hoping to have won the series, or come very close, will help get some backing. 

"I've learned a lot over the past year, and it's not just about being able to go faster, it's about how to be consistent week in and week out.
"I've also learned how to win a championship and make sure I'm in the right mental place when the pressure comes on."
• Munro and his supporters have started Club 5000, aimed at raising money for him to take part in an F3 testing programme in Europe. See jamesmunro.co.nz.
By Eric Thompson • 22/11/2014
Tags