Paddon won't bow down to Ogier's moaning
Kiwi rally star Hayden Paddon refuses to bow down to three-time world champion Sebastien Ogier over one of the sport's biggest talking points in 2016.
Ogier, who leads the world championship by 51 points heading to next week's Rally Finland, has been complaining about the starting order or world championship events all season.
Current rules state that championship order dictates the starting order on the first two legs of a WRC event meaning Ogier, who has led the championship all season, has been disadvantaged by having to run first on gravel stages, sweeping the way clear for the following cars to have more grip.
Ogier has even threatened to quit the sport should the FIA extend the same rules to a full rally next season.
"It is completely blown out of proportion," Paddon tells herald.co.nz about the ongoing issue. "The only reason it has come to surface so much this year is that you have had one person complaining about it so much.
"He has probably been a bit unlucky in that all the gravel rallies this year have tended to be dry but that is the beauty of our sport. If it had rained he would have had a huge advantage. The tables can turn so quickly.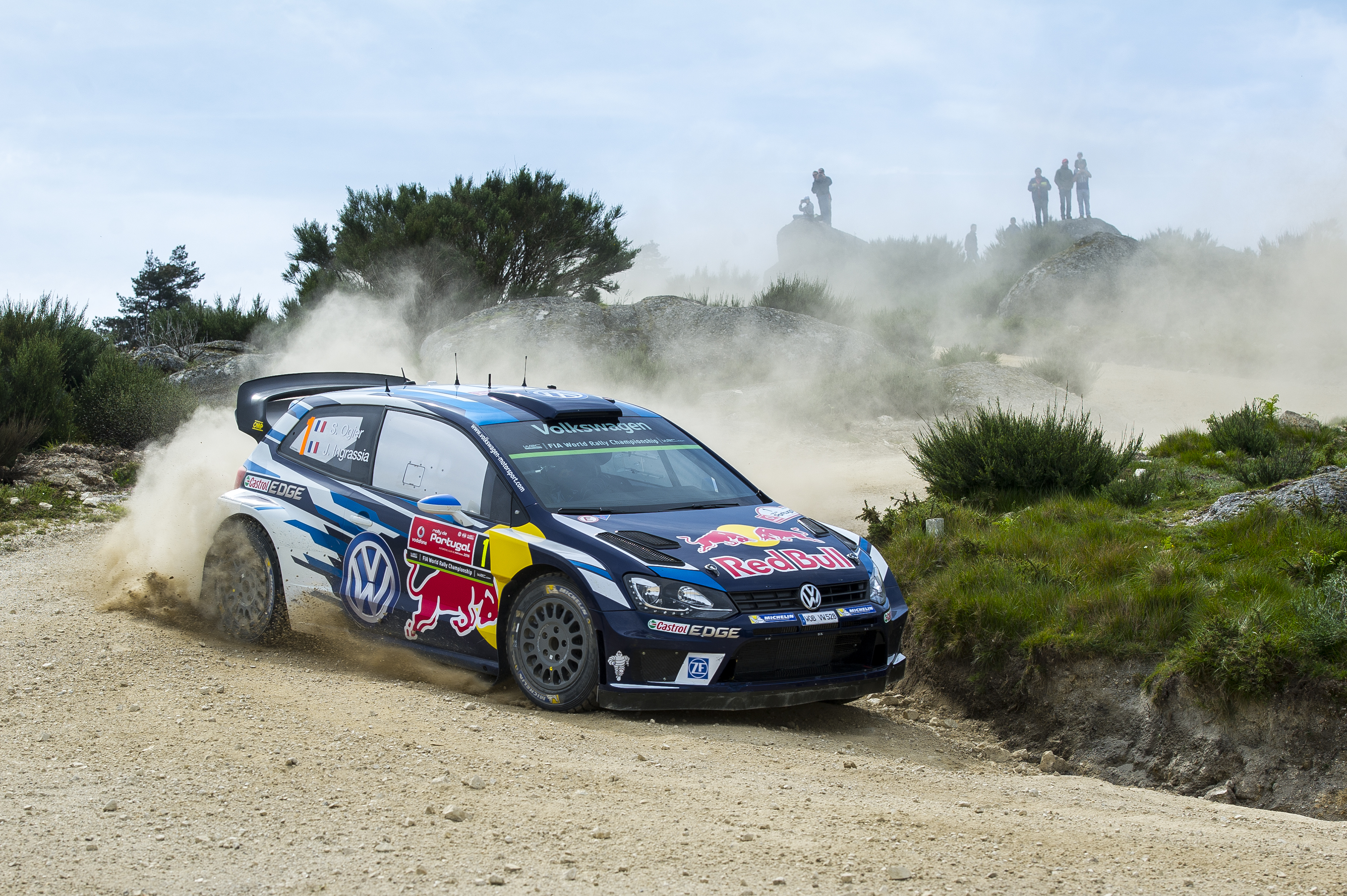 Sebastien Ogier 
"We are also about to go into a series of tarmac rallies where it is better to be first on the road and all of a sudden he is going to have an advantage for four or five rallies."
Ogier won the first two rallies of the year in Monte Carlo and Sweden but hasn't tasted success since although he has banked consistent results that have seen him take a commanding lead in the championship.
A number of other drivers - Jari-Matti Latvala, Paddon, Kris Meeke, Theirry Neuville and Andreas Mikkelsen have all captured rally wins since leading to Ogier's growing resentment.
Paddon admits road position has played a part in those results but he also points to the gap closing between Ogier's Volkswagen team and the other manufacturers this year.
"It has changed because our team has become a lot more competitive and closed that gap with him and Volkswagen. In the past they would have had enough of a buffer to get away with being first on the road but the competition is so tight now that it is almost a determining factor.
"You can understand his frustration but at the end of the day he is first on the road on merit because he is leading the championship. If he wanted to trade spots with me I would be quite happy to because it means we'd be leading the world championship."
Paddon admits however that he would like to see the rules tweaked in 2017.
"I do believe it needs to change but not to the extent that a lot of people are saying," the 29-year-old Hyundai driver explains. "For me it should go back to what the roots of rallying have always been and what it is in the New Zealand Championship where you have championship order on day one and then classification order on day two and day three. That means if you lose too much time on day one and drop back you have the opportunity to make it up on day two and likewise day three.
"It has been like that forever all through the 60s, 70s and 80s it has what it has always been."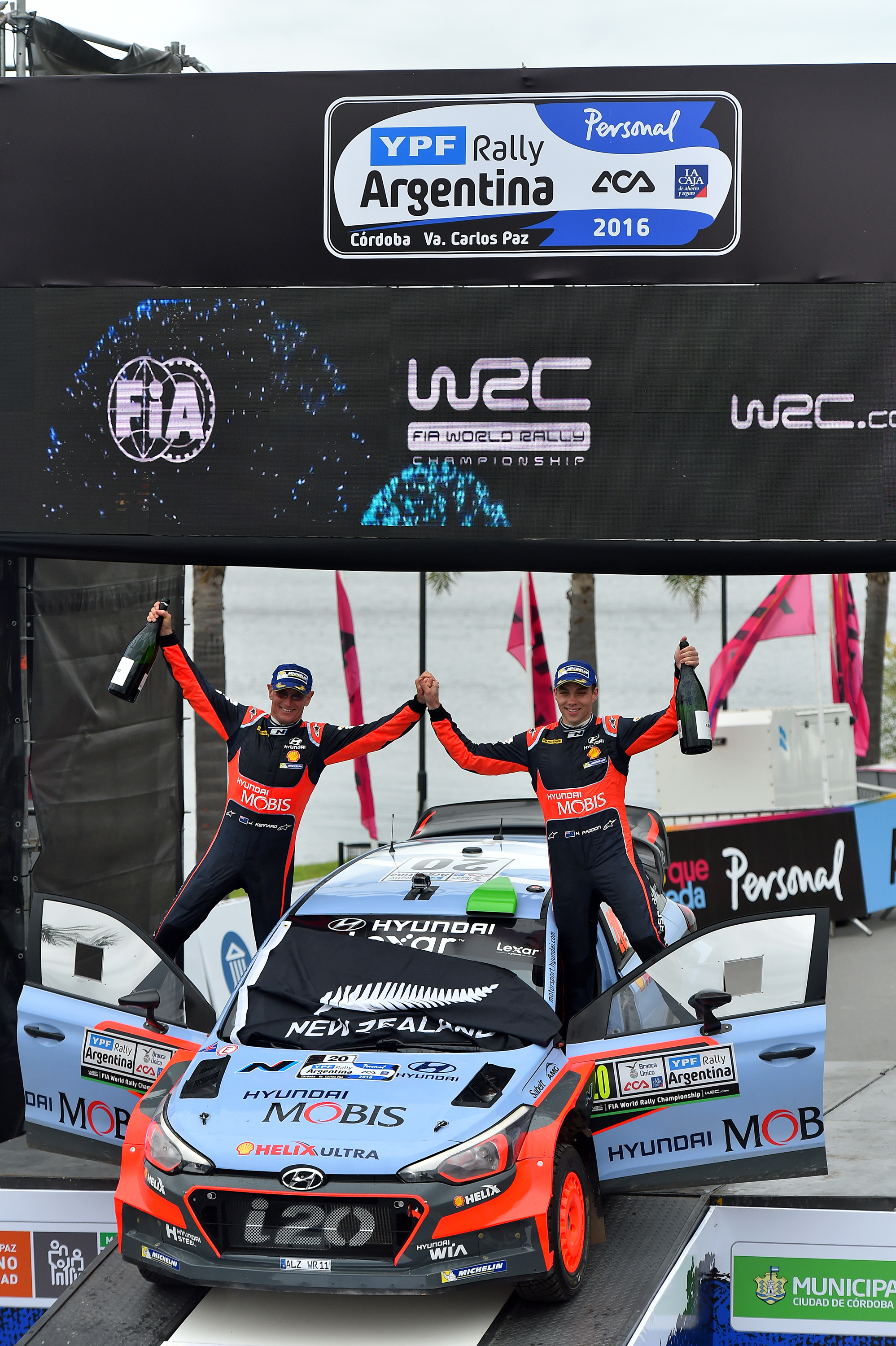 Hayden Paddon and John Kennard celebrate victory at Rally Argentina
As for his battle with Ogier - the three-time world champion has made some disparaging remarks about the Kiwi - Paddon sees the growing frustration and sniping from the Frenchman as a back-handed compliment.
"Oh definitely. There are a lot of mind games that happen in the background and that is all part of it. We are all competitors and we are trying to beat each other and you look for every opportunity you can.
"I can understand his frustration but we are rallying; we are not doing circuit racing. That is the beauty of the sport and we should embrace it.
"It is the same when we come back home to New Zealand and compete because you are first on the road because you are the fastest driver or whatever it may be - you don't complain about it you just get on with it and do the job."
- Dale Budge, NZ Herald
By Dale Budge • 21/07/2016