Putting 'Mad Mike' Whiddett on the hot seat
Sitting down to chat with New Zealand's biggest drifting export
He has more Facebook followers than Sonny Bill Williams, Richie McCaw, Dan Carter or even Steven Adams - combined.
In fact Auckland's Mad Mike Whiddett has more Facebook followers than any other Kiwi sportsman - somewhere in excess of two million people.
The 35-year-old drifting star is one of the biggest names in motorsport - backed by global giants Red Bull and Mazda, Whiddett's journey is the ultimate rags to riches story. The self-confessed teen hoon's life has been littered with challenges but the aggressive and fearless approach that has inspired his driving has seen him overcome whatever obstacles have been in the way.
Whiddett hails from a modest East Auckland upbringing and a career in the spotlight didn't seem likely in his younger days.
"I was brought up with my Mum," Whiddett tells herald.co.nz. "It was a pretty common theme to be in a different house every year renting somewhere. That was the norm. I grew up in East Auckland and I got dragged along every weekend by my Mum - she rode horses and she still does. We were always going over to the North Shore Riding Club and I would spend my weekends with remote control cars or riding my BMX, making jumps and what have you while she rode.
"At about six years old Mum bought me a little farm bike - a little Suzuki two stroke but it was five-speed and had a clutch. It was a pretty decent bike for your first bike. She had no idea how to operate it. I figured that out by myself and sort of progressed riding it around the farm and learning mechanical things the same way - by pulling off the exhaust and the muffler I finding that it went faster. I was self-taught with the mechanicals and learning how to ride I wasn't ever tutored by anyone."
There was never anything else that appealed to the young Whiddett - cars and bikes were what drew him in.
"I just chased this dream of being a Supercross star up in the America from the get-go," he says. "Sky TV had only just came out and my aunty was the only in our family that had it so she would record it on a VHS - all the AMA Supercross with guys like Ricky Johnson and Jeremy McGrath and guys like that. I thought one day I would ride against those guys and chase that dream. That was the way it was all the way through my teenage years."
Whiddett got into riding competitively in New Zealand and proved to be exceptionally good at it, competing throughout his school years and even came second in the national championship.
"I went to Glendowie College - I couldn't get into any of the bigger schools because I wasn't playing any of the ball sports like cricket, soccer or rugby. I raced Motorcross every weekend and Wednesday nights I was training and in 1997 I was second in New Zealand at the nationals and that still wasn't a credible enough of an achievement to get into any of the big schools. Glendowie College was a cool school though. I left school at the end of fifth form and did a sign writing apprenticeship."
Whiddett can recall the first time he heard a rotary engine - a moment that would chart a career course later in life.
"Mazda rotaries - that is what I discovered at a young age. At about nine or 10 there was a guy who used to tow a horse float with an RX4 - I loved that car from that first day hearing that engine - loud and obnoxious - then seeing them. We had a little family bach at Whangamata and we'd go down there for our summer holidays and all the teenage boys were rolling around in rotaries. That was all the rage."
Racing cars became a regular thing for Whiddett during his school days after getting plenty of experience down at the local karting track.
"We were renting with my uncle and he was a car salesman and every day he would come home with a different car. He pit-crewed for a guy called Dean Cockerton who was racing Formula Atlantics, which were pretty much the top tier of New Zealand motorsport in the 1990s, and they had a sponsorship deal with this indoor karting place and we were there probably four times a week. They actually built a car for me and I could beat Dean Cockerton all self-taught. My uncle actually began to help fund some of my Motorcross because it was starting to get expensive for my Mum. You always needed new tyres or new clutch plates and all the maintenance at the level I was racing at. In 1997 when I got second in New Zealand - the guy who came fifth, I was on his bike from three years earlier.
"Motorcross was getting too expensive and at the same time I was 17 and wanted to roll the streets and be a hoon. My friend Brad and I would spend every night in the shed pulling our cars apart getting ready to cruise town on the Friday night. This is way before the internet so we'd get a Trade & Exchange and find an under section for $1,500 and we'd put this motor here and some good wheels there and that was all we'd think about.
"Another of my friends that joined us was Mark Tapper, who ran PWRC and had a very successful career as a rally driver. It was cool that it was our passion in our teens and it paid off travelling the world chasing our dream."
Whiddett celebrating victory in Japan earlier this year
Whiddett's mother was always supportive but found it hard watching her son compete in Motorcross, always worried about what horrific injury lay just around the corner. And there were plenty of serious injuries.
"I even had to find another family to take me to Motorcross because she didn't want to come and see me get hurt or concussed. I was always charging hard and it was pretty common that I was in hospital with broken bones. I would heal up for four or five weeks, watch a lot of tapes of Motorcross and then get back out there again."
So what made him put the fear of injury to one side and keep charging?
"The adrenalin. I just like that edge. I like being scared - pushing the boundaries that hard so that you are actually scaring yourself and then taking it another step further the next lap.
"The Crusty Demons of Dirt movement started in the US - freestyle Motorcross. I saw this and thought I could do that. You didn't have to have new tyres and flash gear and that. I did the first demo of freestyle Motorcross in New Zealand at the Big Day Out in 1999. I started hitting this ramp and that is where I got the name Mad Mike. This commentator just started calling me Mad Mike."
The horrific injury Mike's mother was worried about eventually did happen but even that didn't instantly slow him down.
"I broke my back and compressed and fractured four vertebrae and got told I was paralyzed for life from my T7 at X Air, which is NZ"s X Games. The idea of never walking again never sank in because I was on morphine and laughing gas. I only ended up in hospital for one night though. The swelling had only pinched the nerves, which cut all the feeling. It wasn't as scary as it sounded but it was a real eye opener. I got back on the bike six months later and the bike seized on a ramp and snapped my femur, I got titanium rods, and I realized this was going nowhere."
It was about then that Whiddett met his now wife Toni. She was also into the motorsport scene and it was once he had a partner in crime to share his crazy journey that Whiddett's professional career took off.
"That was the real game changer. We turned this talent into a profession. We started building cars properly. It took us about three years to go and check out this thing called drifting. We were into it from the word go once we experienced it.
"My first year into drifting was very successful and I think it was fueled by hate or tall poppy syndrome, which New Zealand is the worst at. Hearing "it is a rotary and it won't work" and "just because he can flip dirt bikes doesn't mean he can drift" and other doubts inspired me. All of that fueled my fire to succeed. Right the way through to the final round that first year we had a chance at winning the title."
Whiddett got his big break in just his third ever competitive drifting meet.
"My third event at Pukekohe was a D1GP driver search. That was the elite drifting championship in Japan. We had to finish in the top four and we got the chance to go to California and compete there. I finished fourth and there was no funding but it got you the right to go there. This was a once in a lifetime opportunity. We promised and begged and borrowed and put the car in a container and got the team up there and we got into the top 16 there and that set my name in stone in the drifting community. I went to Singapore after that and got third in an Asia Pacific championship.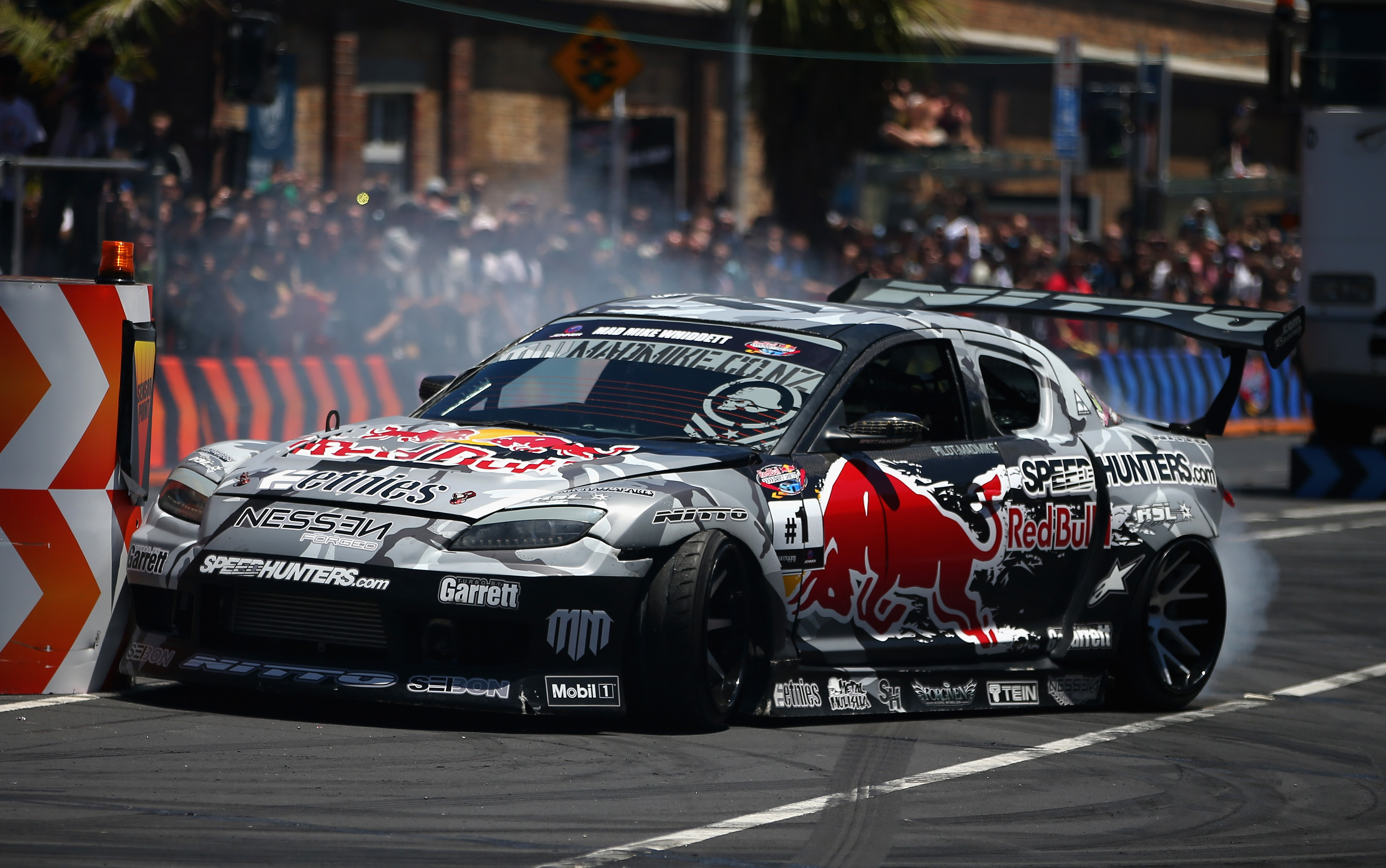 Whiddett and his RX-8 competing at the inaugural Red Bull Drift Shifters event in Auckland City
"I came back to an email from Red Bull saying come in and talk money. That is just the dream email. The dream was always to have the Red Bull helmet because you knew when that rider turned up they were going to be the guy to beat. It changed everything - not just financially but the credibility of the sport. Every time a kid goes around a roundabout and kills someone it only takes one news presenter to paint drifting in a bad light so to have a company like Red Bull come in and sponsor it gave the sport credibility."
Drifting has taken off in terms of popularity as his incredible Facebook following would prove. Now one of the biggest names in the sport, Whiddett has a big budget to work with. That of course brings bigger challenges but he has made a great fist of things. He currently leads the World Championship and is also focusing on some other projects around the sport, with some big announcements to come later in the year.
"Every weekend we are either in the car or working on it. There are five cars in total and they are scattered all round the world. We are currently leading the world championship. We've had two rounds in the States - Orlando and New Jersey and then I just went to the Goodwood Festival of Speed.
"We want this world championship."