20-million dollar McLaren F1 crashes near Queenstown
A McLaren F1 car worth an estimated $20 million has crashed near Queenstown this afternoon.
Police were alerted about 12.15pm to the incident on the Glenorchy-Queenstown Rd, where the car had spun off the road, a spokeswoman said.
A man has been injured, but it was understood not seriously.
No other vehicles were involved.
The car is a 1994 McLaren F1 capable of almost 400km/h and said to be worth about $20 million.
The crash happened on the last leg of the inaugural McLaren Epic tour of New Zealand, a convoy of 31 McLarens from around the world travelling from Auckland to Queenstown this week.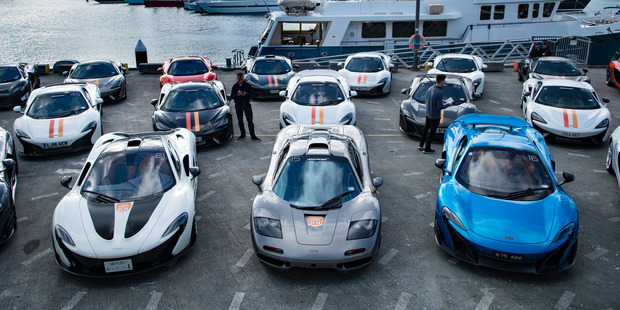 The F1 took pride of place in the photo line-up in Auckland. Photo / Matthew Hansen
Yesterday, the cars boosted around Queenstown's Highlands Motorsport Park track at speeds of more than 250km/h.
On Thursday, former All Black captain Richie McCaw treated McLaren supercar fans to a guided chopper flight to Minaret Station.
After arriving in Wanaka, participants boarded a fleet of choppers which McCaw led to the station. Once they touched down the guests tucked into a five-star meal before heading back to The Edgewater hotel.
The tour, which pays tribute to the brand's Kiwi founder Bruce McLaren, is due to end today.
The fleet of 32 supercars that make up the tour's convoy are collectively worth about $45 million.
- Otago Daily Times