Bad drivers, not roads, to blame for shameful death toll
Fatal crashes caused by human error, also known as preventable crashes, made up most of the region's 2017 road toll. In total, 11 people have been killed so far this year.
The figures sparked Associate Transport Minister Julie Anne Genter to call for an urgent meeting among roading officials to be held today.
Nationally, 326 people have died in 281 crashes. Of this, 169 were drivers, 72 were passengers, 37 were motorcyclists, 16 were pedal cyclists, and 32 were pedestrians. These include the death of Ahmed Shariff, 37, in the Kaimai Range on Thursday.
Last year, the road toll for the Western Bay was 19.
Speed, alcohol, not wearing seatbelts and distraction were common threads among this year's crashes, Senior Sergeant Ian Campion said.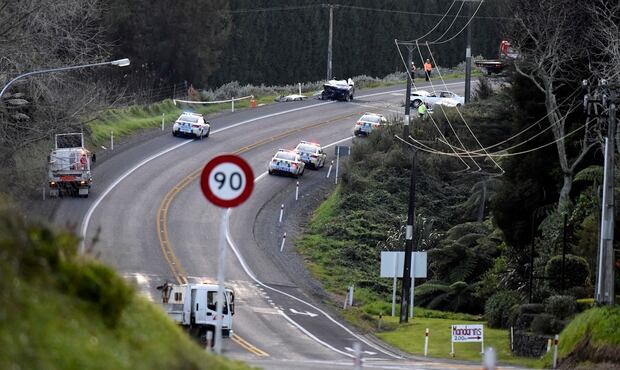 This crash near Whakamarama on State Highway 2 was one of many contributing to the Western Bay's road toll. Photo / File
The head of Western Bay of Plenty road policing said it was frustrating and a recent observation operation identified motorists trying to drive while also applying makeup, eating a bowl of breakfast, reading the newspaper and even shaving.
"There is a raft of contributing factors right across the board but there is a lot of the impaired drivers' stuff, like not wearing a seatbelt," he said.
"There is still a hardcore group out there that don't. They say they forgot or they hadn't even thought about it because it's not a habit."
Genter asked officials for an immediate briefing on what could be achieved in a short time to save lives. She also indicated hundreds of safety projects could take priority over planned new major highways, with money redirected to pay for the safety upgrades.
The driver of this car died after colliding with a logging truck on notoriously dangerous State Highway 2 near Omokoroa. Photo / File
Tauranga MP and former Transport Minister Simon Bridges said he hoped plans for the proposed Tauranga Northen Link, between the city and Katikati, would not be affected.
"That's a great example of literally, the most dangerous road in New Zealand at the moment, where significant new highway work will not only make it more effective but make it safer."
Bridges said the stretch of State Highway 2 north of Tauranga was so dangerous, the only way to make it safer was to create a new highway.
"Piecemeal improvements here and there just won't cut it. It needs to be a road of national significance not only for safety but also for our massive growth."
-Bay of Plenty Times
By Kiri Gillespie • 21/11/2017
Tags