Boxing Day traffic: Where to avoid and when to travel
Christmas may be over, but holiday traffic is still all around so take care and plan your journey if you're hitting the road this Boxing Day.
Instead of sitting down with loved ones for Christmas Day lunch, hundreds of motorists decided to brave the traffic earlier today.
Traffic was crawling on the two major motorways out of Auckland.
A southbound driver on the Northern Motorway told the Herald that the motorway's northbound lanes were jammed with vehicles which in some places were reduced to a slow crawl, between Silverdale and central Auckland.
Commuters have been asked by the NZ Transport Agency (NZTA) to plan ahead, drive to the conditions, watch out for fatigue, keep your cool, buckle up and don't drink and drive.
The agency has produced interactive Holiday Hotspot maps showing the busiest routes and times over the Christmas and New Year holidays.
Data from previous years shows highways are likely to be busy throughout the middle of the day from December 23 to January 4.
The map for Boxing Day showed a lot of hot spots all over the country, particularly during the middle hours of the day.
Holiday travellers coming and going from the capital were predicted to be hit with some of the worst traffic in the country tomorrow, according to the NZTA's website.
Those driving back to Wellington from a holiday up the coast could expect six hours of heavy traffic on SH1 southbound through Kapiti.
For those heading north from the capital things weren't looking much better.
Five hours of heavy traffic northbound were predicted from 10am to 3pm.
The windy Rimutaka Hill should at least offer relief in terms of traffic - just one hour, from 11am to noon, was expected to be heavy northbound between Wellington and Featherston.
Heavy traffic north of Auckland on Christmas day. Traffic is expected to be heavy around the country on Boxing Day. Photo / NZTA
Further south on the newly opened stretch of SH1 through Kaikoura, traffic south of the quake-damaged town will be heavy for five hours from 11am to 4pm both ways.
SH73 at Arthur's Pass will be busy westbound between 10.30am and 2pm, as would traffic going south on SH1 between Ashburton and Christchurch.
In the top half of the North Island, traffic is busier but hold-ups should be slightly shorter.
SH1 northbound between Puhoi and Wellsford is predicted to be bad for a large chunk of the day tomorrow.
Try to get away early if you have a big day of driving: the NZTA reckons traffic will be heavy from 9am until 3pm, with an hour of busy traffic predicted either side.
Those heading south on SH1 through Takanini south of Auckland should encounter heavy traffic for three hours, from 10.30am to 1.30pm, with a busy hour either side.
Northbound traffic was predicted to be fine.
On SH2 near Maramarua eastbound traffic should be heavy from 10am to 12.30pm, and again between Paeroa and Waihi from 1pm to 3pm.
SH2 eastbound between Tauranga and Katikati will be heavy for about an hour in the middle of the day - avoid the road if you can between 11am and noon.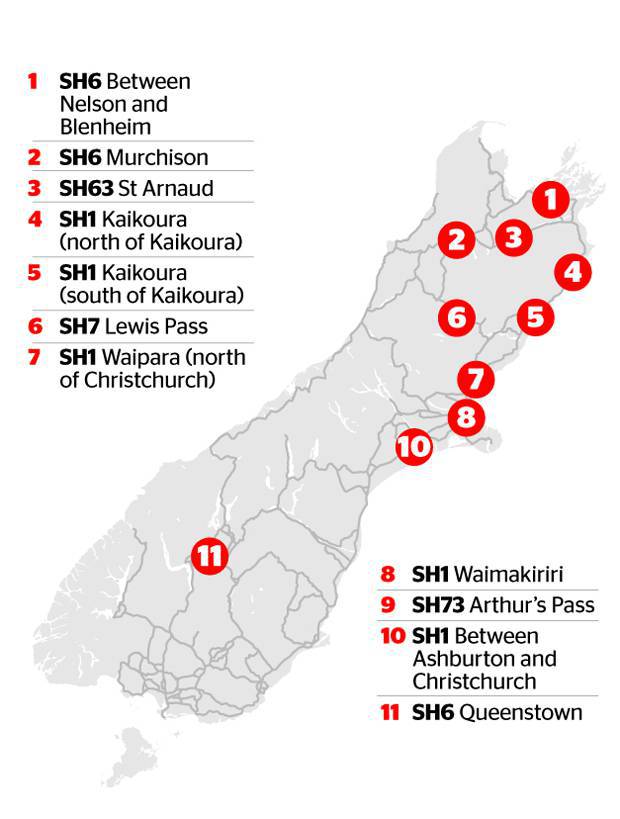 Heavy traffic north of Auckland on Christmas day. Traffic is expected to be heavy around the country on Boxing Day. Photo / NZTA
-NZ Herald
Keep up to date with Driven
Sign up now to receive DRIVEN news, reviews and our favourite cars for sale straight to your inbox.
By Tess Nichol • 26/12/2017