Car recovery 'not about making money'
Recovering cars from a Dunedin beach wasn't a "money-making exercise'' and shouldn't have ended with a shouting match at a police station, the men involved in the salvage say.
Rhys McAlevey, of Dunedin, said he had no sympathy for Mahmoud Helal, Ali Ibrahim and Hassan Almulla, believed to be international students living in Dunedin, whose three cars got stuck on Tomahawk Beach about 9pm on Saturday.
"If they had rung someone when it first happened, they would have got out but they were trying to get out for the cheapest price possible.''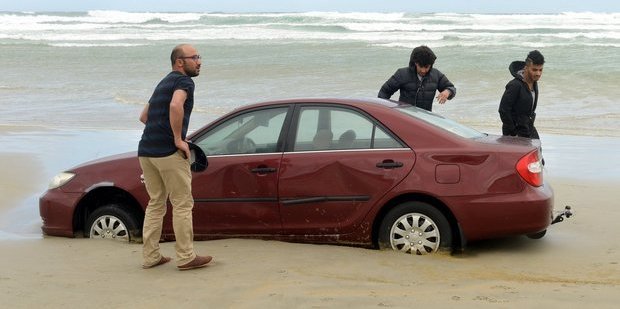 Mahmoud Helal, Ali Ibrahim and Hassan Almulla with one of their 3 cars stuck in sand on Tomahawk beach. Photo / Otago Daily Times
At 10am on Sunday, at low tide, Mr McAlevey said he offered to salvage the two cars stuck furthest up the beach, a Nissan Maxima and Toyota Corolla.
The recovery required two four-wheel-drive vehicles, a Nissan Navara and a Toyota Land Cruiser.
A $50 fee for each 4WD driver was agreed upon to cover any damage to the vehicles during the salvage.
"I didn't come down here for a money-making exercise; it's about covering your costs when you break something.''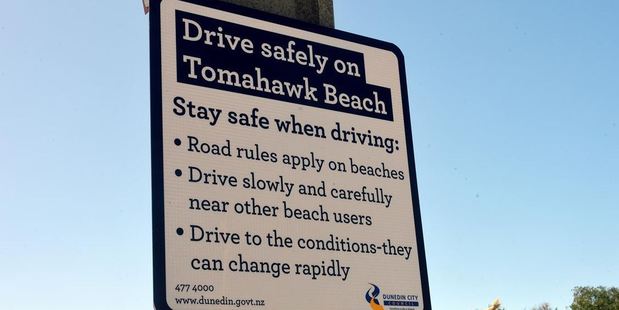 A sign detailing driving requirements for the beach. Photo / Otago Daily Times
The Corolla was salvaged and $100 was paid.
The Maxima could have been salvaged but it was locked, the handbrake was on, and the keys were missing, so it remained on the beach, as the incoming tide approached.
An attempt to winch the Toyota Camry - the car closest to the surf - was unsuccessful because it was buried deep in sand and would not budge, Mr McAlevey said.
He said he agreed to return to the beach at 6pm on Sunday, after high tide, for a second salvage attempt.
Blake Stanley, of Dunedin, said when he arrived at the beach about 4pm, another man had "blown both of his front hubs out'' attempting to salvage a car.
Mr Stanley towed out the broken car with his Toyota Hilux.
When Mr McAlevey returned for the second salvage attempt, he and Mr Stanley agreed a fee of $200 per vehicle used during the salvage.
Mr McAlevey said he and Mr Stanley, and a man with a Land Cruiser, who did not want to be named, worked for about two hours to recover the two cars.
Mr Stanley broke towing straps in the process.
When the salvage was complete the situation turned ugly, Mr McAlevey said.
The students told the salvage crew to follow them home for payment.
"They led us straight to the police station,'' Mr McAlevey said.
At the station, Mr McAlevey said the students became aggressive and an argument ensued until a student took $200 from a wad of cash, gave it to Mr McAlevey and Mr Stanley and swore at them.
"If they said: 'We'll buy you a couple of boxes of beers each and a feed', that would have been that, but the annoying thing is they had no intention of paying and lied about it,'' Mr McAlevey said.
The three damaged cars were left in the beach car park overnight and were vandalised.
Yesterday, the Nissan and Corolla had been removed but the Camry remained in the beach car park.
Dunedin City Council parking enforcement team leader Daphne Griffen said the council was trying to contact the Camry owner to remove the car.
If it was not removed, it would be towed at the driver's expense.
Yesterday, the council received two complaints about the Camry being in the car park.
Reilly's Towage & Salvage owner Rob Williams said if the students had called Reilly's on Saturday the vehicles could have been towed.
A beach salvage was expensive because parts of the salvage vehicle had to be steam-cleaned to prevent rusting.
Towing vehicles from beaches was annoying because it jeopardised his fleet.
"If you drive on the beach, you need your head examined.''
To salvage one car from Tomahawk Beach would have cost the students between $200 and $350.
To salvage the three would have cost between $450 and $600.
Automobile Association spokesman Liam Baldwin said if an AA member got a vehicle stuck in the sand, the AA would not recover the vehicle but would connect the member with a tow truck contractor.
"Any recovery would be at the car owner's cost.''
The AA had not received calls from Mr Helal, Mr Ibrahim or Mr Almulla at the weekend.
Southern police spokesman Nic Barkley said police were called on Sunday and were told to expect a group of men at Dunedin Central station about 7pm.
"They came into the police station, there was a bit of an argument and we let them know, because it was a civil matter we couldn't help them.''
Mr Helal, Mr Ibrahim and Mr Almulla did not respond to interview requests yesterday.