Genius DIY solution to avoid clamping fee
Fed-up motorists being asked to pay hundreds of dollars to have wheel clamps removed may not be as powerless as they believe.
They could take their cue from one angry woman, who cut a clamp off rather than pay.
Aucklander Golnaz Bassam Tabar refused to pay parking enforcement company First Recovery Services $200 to have her wheel released after parking in a friend's apartment's carpark this month.
She was 30 minutes late back to the complex's visitor parking in Freemans Bay on Tuesday last week when she saw a clamp on her wheel and a sticker on her window saying she'd need to pay the fee to have the clamp removed.
Taking matters into her own hands, Tabar instead had her partner come to change her tire, then took the wheel to their friend's workshop and had him remove it.
Replacing her damaged tire cost $50, $150 less than if she'd coughed up the amount First Recovery Services was asking for.
She dropped the clamp back at First Recovery, ignoring threats from management they would call the police - which they never followed through on.
"I was fuming man," she told the Herald.
"There was no way I was going to pay $200 to a free car park I was late to. If the fine had been more reasonable I might have considered it, but a $200 fine, there was no way I was going to do that."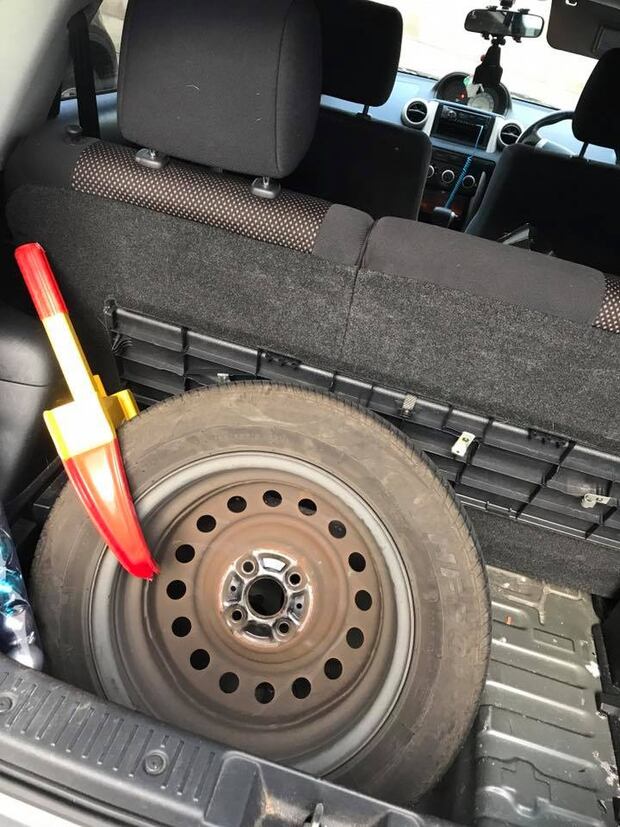 Tabar changed her wheel rather than pay a $200 fee to have the clamp removed. Photo / Supplied
Tabar said clamping companies used motorist's vulnerability against them, calling clamping predatory.
"It's predatory, extortionate behaviour and I'm not going to have it."
A couple were recently forced to pay $760 to Ponsonby Bashford Antiques owner Michael Organ to have their wheel released.
The fact police were called but had no power to stop Organ's demands showed clamping needed to be banned in New Zealand, she said.
"I couldn't believe it. The cops had no power, that's insane. And when someone's got their car locked up like that, they're in a vulnerable position.
"We have so many consumer protection laws, this [clamping practice] has got to go."
Clamping on private land is regulated only by a voluntary code of conduct, but the Bashford Antiques clamping has renewed calls to have the practice banned.
A series of stories reported in the Herald this year saw consumer affairs Minister Jacqui Dean promise to look into the issue but so far no announcements have been made about stronger regulation.
Auckland mayor Phil Goff also reiterated his anti-clamping stance, having previously called the industry a "money-making racket" when he was the MP for Mt Roskill.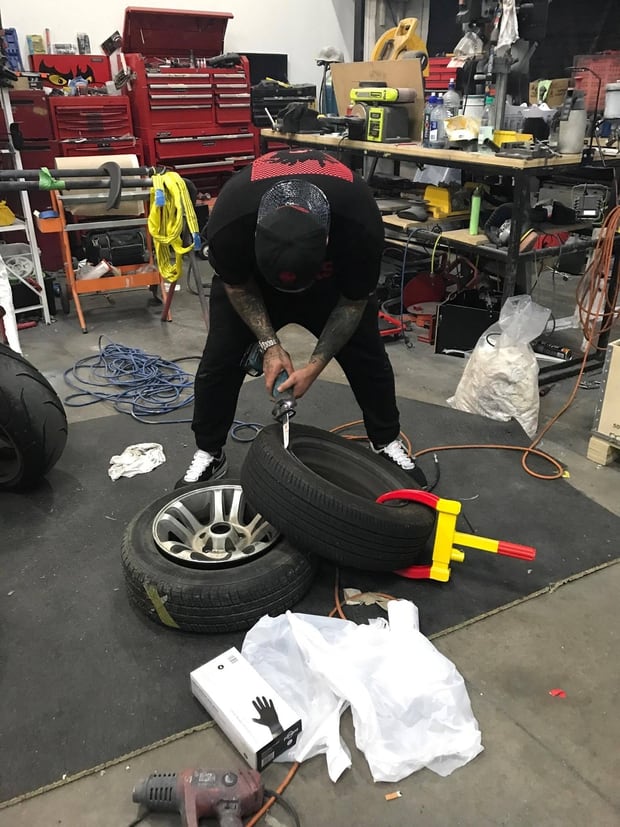 The clamp being removed at Tabar's friend's workshop. Photo/ Supplied
By Tess Nichol • 13/10/2017