Hyundai ute could sell as well as SUVs
How well can the Hyundai Santa Cruz lifestyle ute sell? As well as two of the biggest-selling SUVs on the planet, according to the brand.
Hyundai Motor America vice president of corporate and product planning, Mike O'Brien, told CarAdvice at the 2016 Detroit auto show that there's serious potential for a vehicle of this type in the market.
The Santa Cruz ute is more compact and city-focused than the regular dual-cab tradie set, currently dominated by theToyota HiLux and Ford Ranger in Australia, and the Toyota Tacoma and Chevrolet Colorado in the US.
O'Brien said that no-one thought the Honda CR-V and Toyota RAV4 would ever reach the sales heights they have in his home market, yet it is likely the SUVs will knock off their respective perennial top-placed counterparts, the Accord and Camry, in 2016.
O'Brien said that such fortunes could also be found if the brand's intentions for the Santa Cruz come to fruition.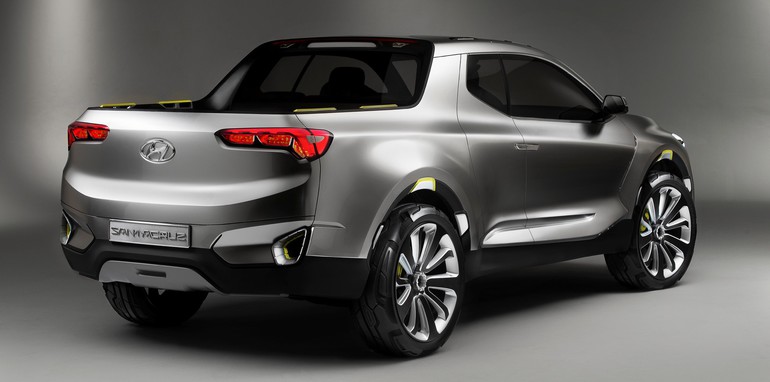 "I think it does have the potential to be really big volume in North America, because it's one of those vehicles that does everything," he said.
"It does everything a small SUV does, which is growing in tremendous leaps and bounds here in the States, and it offers something extra," he said.
Further to that, the Tucson-based model offers a better fuel efficiency rating than any larger pick-up truck could get away with. O'Brien suggested that's something that other manufacturers will probably need to take heed of, too.
As for bigger Hyundai pick-up trucks, it's a case of 'maybe later'.
"We have to start somewhere. So I think, right now, we're still on the beginning stage, though," O'Brien said.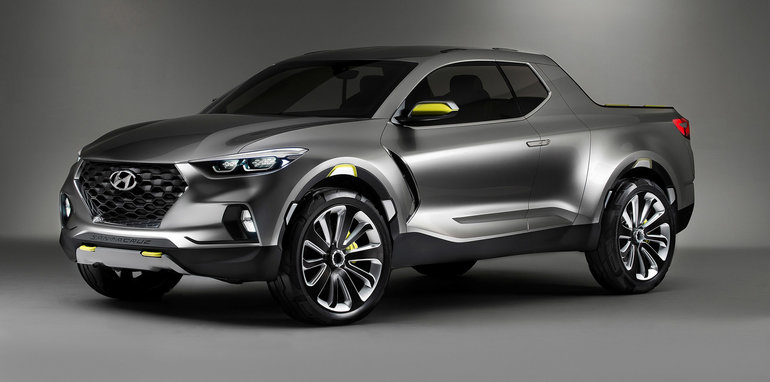 "Remember that the domestic makers here have been doing this for over a hundred years," he said. "You look at the Asian manufacturers that have tried very hard to break in to that market – they've had very limited success."
O'Brien recounted his time at Toyota and its struggles with the truck market.
"I was over at the Tundra project in my old job, and as much effort and money that went into that project, it's still a very small share of the market compared to Dodge [etc].
"Tacoma has been successful, but the Tundra has not met their expectations, really, especially when you consider the size of the full-size pick-up market.
"Then there's the rest of the market – maybe they don't need 11,000 pounds (4990 kilograms) of towing duty, maybe they can get by with 3000 or 4000 (1360kg to 1800kg). They can haul a jetski or a couple of dirt bikes; you only need to be able to tow 1500 pounds. Why do you need an 11,000-pound tow rating?" he posited.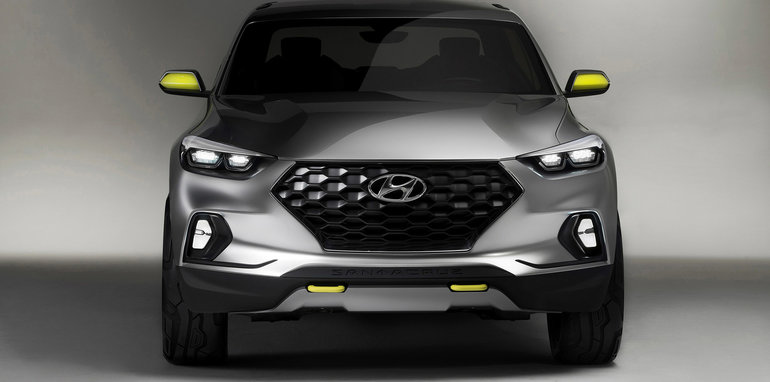 "I think there's going to be pressure among makers, and customers are going to put pressure on themselves, to look at alternatives that do a better job of carbon reduction and fuel economy. I do believe there are just many things that are coming together that make the potential for a product like this very good," he said.
When asked if it had the potential to outsell the more conventional Tucson SUV, O'Brien made it clear that could be the case in his market.
"There's no technical reason why it couldn't. Frankly we're trying to do platform sharing to be a little clever with it, and that will deliver a better price. But also we're looking to deliver the potential for manufacturing flexibility, which gets to your volume question," he said.
That last point indicates that it could be made outside of the US, and, as such, be built in right-hand drive. The Tucson platform allows for it, so there's no real reason why it couldn't happen.
As we pointed out, and many commenters on CarAdvice have also made clear, this could be seen as something of a replacement car for those who currently buy the Holden Ute or Ford Falcon Ute – car-derived, more focused on practicality than outright capacities and towing.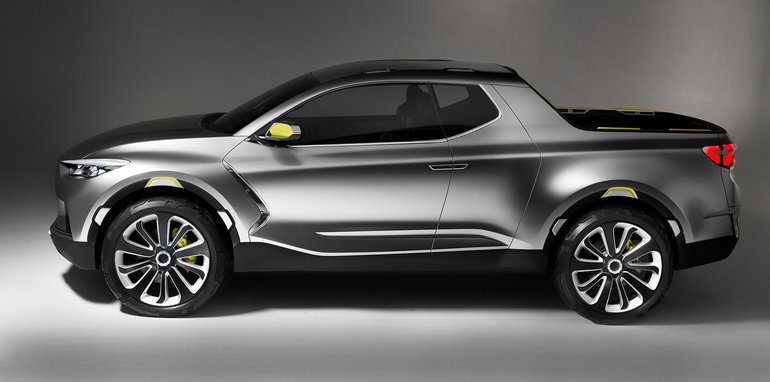 O'Brien said that while Aussies clearly love their utes, they might need to think differently in the future.
"They have heritage on their side," he said of the Holden and Ford models. "It's an accepted design. But it's probably not ideal, from a functional perspective."
O'Brien indicated that the company's focus has been on functionality, and he gave away a few hints as to what to expect for the production version.
"We did a lot of really innovative research for this product," he said. "One of the things we found that really resonated with people was a hard tonneau cover that was fully integrated into the pick-up. So, it wasn't some add-on thing that you have to store in your garage.
"So we were looking at some innovative ideas like a metal girder roll-up kind of tonneau that would be on a track and so it could be nested behind the rear seats. That idea resonated really well with customers, because it allowed them to have the open bed when they needed it, it allowed them to have to secure dry storage for the rest of the time," he said.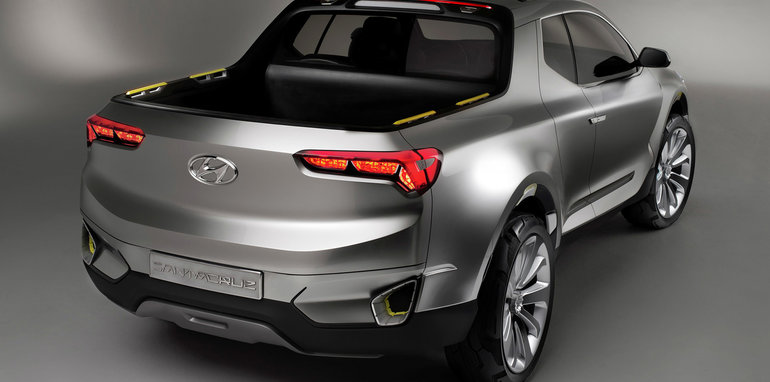 Another is the notion of a tray bed extender, which he said works in a similar fashion to the mechanical parts of a La-Z-Boy recliner.
"I don't know if you've ever watched the kinematics of the part where your feet go, but there's like a scissor mechanism that allows it to come out – it comes out and extends," he said.
"We've looked at a similar mechanism for the bed, where you open the tailgate it not only hinges, but it also extends rearward as you unfold it, as you lower the gate. It basically gives you more useful bed space.
"We're going to get the right match – it's just a matter of cost and benefit," he said.
By Matt Campbell, CarAdvice.com.au • 14/01/2016