Large tree falls on cars at Cornwall Park
Auckland man Tui Vakauta was getting his son's soccer ball from the boot of his vehicle when he heard a crackling sound - and realised a large tree was about to crash down on him.
Mr Vakauta, of Mt Roskill, was at Cornwall Park with his wife and children this afternoon when the incident happened shortly before 2pm.
"My wife was in the car, we were getting ready to go home. But my sons just wanted a quick game.
"I grabbed my young fella's soccer ball from the boot and a second later I heard the crackling. I looked up and the tree was coming down."
Don't expect to come back to your car in Cornwall park and find it crushed by a massive tree @nzherald pic.twitter.com/ZlhGdFKoxb

— Simon Kenny (@simonsays_nz) February 21, 2016
Mr Vakauta ran away from his 4WD seconds before the large tree smashed onto his vehicle.
"As soon as it came down, me and some other people who were there ran back to see if my wife was okay. She was just shocked, but not hurt."
The tree had badly damaged the front, middle and back of the vehicle. Had he been in the driver's seat, he would've been gone, he said.
"I would've been squashed."
Emergency services quickly arrived at the scene.
Northern fire communications shift manager Jaron Phillips said one person - later identified as Mr Vakauta's wife - had been treated for shock by an ambulance.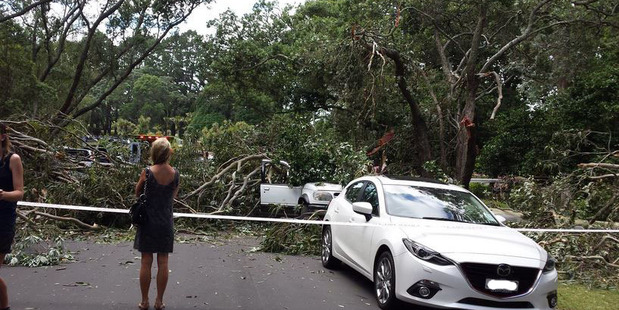 Up to four cars were involved in the incident near the Cornwall Park Cafe. Photo / RoyalOakNZ Twitter
A number of other vehicles were partly damaged. They were all parked near the roundabout near the Cornwall Park Cafe.
Mr Vakauta said park authorities had arrived shortly after the incident.
He was told by them that some trees in the area had been marked as needing to be cut down, for safety reasons. The tree that fell today had not been on the list, however, he said.
Asked if there were any warning signs around the tree or immediate area, he said there were none.
A number of other families had been enjoying picnics just under the line of trees too. Mr Vakauta said it was lucky no one else was hurt.
By Vaimoana Tapaleao, NZ Herald • 22/02/2016
Tags