British driver convicted for holding up middle lane
A British motorist has been fined almost €1000 ($2295) and hit with penalty points after becoming the first person in the country to be convicted in court of hogging the middle lane of a motorway.
The driver, behind the wheel of a Citroen Berlingo van, was stopped by police in West Yorkshire after persistently refusing to move out of the central lane of the busy M62.
Traffic police said six drivers were forced to brake and swerve to overtake the vehicle, which was travelling along the eastbound road near Huddersfield on August 25 last year.
Leeds Magistrates' Court heard that the driver had numerous opportunities to move into the inside lane but failed to do so.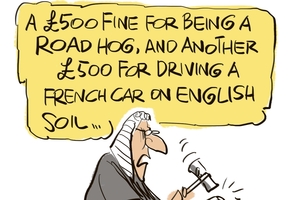 Illustration / Rod Emmerson
Instead he was said to have driven in an "inconsiderate manner" for several kilometres, causing inconvenience to other road users.
The driver failed to turn up to court and was fined 500 in his absence and ordered to pay 400 in costs with a 40 victim surcharge.
He was also hit with five penalty points on his licence, sending out a strong message to other road users who flout the law.
It is thought to be the first time a motorist has been convicted in court of a lane-hogging offence since the law was changed in 2013.
A spokesman for the New Zealand Transport Agency said that while any decision to charge a driver for incorrect use of a motorway lane would be made by police based on the specific circumstances, there was a general obligation in transport law for road users not to unnecessarily impede the flow of traffic.
He said the New Zealand Road Code states that motorists should keep left on the motorway, unless passing.
The British Government introduced on-the-spot fines of 100 in an effort to deter drivers from sitting in the middle lane when there was an opportunity to pull into the left-hand carriageway.
Researchers claim the problem results in a third of motorway capacity being wasted, causing congestion and delays.
Constable Nigel Fawcett-Jones from the road policing unit of West Yorkshire police, said lane hogging was dangerous and caused congestion and inconvenience.
He said: "It reduces the capacity of roads and motorways, and can lead to dangerous situations where other drivers 'tailgate' the vehicle in front to try to get the lane hogger to move over." Telegraph Group Ltd
By Martin Evans • 23/06/2015