'Deals on greenery' Holden: Is this the most 'Kiwi' listing ever?
A Palmerston North man's attempt to sell his "mint car" has gone viral and is being described as the most "Kiwi" car sale.
Wanting to flog off his 1996 Holden Berlina, the man points out the selling points of his prized possession, which include an "air horn set up" and "aux heady pioneer speakers".
But the advertisement turns brutally honest when he details the issues wrong with his car, including damage to the windscreen after a fight with his partner.
"No WOF or reg, is just out last month, for WOF it needs two tyres and a new windscreen as me and the Mrs had problems and she took it out on the car!"
Keen to get rid of his wheels, the man admits he's willing to accept other methods of payments including "deals on greenery".
"Other than the things needing done it's a mint car, has a great spare wheel! 246ks keen on cash, swaps for bike or deals on greenery, pm for more pics or info."
Kiwis took to social media to show their appreciation, or lack of, for the Palmerston North man's brave advertisement.
"Right? Other than needing to sink at least a couple hundy fixing it, it's mint as. It's like they think mint = working condition," one person wrote.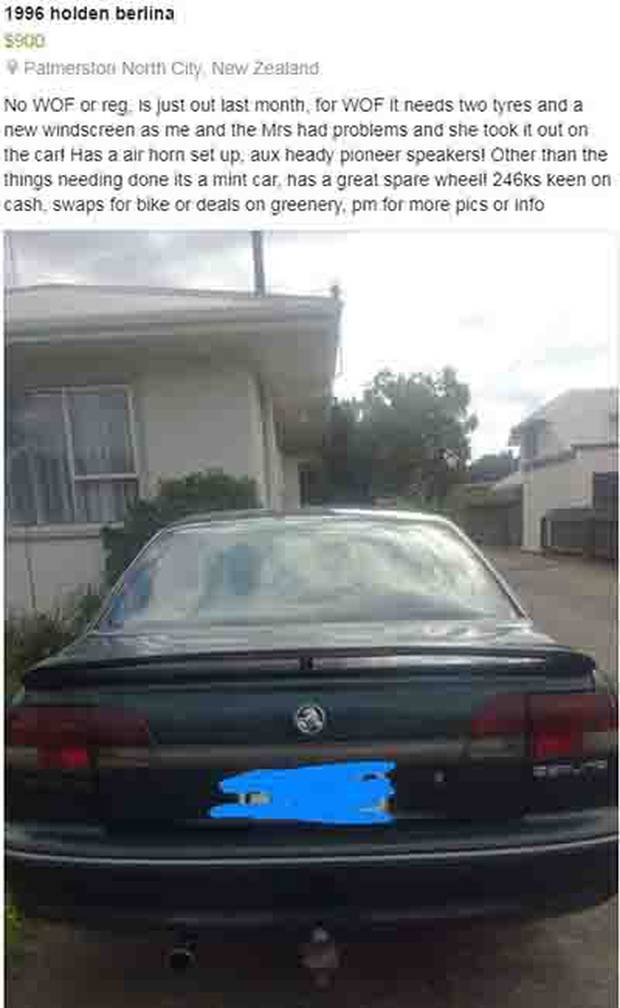 This man's 1996 Holden Berlina can be purchased in a number of ways including "deals on greenery". Photo / Facebook / Wairarapa Online Garage Sale
Another said: "I love these guys and their definition of 'mint'. 'Samsung phone, screen is cracked and the buttons don't work but otherwise mint'."
"Gotta do what ya gotta do to get that greenery."
The car was advertised on February 20 in numerous Manuwatu and Palmerston North buy/sell groups.
If you're not willing to part way with your "greenery", the car is on sale for $900.
-NZ Herald