How low can they go? Petrol prices drop
Petrol prices have plummeted in Rotorua with the city's service stations offering some of the cheapest petrol in the country.
Te Ngae Rd Mobil dropped its price for 91 unleaded to 155.9 a litre on Wednesday night and was followed by Gull which dropped its prices by 10c nationwide yesterday morning.
Gull's Te Ngae Rd station was selling its 91 at 154.9 a litre - the cheapest in the country for the company.
DO YOU KNOW IF PETROL IS BEING SOLD AT LOWER PRICES? SEND US AN EMAIL
The Rotorua Daily Post did an informal survey of some of the petrol stations around the city and found the Te Ngae stations were selling the cheapest.
Te Ngae Rd Mobil owner Matt Ralm said traffic was "backed up down the street" yesterday.
"We put the price down [Wednesday] night and it has been non-stop. We have traffic building up down the street.
"People have been bringing in carloads of petrol containers to fill up - one guy bought $450 worth of petrol. We've had more than 2000 customers [yesterday]."
Mr Ralm said he could not remember the last time petrol was below $1.60 a litre.
"It has been at least four years since petrol was this cheap. I don't remember the last time I saw it around $1.55 - it is all possible because of the support we are given by the Rotorua community."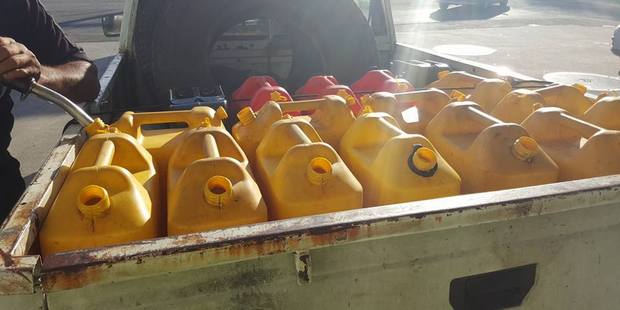 One customer at Te Ngae Mobil makes the most of the low petrol prices. Photo / Supplied
Rotorua woman Terina Hunter said she always filled up at Te Ngae Rd Mobil.
"I live on the other side of town but always drive out here to get my petrol. I have family in Auckland and I always bring them here to fill up before they go back home."
Gull New Zealand general manager David Bodger said his company tried to stay competitive to "ensure our customers get the most for their money".
"We dropped the prices by 10c from 7am [yesterday] and it will go back up at noon [today]. I can confirm our Te Ngae station is the cheapest in the country - it's quite the bargain."
AA senior policy analyst and petrol prices spokesman Mark Stockdale said the price of petrol had not been lower than $1.55 a litre nationally since September 2009.
He said it was not unusual for Rotorua petrol stations to be at least 20c cheaper than the rest of the country.
The last AA Petrolwatch survey was done on November 17 - at which point the national average price for 91 octane was 193.9 a litre.