Hyundai's Genesis luxury brand opens first Studio showroom
Genesis has begun the first stages of distinguishing itself from parent company Hyundai, with a new 'Studio' showroom in South Korea to open its doors to the public on September 9.
Now home to a G90, G80 (Hyundai Genesis) and G80 Sport, the new Genesis Studio is located in a newly-built cultural complex called 'Starfield', about 30 kilometres east of the South Korean capital of Seoul in the city of Hanam.
Genesis says the showroom embodies "the brand directions" of the marque and its core characteristics, while visitors will also have the opportunity to experience the G80 Sport before its official launch in Korea later this year.
The brand aims to showcase its attention to detail, use of quality materials and technologies through hands-on exhibits.
For example, Genesis will dedicate a display to the doors of the G90 and G80 which will have all available combinations of exterior colours and interior trims.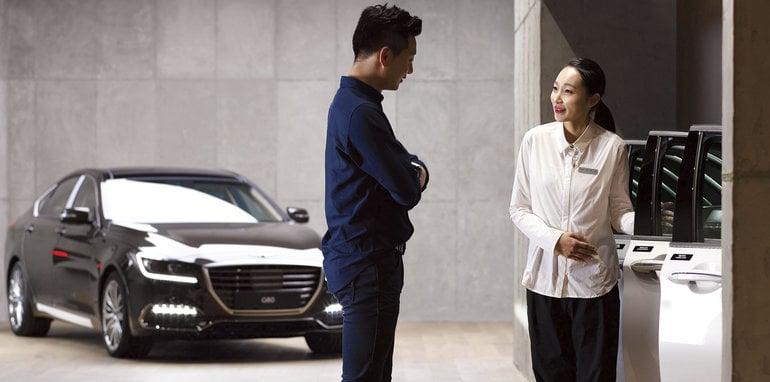 Manfred Fitzgerald, Head of the Genesis brand, said the Studio will help to introduce people to the brand, and is the first of many spaces on the way.
"Visitors can easily drop by the Studio and get a chance to know about Genesis," he said. "This space, located in a busy area, will serve to introduce our brand, and to raise visitors' curiosity around it."
"We have also developed diverse concepts of brand spaces that fit for different objectives, so you will see more exciting brand spaces to come in the near future," he added.
The Hanam Studio will form the basis of other Genesis showrooms around the world.
Speaking to CarAdvice last year, Oliver Mann, Hyundai Australia's marketing director, said: "Genesis will always be a Hyundai brand, tied inexorably to Hyundai, and therefore an opportunity to grow Hyundai's credibility in those areas – quality, technology and customer experience".
"It's also an example of best practice, so practices that are introduced, processes, behaviours, innovation that are introduced in Genesis will cascade into mainstream Hyundai models and dealer processes".
"It'll definitely be a sister brand, sold through Hyundai dealers as a 'store-in-store' concept," he added.
Despite this, the new Genesis Studio could provide inspiration for the updated spaces in Hyundai showrooms where Genesis models will be sold.
- James Wong, CarAdvice.com.au