New initiative to help avoid driveway tragedies
It's just over a year since one Auckland couple lost their "little ratbag" after he was hit by the car his father was driving.
The memory of that day in April 2014, when their toddler, Te Manawa Whetuki Renata, 2, died, is still raw for Emma Renata, 29, and her partner Billy Feleti.
The couple were at today's launch of Safekids Aotearoa's new awareness initiative, Check for Me Before You Turn the Key, which is aimed at helping reduce the number of children killed or injured in driveways.
Mr Feleti simply couldn't talk about what had happened, tearfully hugging his eldest daughter Zoe Feleti Renata, 2, while Ms Renata shared their story.
"I was inside the house, I heard Billy coming home and had Zoe in my arms."
She can't remember much of what happened next, but thinks she may have opened the door.
It's thought the toddler may have rushed out to greet his father when he was hit by the car in the driveway of their Papatoetoe home.
Ms Renata rushed him to Middlemore Hospital, but Te Manawa's injuries were too severe and he was pronounced dead shortly after.
She said her little boy, the eldest of three, was a cruisy little man, who was happy all the time.
A fan of trucks, upon waking up every morning his first words would be about a truck.
"It's not easy [dealing with what happened] ... but I've never blamed Billy for what happened, it was not in his control.
"I think I've more blamed myself, I was the one in the house. I don't think that will ever go away."
The couple have since sold their home and moved to a rental home, to escape the constant reminder of what happened on their driveway.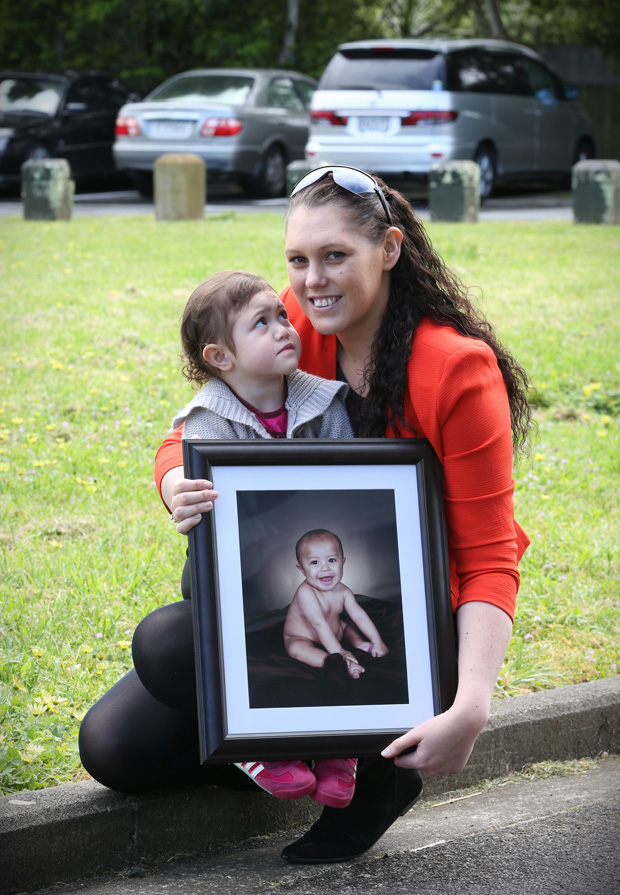 Emma Renata and her two year old daughter Zoe hold a photograph of Te Manawa Whetuki Renata who was killed in family driveway when he was only two years old. Photo / Greg Bowker
Ms Renata's message for other parents was to simply be more aware and cautious of kids around driveways.
"In a split second of not paying attention it can change your life forever."
SafeKids director Ann Weaver said central to the campaign were the keyrings the organisation was distributing.
She hoped it would create an "emotional link" between the driver that will encourage them to stop and check before driving.
"Parents can place their child's photo in the keyring. We hope they remind drivers to walk around the car before getting in the car and to make sure children are in a safe place and supervised by an adult."
The launch this afternoon saw up to fifty people attend, including National MP and ACC Minister Nikki Kaye.
Ms Weaver said the loss of the child in such an accident was one of the most traumatic experience one could go through.
"It has a really long-term impact that's really devastating."
Another of the mums at the event, Valeria Tokoar, lost her youngest son in similar circumstances in 2009.
Her son Tyreese Mewburn, 18 months, was hit by a relative in their driveway and pronounced dead by Ambulance workers at the scene.
It's been a long "dark road" for Ms Tokoar, who has since broken up with the father of her child and turned to drugs for solace.
As a result she lost custody of her older son, 10, to his father.
Today she's cleaned up, has been a year drug-free and hopes to get back custody of her older boy.
She said what she went through was unbearable and hopes no parent ever has to go through what they did.
Her message to other parents to just be aware and always be on the lookout for children in the driveway.