Jeremy Clarkson officially sacked, now faces arrest
Jeremy Clarkson faces arrest today after the BBC sacked him for punching a Top Gear producer in the face with such force he had to go to A&E.
The corporation's internal investigation concluded the star, 54, launched an "unprovoked" 30-second physical attack on Oisin Tymon because he was offered a plate of cold cuts instead of steak and chips.
North Yorkshire Police today said it had asked the BBC for its report into the "fracas" in a luxury hotel in the county and said action will be taken against Clarkson "where necessary".
Revealing the sacking, Lord Hall, the Director General of the BBC, said that Top Gear would continue without Clarkson but loyal fans said the show will fail without him.
He said: "It is with great regret that I have told Jeremy Clarkson today that the BBC will not be renewing his contract. It is not a decision I have taken lightly. For me a line has been crossed".
The star this afternoon changed his Twitter biography to say he "used to be a presenter on Top Gear."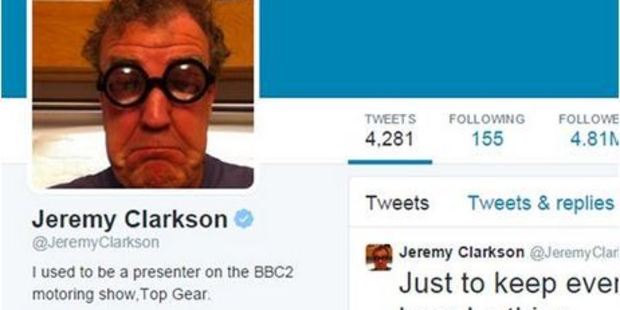 Jeremy Clarkson will go but Top Gear will stay. Photo / AP
Top Gear co-star James May has called the decision to sack Jeremy Clarkson a "tragedy" and said he, Clarkson and Richard Hammond "come as a package", suggesting that all three are now likely to leave the BBC.
Hammond tweeted shortly afterwards: "Gutted at such a sad end to an era. We're all three of us idiots in our different ways but it's been an incredible ride together".
The sacking is likely to spark a bidding war for Clarkson's services, with ITV, Sky and Netflix all said to be willing to pay Clarkson millions to present a motoring show for them.
The Director General, who has spoken to Clarkson and Mr Tymon since the fracas, said the producer was subjected to "sustained verbal abuse that no-one should have to endure".
Top Gear is the BBC's most successful show, sold in more than than 200 countries, bringing in at least £50million a year, but this funding stream may be under threat after the sacking.
Clarkson was suspended two weeks ago for punching Oisin Tymon in the face when he was offered a plate of cold cuts instead of steak and chips after a long day of filming.
The BBC found Clarkson spent 20 minutes verbally abusing the producer in a luxury North Yorkshire hotel before launching a 30-second physical assault that led to another member of staff dragging him away.
Mr Tymon said today after the sacking: "He is a unique talent and I am well aware that many will be sorry his involvement in the show should end in this way". 
What the investigation found
• Jeremy Clarkson punched Oisin Tymon in the the mouth in 30-second attack before he was dragged way by a bystander. Oisin Tymon did not hit him
• Star then spent 20 minutes using 'prolonged verbal abuse of an extreme nature directed at Mr Tymon. The star said he would have him sacked. The abuse was so loud it was heard throughout the hotel, including in its bedrooms.
• Following the attack Oisin Tymon drove to a nearby A&E department for examination
• Jeremy Clarkson has made a number of attempts to apologise to Oisin Tymon by way of text, email and in person
• Jeremy Clarkson reported the incident to BBC management himself
Police said today they may act after the report revealed Tymon was punched.
A North Yorkshire Police spokesman said: "North Yorkshire Police is liaising with the BBC regarding the alleged incident in North Yorkshire involving Jeremy Clarkson.
"We have asked the BBC for the report which details the findings of their internal investigation into the matter. The information will be assessed appropriately and action will be taken by North Yorkshire Police where necessary".
Tony Hall said today he had met and spoken to both men before publishing the findings of the BBC's internal investigation.
He said: "I cannot condone what has happened on this occasion. A member of staff - who is a completely innocent party - took himself to Accident and Emergency after a physical altercation accompanied by sustained and prolonged verbal abuse of an extreme nature.
"For me a line has been crossed. There cannot be one rule for one and one rule for another dictated by either rank, or public relations and commercial considerations."
The BBC investigation found that Mr Tymon was "subject to an unprovoked physical and verbal attack by Jeremy Clarkson". It said the attack lasted around 30 seconds and only stopped when a witness intervened.
The report said "verbal abuse was directed at Oisin Tymon on more than one occasion - both during the attack and subsequently inside the hotel - and contained the strongest expletives and threats to sack him. The abuse was at such volume as to be heard in the dining room, and the shouting was audible in a hotel bedroom."
Mr Hall said "no blame" was attached to Mr Tymon, who, he said, "behaved with huge integrity throughout".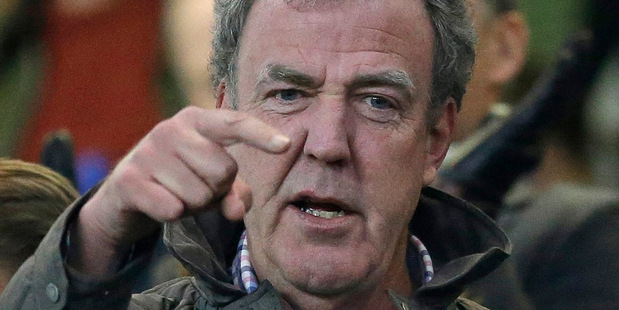 Jeremy Clarkson will go but Top Gear will stay. Photo / AP
Clarkson and his co-hosts, James May and Richard Hammond, were scheduled to take part in four live Top Gear shows in Norway this week, but it was announced on Sunday that they had been postponed.
All three men's contracts run out at the end of this month but the futures of Hammond and May are still unclear.
They were all offered new three year deals but these were put on hold after the "fracas".
But in a clear hint, speaking outside his home in west London, James May said Clarkson's departure is a "tragedy".
He said: "Well apparently they have shot him. I've only found this out by prising the information out of various BBC sources, nobody has actually told me officially until a few moments ago when they emailed.
"I don't really have anything to say about it. It's a tragedy. I'm sorry that what ought to have been a small incident sorted out easily has turned into something big.
"I don't really want to say anything more than that at the moment, I have only known for the past few minutes and if you excuse me I have to write the eBay listing for my Ferrari."
Asked if he thought the decision was fair, May said: "It is probably within the law and their hands were tied."
He added: "I'm sure Top Gear will continue in some way. It existed before us and it has been reformatted several times."
Asked if he will stay at Top Gear, May said: "Erm, well I don't want to talk about that too much but I think we are very much the three of us as a package. It works for very complicated reasons that a lot of people don't fully understand. So that will require a lot of careful thought."
Asked about a possible replacement for Clarkson and who he would like to work with, he said: "Much as I think he's a k*** I quite like working with Jeremy." 
Clarkson's sacking will lead to fury among Top Gear fans and more than a million people signed a petition demanding the BBC reinstate Clarkson and hundreds have said that they will withhold their licence fee payments if he is sacked.
Among the many protesters, Nakulraj Vijeyarajah, from Glasgow, wrote: "Bring back Clarkson. Top Gear is the only reason I watch BBC. I will stop paying my licence fee if Clarkson is not rehired".
Chris Evans, from the West Midlands added: "No Top Gear, no licence fee as far as I am concerned".
If they all leave the trio are unlikely to be out of work for long.
In what could be a hint, Sky owner Rupert Murdoch said last night: "How stupid can BBC be in firing Jeremy Clarkson? Funny man with great expertise and huge following." 
Sources have told MailOnline that ITV are prepared to offer him £10million to sign for them, Clarkson's executive producer, and schoolfriend Andy Wilman having reportedly met with them.
It comes less than a day after the presenter said he had heard 'nothing, not a sausage' regarding his future with the broadcaster.
He said outside his home yesterday: "I'm really sorry, but I don't think you're going to find anything out today".
The Top Gear host, 54, had been left in limbo for two weeks since the BBC announced his suspension following what it described as 'a fracas' with Mr Tymon.
For days it was reported that Lord Hall would Clarkson after the organisation's internal investigation concluded he did in fact attack Mr Tymon following a verbal tirade, but it was not confirmed until today.
However, last night the BBC insisted a final decision had not been made. A spokesman said: "When we have an outcome, we will announce it."
Clarkson has reportedly told friends that the BBC's management have been "out to get" him, and sources at the BBC have suggested that its director of TV, Danny Cohen, has seized on the incident as the reason he needs to oust the controversial figure.
Late yesterday afternoon, Clarkson told reporters outside his home that he had heard "nothing, not a sausage".
Friends have reportedly said that if he is fired Clarkson has said he will "not go quietly".
Fans and critics of Jeremy Clarkson have spoken up following the BBC's decision not to renew his contract after a fracas with producer Oisin Tymon.
The presenter's surname trended worldwide on Twitter following the announcement by director general Tony Hall.
Former tabloid newspaper editor Piers Morgan, Clarkson's long-time sparring partner, had earlier jokingly hinted in a series of tweets he might be Top Gear's new presenter.
Before the Clarkson announcement, he wrote: "In ten minutes, I will be announced as the temporary replacement for a very popular TV presenter in the UK.
"No, no, it's 100% true. I really am standing in for a popular male TV presenter on a big UK show. Start filming in 3 weeks.
"I suspect the announcement, at 2pm UK time, will shock, delight & dismay everyone in equal measure. But that's showbiz."
He later revealed that he will be guest-presenting ITV's Good Morning Britain for a week next month, before adding: "This doesn't prevent me doing Top Gear as well, obviously."
He subsequently wrote: "If he'd stuck to just punching me, he'd have been fine. #Clarkson."
The Guido Fawkes political blog, operated by Paul Staines, ran a campaign which garnered a million-plus petition calling on the BBC to reinstate Clarkson after he was suspended and used a tank to deliver it to New Broadcasting House.
Today it wrote: "Sad day for Top Gear fans, BBC licence fee payers and the 1,033,933 who signed the petition to reinstate Jeremy. No doubt his enemies within the BBC will be cheering that they have finally found an excuse to get rid of him. Lentils all round."
Former BBC chairman Christopher Bland told BBC News: "It's quite clear from the facts he (Lord Hall) had no choice. He paid a fulsome and appropriate tribute to Jeremy Clarkson, but verbal abuse on the scale that seems to have taken place is bad enough, and if you then should bash somebody, you have no choice, he had to go.
"He's a licensed jester, he was able to make remarks about slopes on bridges and got away with that. This is absolutely of a different order of magnitude. Half an hour of abuse and then hitting someone in the face is something else altogether. It was a brave but absolutely correct decision."
Furios Jeremy Clarkson supporters have demanded that tickets to the Top Gear Live shows are refunded now their favourite host has been given the boot.
The news sent Twitter into a frenzy with hundreds lambasting the BBC for pulling their favourite host on the multi-million viewer show.
And many disappointed fans, who have already bought tickets for upcoming live shows, are demanding their money back.
One angry Twitter user, Chris W said: "If it's true that the BBC pc, lefty, lily livered two faced sh*** have sacked Clarkson then I want a full refund for Top Gear Live Show."
Another user, Hannah, tweeted the Ticketmaster Twitter account and said: "Hi, I have been told to contact you to get a refund for Top Gear live as Jeremy Clarkson is no longer doing it."
Live Nation, the company in charge of Top Gear Live, refused to comment.
- The Daily Mail