Where not to sit your driver's licence
Anyone looking to sit their restricted drivers licence test in Hastings better know their stuff - it has the third-lowest pass rate in the country.
Just 44 per cent of drivers sitting their tests through Hastings VTNZ passed, according to New Zealand Transport Agency (NZTA) figures.
It stands in stark contrast to the places handing out the most full licences, including Blenheim and Gore, where nine out of 10 people walk away qualified for the green card.
But the NZTA says just because a site has a low or high pass rate, hopefuls weren't more or less likely to fail.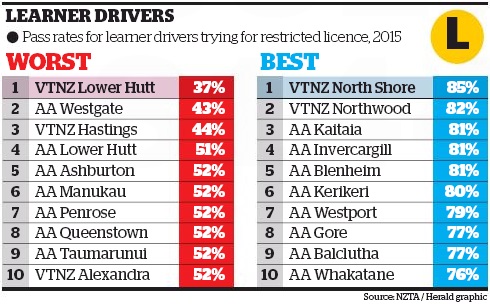 According to the agency's data, last year 60 per cent of people who sat their restricted test passed and 70 per cent of those attempting to get their full licence also passed.
For restricted licence hopefuls looking to get on the road for the first time, the testing stations with the top pass rates were VTNZ North Shore in Auckland with an 85 per cent pass rate and VTNZ in Northwood, Christchurch, with 82 per cent.
However, they might want to avoid the VTNZ in Lower Hutt where just 37 per cent of drivers passed followed by the AA in Westgate, Auckland, where 43 per cent succeeded.
And for those hoping to get their full licence, AA stations in Blenheim and Gore have success rates of 93 per cent while only half pass at the AA in Invercargill.
The agency's national manager of delivery, Robyn Elston, agrees a higher or a lower pass rates for a site did not mean a driver was more or less likely to pass.
Ms Elston said several factors could influence passes, including differences in the volume of tests undertaken at sites and individual preparedness.