Volunteer offers up classic car for Cancer Society
Bids for a restored 1963 Humber 90 being auctioned to raise funds for the Wanganui Cancer Society have reached more than $9000 on Trade Me.
The classic car was offered for auction by a Cancer Society volunteer, who had likely spent thousands restoring it to its former glory including reconditioning its 1532cc motor and gearbox, installing a new exhaust, removing rust, and applying new paint, tyres, brakes, carpets and dash panel.
All of the proceeds will go directly to the Wanganui Cancer Society, a gesture humbling those who work at the organisation.
"The person who brought this car back to life is a volunteer at the Wanganui Cancer Society," the society wrote on its Trade Me auction page.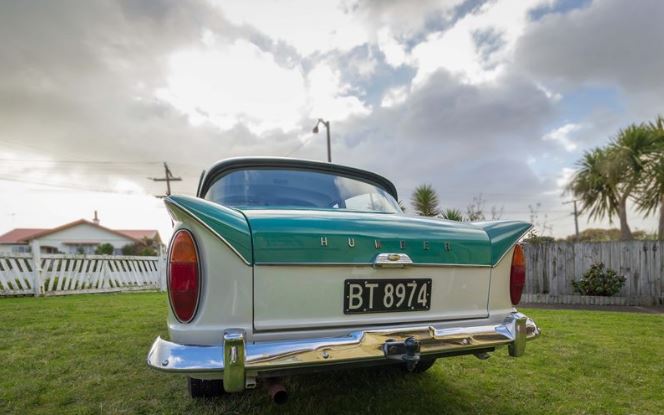 The owner has reconditioned the Humber's 1532cc motor and gearbox, installed a new exhaust, removed rust, and applied new paint, tyres, brakes, carpets and dash panel. Photos / Trade Me
"He gave us the shock of our lives when he told us that he wanted to donate it to us to auction off and raise money to help people in our community.
"We cannot express our thanks enough, so we hope this auction does our volunteer proud."
Wanganui Vintage Car Club member and Humber owner Neil Farrer says whoever owns the car has spent thousands of dollars doing it up.
"The man has spent a fortune on that car, absolutely. I mean reconditioning your engine alone is somewhere between $5000 and $8000. You start on the gearbox, you're usually talking about $3000 or $4000. A coat of paint is a minimum of $5000, and that's without looking inside ... so that's a wonderful gift, it really is."
Mr Farrer, who owns six Humbers, says, given the car is completely restored, the street price would be up to $12,000, however, it could reach as high as $25,000 on auction night.
The car will be displayed in the showroom of Ignition Motors at 1 Purnell St, Whanganui, from tomorrow until Friday, June 3.
On the closing night of the auction - June 9 - the cancer society will open its doors to the public to watch the "hopefully exhilarating" closing of the auction on a projector screen.
• For further information and to place a bid visit the auction here