Driven Car of the Year 2014
Japanese maker beats top names to take title
In a year that saw vehicles of every size and price range launched in New Zealand, there were many choices for Driven's car of 2014.
But it came down to one. A car that made an impression early in the year and continued to do so against tough competition.
So the winner of Driven's Car of the Year 2014 title is ... drum roll ... the Mazda3.
It takes the title not only for the huge array of models available - two engine sizes, petrol, diesel, hatch, sedan, auto and manual - but also because of its impressive safety features.
Not only does the Mazda3 have a five-star Ancap safety rating, but it has impressive safety features such as blind spot monitor, radar cruise control and lane departure warning in the top end models - safety features more common in vehicles twice the price and usually bearing a European brand name.
The Mazda3 was also one of the cheaper new vehicles to go on sale this year - yet it was competing for our title against such vehicles as the BMW M3/M4, Maserati's Ghibli and Quattroporte, the Range Rover Sport, Mercedes-Benz's GLA and C-Class plus Porsche's Macan.
And when you look at that list, it was also interesting that a car, rather than an SUV, won the title as the market has been dominated by the crossovers.
Mazda New Zealand will also be making a strong start to its challenge for next year's title with the newly launched Mazda2 hatchback that has already wowed us, plus the MX-5 roadster coming our way and the CX-3 compact SUV going on sale next year.
Mazda's move towards the strong design line of Kodo (meaning "soul of motion") combined with the SkyActiv fuel efficiency technology is pushing the brand in New Zealand, making high spec safety features available in a moderately priced, good looking vehicle.
Compact Car of the Year:

Mazda3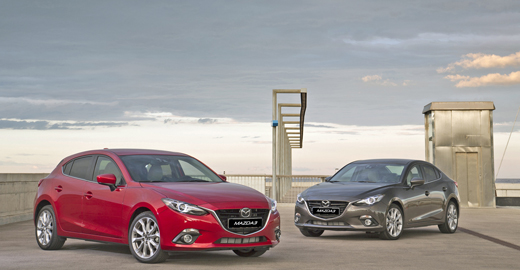 Impressive safety features were the big drawcard for the Mazda3.
Launched in February this year, the Mazda3 followed on from its Mazda6 and CX-5 siblings with the Kodo design and economical SkyActiv engine.
Design, engineering and cabin technology, plus impressive safety features, made the Mazda3 a clear winner over other vehicles in this segment.
Priced from $32,795 for the 2-litre GLX auto sedan and hatch, to $47,495 for the 2.5-litre SP25 LTD sedan or hatch, the range had something for every buyer.
But what impressed the most was the enhanced safety features. The GSX range has blind spot monitoring and rear traffic alert, and the SP25 LTD has the full suite, which includes radar-monitored cruise control and Smart City Brake Support that automatically applies the brakes in confined traffic and at low speeds.
By Liz Dobson • 20/12/2014