How far will the petrol discount get you?
Travelers on the road this holiday period will notice their tank of gas taking them further.
Petrol retailer Gull announced a 12-hour special on petrol prices today.
The discount of 20 cents per litre makes the difference in distance people can travel this year compared to last year equivalent to getting stuck in Palmerston North or making it to Wellington.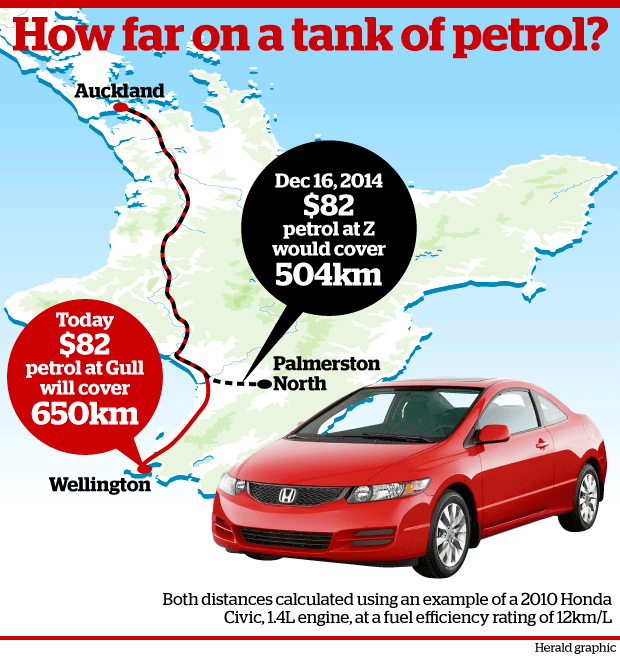 If you were to pull up to Gull Forrest Hill today in a Honda Civic 2010, 1.4L engine, and put $82 of petrol into the tank you could drive from Auckland to Wellington, a distance of 650 km, assuming the car drove at a fuel efficiency of 12km/L. The Forrest Hill service station will be charging $1.499 at the pump today.
Last year, Z Energy dropped fuel prices the week before Christmas to below $2 per litre when the price for crude oil slumped.
If you had filled up the same Honda Civic with $82 of petrol last year you would have been lucky to make it from Auckland to Palmerston North, a distance of 520km. The $82 of petrol at $1.959 would take you 504km, assuming the car was driving at a fuel efficiency of 12km/L.
Today's Gull 12-hour "discount day" prices apply at five service stations that ran out of fuel during last week's price drop.
READ MORE:Gull's 12-hour petrol price drop
Last week queues formed outside Gull petrol stations for the temporary 20 cent a litre price drop. But some sites were unable to keep up with demand and ran out of fuel, Gull said.
"While we were spreading Christmas savings last week some of our customers missed out through no fault of their own," Dave Bodger, general manager of Gull New Zealand, said.
"We would like to make amends to these customers by running a 12-hour discount day at their local sites today."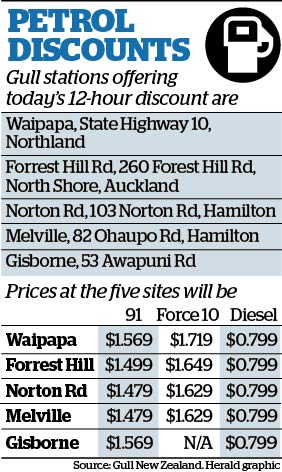 By Sophie Ryan • 23/12/2015