More Kiwis than ever taking Uber to and from work
A growing number of people are using Uber to commute to work.
The company says the number of people taking trips during regular commuting hours has more than doubled in the last year.
Trips taken between 7am and 9am and 5pm and 7pm made up 20 per cent of all Uber trips taken in New Zealand in 2017.
Figures provided to the Herald showed 8am was the most popular time in the morning for commuters to order a ride and 6pm was the most popular time in the evening, based on trip volume.
Uber spokeswoman Nicky Preston said the company was unable to give raw figures on the number of trips ordered during commuting hours but said for context, New Zealand had 393,000 active riders and 5000 active drivers.
Figures showed 10.7 per cent of Uber trips in October this year started or ended within 200m of public transport stations.
Data collected by the NZ Transport Agency (NZTA) showed overall public transport use is increasing as well, with more than 153 million bus, train and ferry rides taken throughout the country in the last financial year.
Four years ago slightly more than 131 million rides were taken on public transport.
The number of commuters using Uber to get to work, like the Herald's Tina Moore, has more than doubled in the last year the comapny's data shows. Photo / Nick Reed
NZME head of social media and Ponsonby resident Tina Moore uses Uber to and from work about seven times out of 10 every week.
At $7 or $8 each way, the habit cost Moore about $18 a day or $90 a week - cheaper than paying for most inner city carparks, but nearly five times more expensive than catching the bus.
Going one stage with an AT Hop Card is $1.85 per trip.
Number have been increasing year on year, but data showing breakdowns for time of day was not held, an NZTA spokesman said.
Moore lives 40 minutes away from work by foot in the middle of "two hilly bits" of land.
"It seems really close but it's just not," she said.
"I have to walk to work in workout gear and get changed at work because the walk is a sweaty one."
The nearest bus stop is at the halfway point between home and work plus it's up a hill - so it doesn't save her time or effort to catch public transport, Moore said.
Google estimates the times for catching a bus and walking are about the same - the bus journey is slightly quicker, but that doesn't account for peak traffic.
"It's just so convenient - I am paying for the convenience."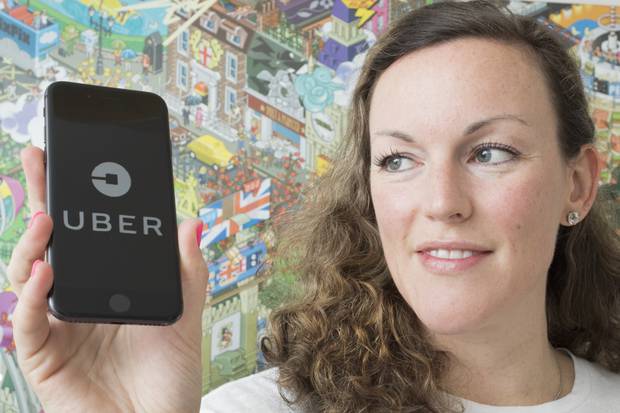 "I am paying for the convenience". The Herald's social media boss Tina Moore is willing to pay to avoid a long and sweaty walk to work. Photo / Nick Reed
While Uber rides were the first thing Moore axed when she was trying to save money, she would also accept surge pricing two or even three times the price is it saved her hassle.
Auckland Taxi Co-op chairman Jacob Patel said his company had not seen the same increase as Uber.
"The last year we have lost work due to Uber," he said.
However, during the silly season and during train or bus driver strikes, the Auckland Taxi Co-op saw a huge spike in commuters hailing cabs.
The company also found steady work with Government contracts.
Public transport campaigner Cameron Pitches said increasing Uber commutes was likely competing with private car journeys rather than public transport use.
Pitches is a spokesman for Campaign for Better Transport.
Uber rides were an option for the "last mile" - to finish a journey home from the train station or park and ride, he said.
"This is more of a competition between private cars and Uber because of the cost of transport."
Pitches said most service drivers would be on the road anyway so he didn't hold concerns about increasing congestion.
In fact using Uber or taxis to get to work instead of driving a personal car could actually decrease parking congestion, he said.
"If that trend continues we'll be able to optimise what is now parking spaces for... other forms of land use."
Drivers are getting in on the commuting boom too
Uber drivers are getting in on the commuting boom too - some part timers are making extra money by picking people up on the way to their own jobs. Photo / Dean Purcell
Amit Sharma is an Uber driver part-time and uses his daily commute to make a little bit of extra money.
Four days out of five he will pick someone up during his commute to or from Albany to Mt Wellington, where he works for an IT company.
The rides more than covered his petrol costs and picking up riders made his commute more sociable.
"I'm going to be doing those trips anyway and if someone is going in the same direction you get some money out of it," he said.
"Most of the time the people are really good company. You're not just sitting in traffic listening to the radio."
-NZ Herald
By Tess Nichol • 22/01/2018