Officials tell drivers to avoid Cyclone Cook, leave work early
Get home before the worst of the weather hits, officials are telling drivers today.
Cyclone Cook is bearing down on New Zealand, bringing with it torrential rain and gusts of up to 150km/h in some regions.
There are 137 schools and 133 early learning centres closed across the North Island and Thames, Coromandel and Bay of Plenty are under states of emergency.
In Auckland, Transport Agency spokeswoman Sarah Azam said people should leave work early if possible.
"We're certainly advising people if they can leave work early and work from home that might be a good idea and to think about delaying any long weekend travel plans.
"There's a combination of the usual last day before a long weekend and then the fact there's the bad weather before that. It will definitely be slow going on the motorway and people should absolutely prepare for delays."
Auckland Transport spokesman Mark Hannan said the agency would welcome news people were leaving early.
"It certainly helps having the universities close early and having some schools close early."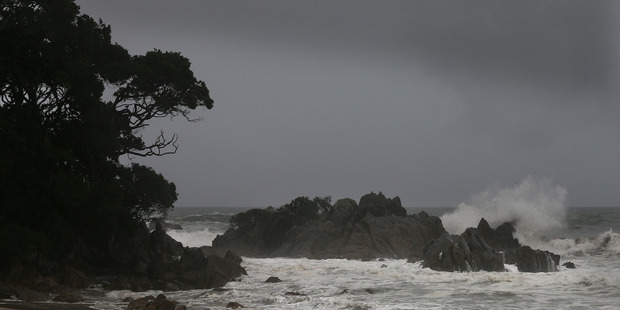 Cyclone Cook has caused the closure of 137 schools around the country. Photo/ John Borren
At the moment all services were operating as normal, but Hannan said in case weather got worse AT had contingency plans in place.
Four people died on our roads last Easter and in light of Cyclone Cook, the Government is urging people to avoid more deaths this long weekend.
People should seriously reconsider their Easter travel plans and only travel is absolutely necessary, said associate Transport Minister David Bennett.
"Four people lost their lives on our roads over Easter last year, and their families are facing another holiday without their loved ones.
"The number of crashes on our roads is much too high, and the deaths are often avoidable."
Simple things such as sticking to the speed limit, driving to the conditions and wearing your seatbelt would all help avoid fatal crashes, he said.
Herald reader Mauro Murace said buses coming past Victoria Park in central Auckland were full and not stopping.
Many passengers were waiting to go to the North Shore and some were asking passing cars for rides.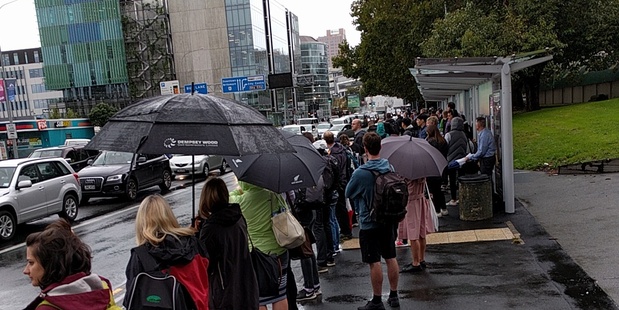 People wait for buses in the rain in Victoria Park, Auckland. Photo/ Mauro Murace
Automobile Association boss Mike Noon said as well as usual road safety concerns people should take the warnings about Cyclone Cook seriously.
"If you are driving home then all the normal things apply: following distance, put your de-misters on, and if you're driving through floodwaters be careful because you can't tell how deep they are."
People in Auckland should make their way home "sooner rather than later" because conditions were expected to worsen in the afternoon and into the evening.
"You'd be better to get home, get safe."
The first three months of the year had seen no improvement on the "horrific" number of preventable road deaths, Noon said.
One of the biggest concerns the AA had was the number of people dying in crashes due to not wearing a seatbelt.

"Twenty-two of the people who died in the first three months of this year were not buckled up," Noon said.

"In just two seconds we could dramatically improve our road toll if every single driver and passenger wore their seatbelt every time they got into a vehicle."