Peugeot takes aim at top-seller
As Peugeot launches the 308 in New Zealand, its goal isn't only increased sales but to take on the big player in the segment - Volkswagen's Golf.
The all-new 308 took out European Car of the Year award 2014 with its modern design, new fuel-efficient engine and the introduction at last of a six-speed automatic transmission.
Sitting in the C-segment in New Zealand, the 308 will also be competing against the Mazda3, Hyundai's i30 and the Ford Focus.
Peugeot NZ has the 308 on sale from this weekend, and the hatch automatic is likely to be the big seller for the company.
It expects to sell 500 of the 308 next year.
The Golf's dominance in the segment will give it three times that many sales.
Priced from $30,990, the 308 will have three trim levels in New Zealand - Access, Active and Allure - and is available in hatch (petrol and diesel) and a petrol station wagon (SW).
The engine sizes available now are a 1.2-litre three-cylinder (96kW/230Nm) petrol, and 2-litre turbodiesel.
A 1.6-litre petrol (110kW/240Nm) will be available from January.
Peugeot has upgraded the transmission from the lacklustre four-speed auto to an impressive six-speed.
The exterior has also had a workover, with a floating front grille, a dominant bonnet, daytime running lights and the lion "scratch" rear lights.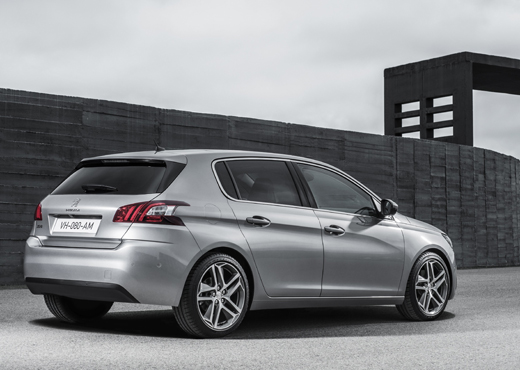 Peugeot 308
The interior has a simple, clean look and the Active and Allure have touchscreen.
On the road the chassis is a star performer, holding up under rough Waikato back roads. 

And Peugeot NZ will be hoping that the car does gain new buyers who were looking at the Golf.
By Liz Dobson • 25/10/2014
Learn more about Peugeot at the Driven Showroom