Range Rover takes Nurburgring fastest SUV title with Sport SVR
When you think Range Rover, you tend to think of a rather large, kinda boxy vehicle, full of kids slowly making its way through traffic. This is probably why Range rover have gone all out with a wicked fast machine capable of lapping the infamous Nürburgring in less than 9 minutes.
The Range Rover Sport SVR lapped the famous Nordschleife circuit at the Nürburgring in Germany in 8 minutes 14 seconds, making it the fastest production SUV to make it around the Nürburgring. The impressive feat was carried out by a Land Rover driver testing a standard production example of the potent new performance flagship.
The new SVR, which made its debut at the Goodwood Festival of Speed in June returned to the Nürburgring this month to continue an exhaustive testing schedule. The Range Rover Sport SVR is powered by an updated version of Land Rover's 5.0-litre supercharged V8 engine, which has been tuned to deliver 404kW - a 29kW increase over the existing V8 Supercharged derivative.
The handling characteristics of the SVR have been honed on the demanding Nürburgring Nordschleife because the undulating circuit's challenging layout represents the ultimate test for high performance vehicles.
Mike Cross, Chief Engineer Vehicle Integrity, said: "The Nürburgring is a benchmark for vehicle development and testing, and cars become stronger, more durable and faster over its 13 miles and 70-plus corners. We wanted to see whether an SUV could behave like a performance car in this challenging environment. The results are spectacular and the Range Rover Sport SVR has demonstrated outstanding on-road performance capabilities."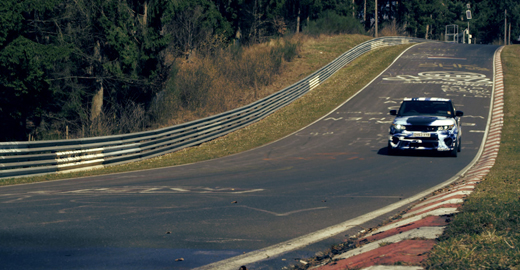 The Range Rover Sport SVR lapped the Nürburgring in 8 minutes and 14 seconds
Development of the Range Rover Sport SVR has been carried out by Jaguar Land Rover's Special Vehicle Operations team, with the aim of producing the most performance-focused Range Rover Sport ever. This has been achieved without compromising the vehicle's class-leading all terrain capabilities or high levels of comfort. The Range Rover Sport SVR features a twin-speed transfer case to provide a choice of high and low gear ratios and the same 850mm wading depth as other models in the Range Rover Sport line-up.
The Range Rover Sport SVR will arrive in Land Rover showrooms in 2015.