Super-fast wheelclampers target Auckland car owners
Drivers who park near a well-known burger chain and other shops in Mt Eden have cautionary tale about super-quick wheelclampers and towies.
Numerous drivers share the same story: they park in the Valley Rd shoppers' park and are clamped or towed almost immediately.
The spaces for the Mt Eden Burger Fuel restaurant and a private car park are separated by an indistinct fence, making the boundaries unclear, Te Waha Nui reports.
Signs visible from the road indicate parking reserved for Resene and Glengarry but does not warn users that tyre clamping or car towing is enforced.
The signs in the Valley Rd car park belong to AmalgAmated Carpark Services, which is owned by Supercity Towing in Eden Terrace.
Supercity Towing declined to comment.
Carmina Jacobson shared on Facebook her costly takeaway experience.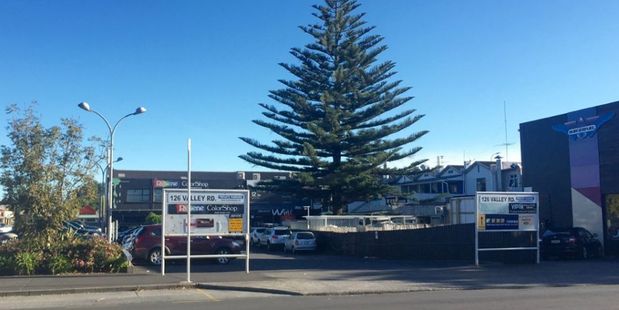 The carpark on Valley Road where drivers are targeted is right beside the Burger Fuel restaurant. Photo / Grace Dobson Phillips
"I was parked for two minutes next to the Burger Fuel store, went in to pick up my order and came out to see my car being clamped," Ms Jacobson told Te Waha Nui.
"The only way to have it unclamped was by paying $250 to the man."
Glen Yare was picking up a Burger Fuel order for his family, accompanied by a friend, when he was targeted.
According to Mr Yare, there were no other cars, and his vehicle was not taking up any spaces.
"We were parked for three minutes and returned to see a guy with an EFTPOS machine demanding $150."
Mr Yare said the man "was unprofessional, laughing and saying 'we've got you'".
"He was parked in an unmarked car and refused to show me ID, he just pointed to a company name on his T-shirt."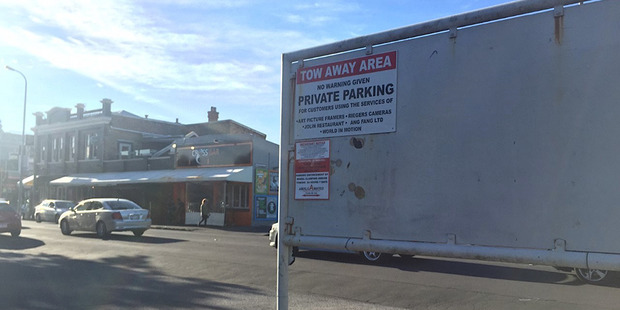 Most users of the car park do not notice the signs when leaving their car. Photo / Grace Dobson Phillips
Initially Mr Yare refused to pay up but the parking enforcer said he would tow the car and it would cost $270.
"Next time this happens I will dispute the charge," said Mr Yare.
"$150 for three minutes seems unjust, I felt like I was robbed."
Automobile Association (AA) senior policy analyst Mark Stockdale said there were no laws governing private car parking and the use of clamping.
"From the AA perspective it is an anomaly that the private parking sector are not subject to regulations when the Auckland Council sector is," said Mr Stockdale.
The price of penalties set by private parking enforcement businesses was different to those set by Auckland Council.
"If all parking enforcement companies were signatories to a voluntary code of practice it would be much fairer," said Mr Stockdale.
"The Code of Practice for Parking Enforcement on Public Land was developed with the private parking sector and sets out guidelines, including minimum signage and recommended enforcement practices."
- Te Waha Nui