Porsche names its first full-electric car, doubles EV investment
In 2015 Porsche revealed one of the most important concepts the company has ever built, a full-electric four-door sedan destined for showrooms around the world and known as the Mission E concept study. Now, Porsche has announced the production version of Mission E will be known as the Taycan.
Roughly translating as "lively young horse," in reference to the leaping steed first seen on Porsche's crest in 1952, the Taycan will be the company's first full-electric car when it goes into production next year.
As well as revealing the name, Porsche confirmed the Taycan will be powered by two electric motors with a combined output of 440kW (600hp) and a range of over 500km.
The Taycan will accelerate to 100km/h in 'well under' 3.5 seconds and onto 200km/h in under twelve seconds. Unlike Tesla's ludicrous mode (which can take over 10 minutes to prime batteries for maximum acceleration), Porsche say Taycan can perform multiple jump starts in succession without any loss of performance.
Porsche also announced plans to invest more than $10 billion in it's EV development programme by 2022, doubling the expenditure that the company had originally planned.
Another $830 million will be used for the development of Taycan variants and derivatives, around $1.7 billion on electrification and hybridisation of the existing product range, several hundred million for the expansion of production sites and around $1.1 billion for new technologies and charging infrastructure.
At the Porsche headquarters in Zuffenhausen, Germany, a new paint shop, dedicated assembly area for the Taycan and a conveyor bridge for transporting the painted bodies and drive units to the final assembly area are currently being constructed.
The existing engine plant is being expanded to manufacture electric motors and the body shop will also be developed. Porsche say production of the Taycan is creating around 1,200 new jobs in Zuffenhausen alone.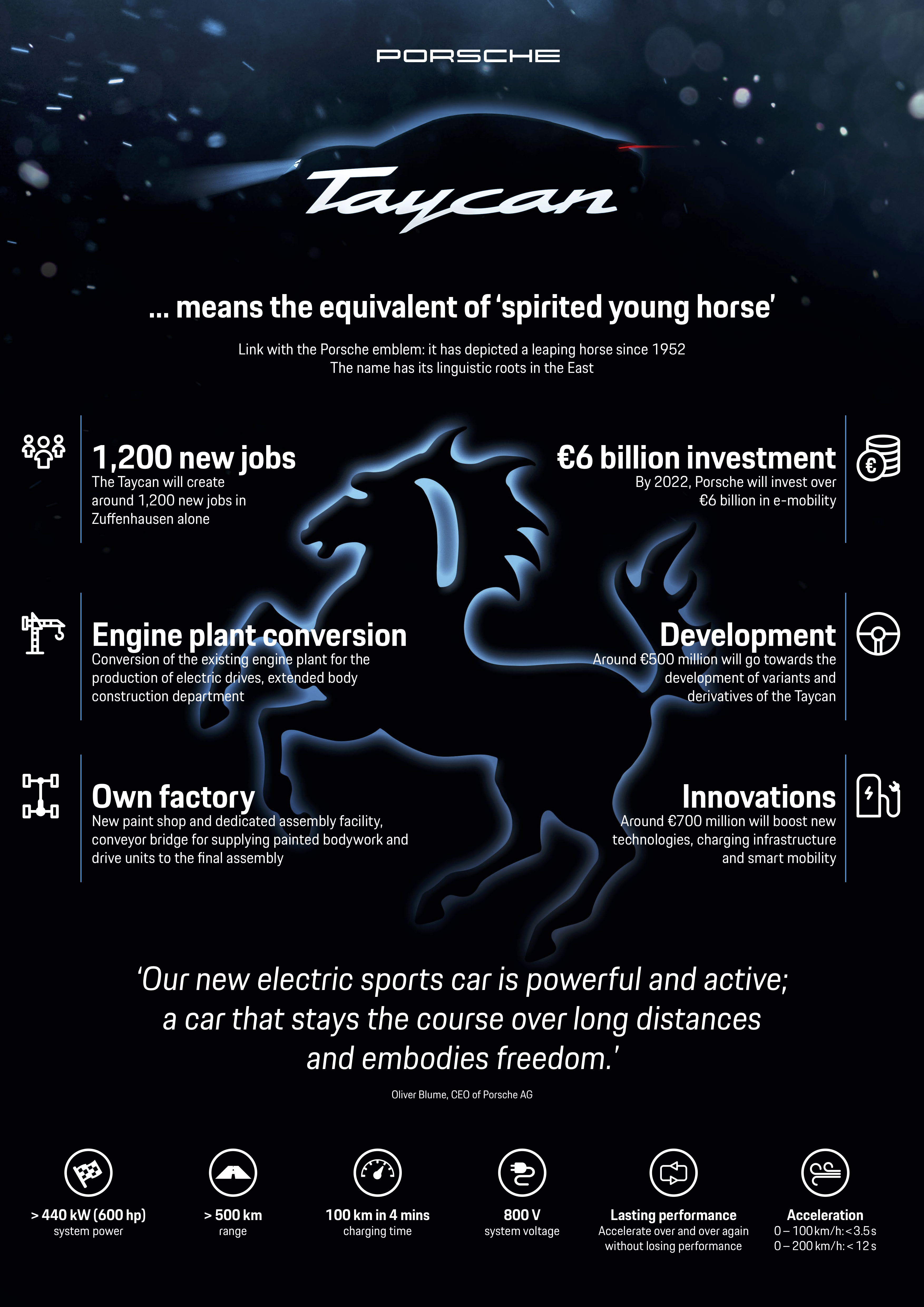 By David Kavermann • 15/06/2018
Tags