Stuck cars pulled from surf, at a cost
Three Dunedin residents could only watch as their stranded cars were crashed by waves at Tomahawk Beach yesterday.
The cars had been there since about 9pm on Saturday, when one of the cars became stuck in the sand and two cars sent to help also became stuck.
The cars were removed by members of the public yesterday afternoon, but their owners were disappointed the people who came to their aid demanded they pay them $600 for their services.
Ali Ibrahim, the owner of the car which first became stuck, said he and his friends went to the beach to socialise and cook food.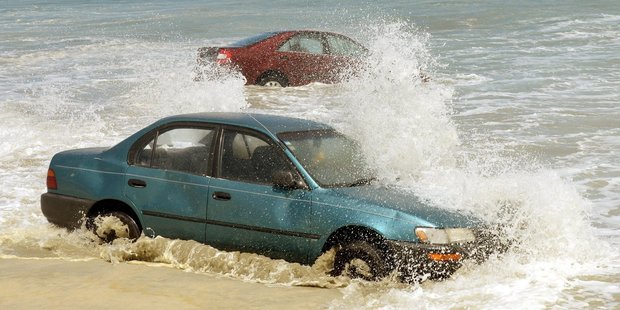 The high tide washes 2 of 3 cars stuck in sand on Tomahawk beach. Photo / Otago Daily Times
When he tried to leave, he realised the vehicle was stuck in the sand and called for help. But both vehicles which came to assist also sank into the sand.
"I called the AA and they said they could not do anything until tomorrow,'' Mr Ibrahim said.
Mr Ibrahim then called police, who gave the men a ride back to their homes.
The situation had not improved when the men returned yesterday, as the cars were lashed by strong waves and one was badly damaged.
An Otago Regional Council spokesman assessed the situation yesterday morning and said he could not see how the vehicles could be removed.
The council did not return to the scene after that, one of the men's friends, Mohammad Alhazmi, of Saudi Arabia, said.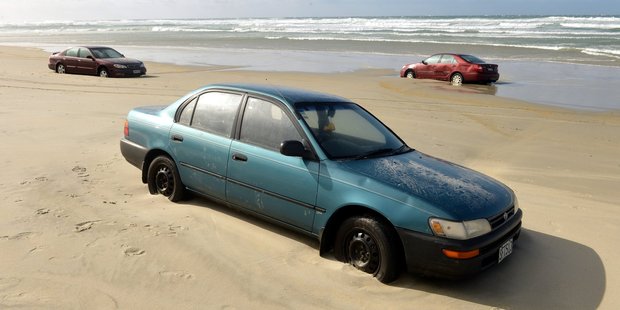 Three cars abandonded on Tomahawk beach had been washed through by the high tide at least once by Sunday morning. Photo / Otago Daily Times
The council could not be reached for comment.
"Some local people came and helped us and used wires to get one of the cars out,'' Mr Alhazmi said.
The other cars were removed by the same people later, but Mr Alhazmi said they were disappointed when the people began demanding they pay $600 for removing the cars.
When his friends said that was too much, the helpers threatened to go to the police, but in the end they accepted an offer $350, Mr Alhazmi said.
He felt they should have helped without demanding financial reward.
The AA could not be reached for comment last night.