Glamping in the 2015 Mitsubishi ASX
Compact SUV sales are booming. Australian buyers can't seem to get enough of these high-rise hatchbacks, and theMitsubishi ASX is right up there with the top-sellers – despite the fact it's now a little long in the tooth.
The ASX was one of the first small SUVs to hit the Australian market (the first and current generation arrived in 2010) and the segment is one of the fastest-growing in Australia this year.
The growth is reflective of a wider general push into higher-riding cars, but there's more to it than that: sitting higher imparts a sense of confidence, allowing the driver to feel more in command with better visibility of the road ahead.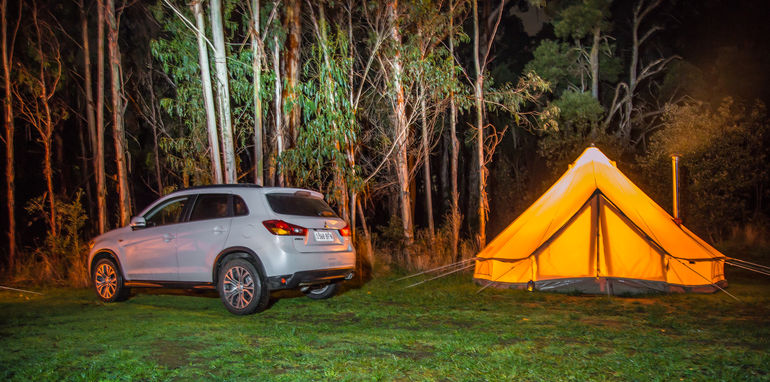 The style is part of the popularity, too. The 'tougher' look of SUVs, compared to many wagons, hatches or sedans, is the flavour of the moment. With so many on the market, it's safe to say there's something to suit almost everyone.
Then there's the promise of adventure that comes hand-in-hand with your SUV. Whether or not your car is off-road capable or not, it still inspires daydreams of weekend adventures.
That latter point is precisely why I've taken our top-of-the-range Mitsubishi ASX XLS off on a weekend 'glamping' trip in country Victoria, experiencing first-hand what all the fuss is all about.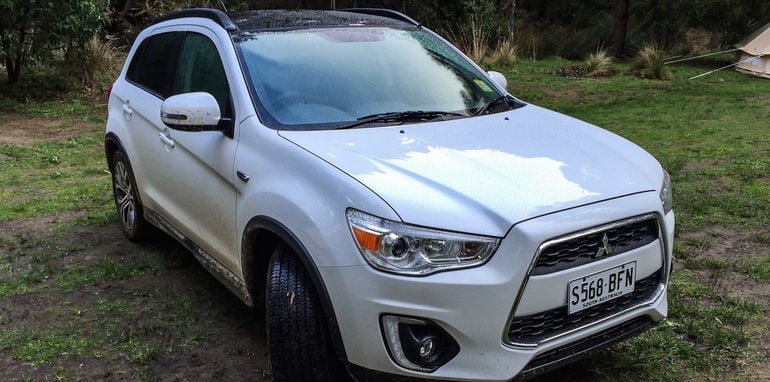 I loaded up the ASX at our Melbourne office, entered the destination into the satellite navigation system via the seven-inch touch screen, then headed off on a leisurely drive.
I decided not to rush, and enjoyed watching the countryside change through the windows as we cruised along the highway.
The temperature gauge on the instrument cluster was steadily dropping from a balmy (by Melbourne winter standards) 14-degrees leaving the city, to low-single digits as I travelled further from the bright lights. And then the rain started.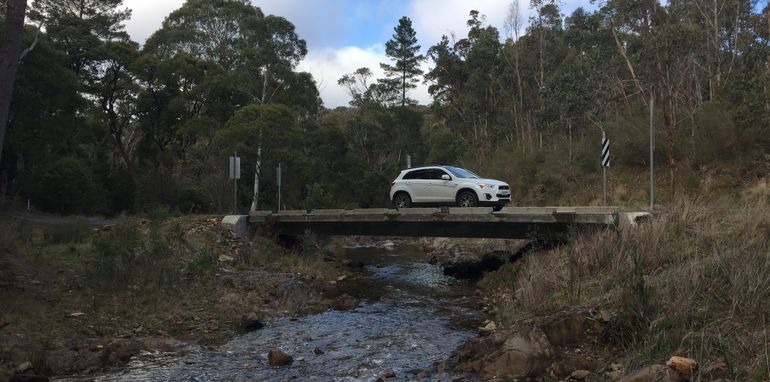 Less than an hour-and-a-half out of the city lies the small town of Blackwood, and my destination – a glamping site calledCosy Tents.
Blackwood has a rather unusual claim to fame: it's home to a haunted hotel. Dropping in for a visit was on the list of things to do!
On the road at highway speeds, the ASX trundles along on its 18-inch alloys with a sense of ease.
The high driving position certainly proved why it's a plus, particularly when it comes to overtaking. It's something I already knew, but, for those thinking about swapping into an SUV, you feel like you can see further ahead and you don't feel as much like 'truck bait' as you do in a lower vehicle.
As the roads became a little narrower – less city-fringe freeway and more country highway – the suspension handled the changes well.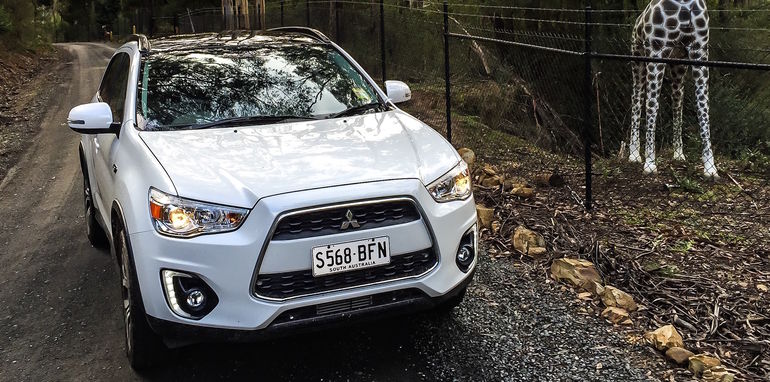 The ASX was comfortable and composed over big bumps, while it tackled smaller bumps without complaint.
Our XLS 4WD has a 2.3-litre four-cylinder diesel engine, producing 110kW and 360Nm, teamed to a six-speed automatic transmission. The 2WD XLS comes with a CVT.
Fuel economy is a claimed 6.0 litres per 100 kilometres, and I will be taking note of how it performs over the course of the relatively short trip – estimated to be around 200km at the time we set out.
Bluetooth phone connectivity and audio streaming were great, until we hit the 'no reception' zone.
Unlike many of its competitors that have on-demand 4WD, the ASX can be manually locked into 4WD mode.
This came in handy as soon as we arrived at Blackwood. After checking in, I made my way down to the bottom of a very steep and slippery hill.
It's only 94 kilometres from where I started, but a pit stop along the way and a slower-paced drive meant that a 70-minute trip became 90.
After unloading the gear at the tent and checking out the swanky digs for the night, I decided to explore the surrounding area.
The ASX is Mitsubishi's second top-selling model after the Triton ute, thanks to competitive pricing across the range, in a price-sensitive segment.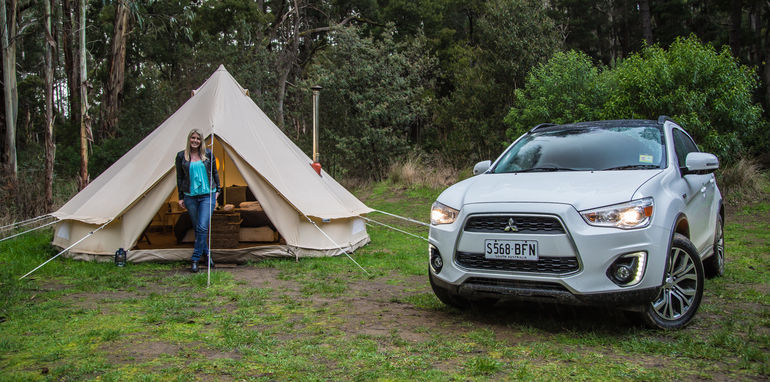 The thought did cross my mind that perhaps the Triton, Challenger or Pajero may have been a better pick for the now wet and muddy roads, but then I wasn't planning to head too far off the beaten track, and the ASX was up for what I planned to throw at it.
Though it looks the business, like most of its competitors it's not really off-road capable – it's a bit more cushy and not made for serious four-wheel-driving.
A little bit of unsealed road is fine, but if you want to go mud-slinging, stick to smaller puddles and check the water depth before splashing through if you're not sure.
After a bit of exploring, it was time to head to Trentham to pick up some groceries.
The glamping ground has a campfire and a barbecue, so no need to worry about getting dressed up and heading out for dinner.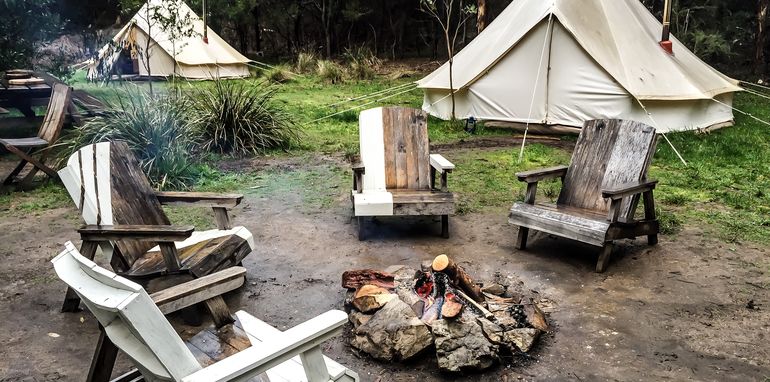 I did stop in at the haunted Blackwood Hotel; there was definitely something creepy about that place and the owner enjoyed telling stories about the multiple spirits that are believed to haunt the venue.
With a bottle of wine to keep me warm (by late afternoon it was already 0-degrees according to the outside temperature reading displaying on the ASX's multi-information display), and some steaks, I settled in around the campfire.
The problem with being out in the middle of nowhere with just a campfire and a few little solar lights, is that time moves very slowly.
Not even a glass of wine could keep me warm, my fingers and toes were numb and I was wearing every piece of clothing I had. It felt like midnight, but it was only 8.30pm.
Temperatures were headed well below zero, the tents were looking cold and I was prepared to sleep in the ASX if need be. I slept in the Challenger when a camping trip was rained out at Easter and had no qualms about doing it again (read about that adventure here).
But the glamping facilities are designed to cater for the elements. Despite the rain and chilly air, I survived the night without waking up feeling like an icicle.
Getting the car loaded up in the morning was a bit of a muddy affair, and the car was filthy after the adventures of the day before.
It all just made the weekend feel a bit more adventurous than it actually was. Just as the ASX is a bit of a poser when it comes to being a hardcore off-roader, glamping is far more comfortable and luxurious than camping, despite a little bit of mud here and there.
There are a lot of reasons that people consider SUVs, and three of the biggest factors were now solidified in my mind.
Yes, SUVs can inspire extra confidence on the road, there is a sense of adventure about them, and the style has an almost universal appeal.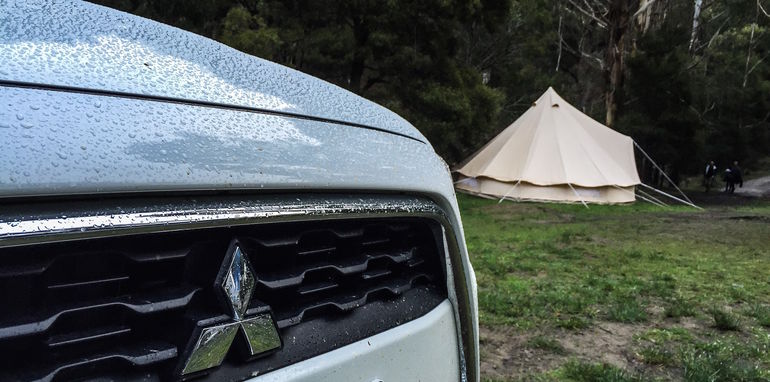 In fact, according to visitor data from CarAdvice.com.au, our SUV category page gets more pageviews than any other category – 47 percent more pageviews than the second most popular category, Utes.
The data also shows that our audience spends an average of 3min 10sec scanning through the SUV category page. Our audience is researching SUVs more than any other category and are engaging with SUV content for longer than any other category.
Small SUV registrations were up 24.4 per cent over 2014, and sales of conventional small cars are contracting alarmingly.
The king of the segment this year, as in previous years, is the now-defunct Hyundai ix35 – it's been replaced by theHyundai Tucson. The ASX is the second best-seller.
Newcomers the Honda HR-V and Mazda CX-3 have so far caused a stir, both racking up more sales in July this year.
The segment shows no sign of a sales slowdown, though, with plenty of buyers to go around.
Oh, and the fuel economy worked out to be 7.0-litres per 100 kilometres – not bad!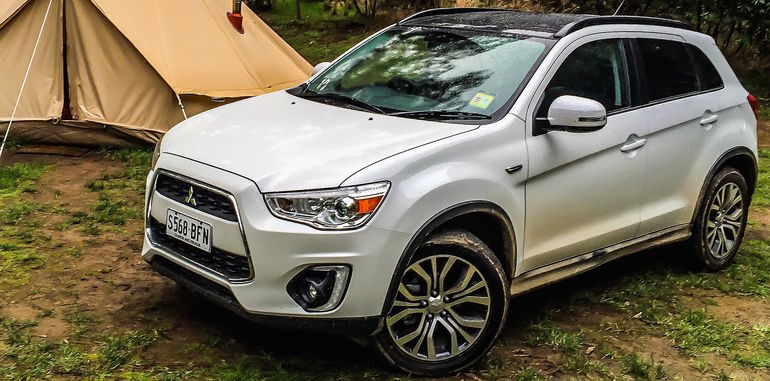 Total Cost = $296.45 
Fuel: $21.45
Accommodation: $225 per 5m bell tent per night
Food: $50
Photography by Glen Sullivan and Tegan Lawson.
By Tegan Lawson, CarAdvice.com.au • 15/09/2015
Learn more about Mitsubishi at the Driven Showroom