Aston Martin DB11: Alice Springs to Mount Isa
It's nearing 40 degrees outside and the flies are murderous, but we're none the wiser, cocooned in a prototype of the incoming Aston Martin DB11, with the climate control working a treat and the twin-turbo V12 barely raising a sweat as the speedo nudges 200 clicks.
The all-new Aston Martin DB11, which has just been unveiled at the Geneva motor show, is the direct successor to the long-standing DB9, and central to what's effectively a relaunch of the iconic British luxury sports car brand.
This is the car that will spearhead the next generation of Aston Martin road cars under new boss, Andy Palmer. To say the company needs to get this car right from the outset would be a massive understatement, given the historical significance of this badge and its sometimes troubled past.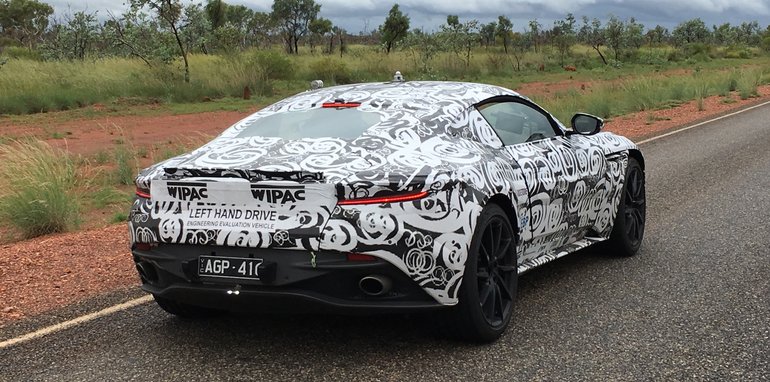 The 'DB' moniker came to prominence almost 70 years ago, after engineering entrepreneur David Brown bought the beleaguered sports car manufacturer and set about creating one of the most desirable nameplates in the automotive world. It's a bloodline that stretches over 14 models and derivatives, including Aston Martin's most storied model, the DB5 of Bond movie fame.
The DB9 has been on sale since 2004 with various updates along the way and much like the jump from DB7 to DB9, the DB11 skips a number to highlight the new technology and engineering that will underpin Aston's replacement models over the next five years.
Only this time it's a little different, because Aston built the DB10 (only 10 examples) for the latest Bond movie Spectre, but those cars were strictly for the set and not for sale to the public, at least according to Aston Martin at the time of the build. However, a DB10 was recently sold by at a special auction by Christie's in London for a staggering 2,424,500 pounds Sterling, or over $A4.7 million if you're brave enough to do the conversion.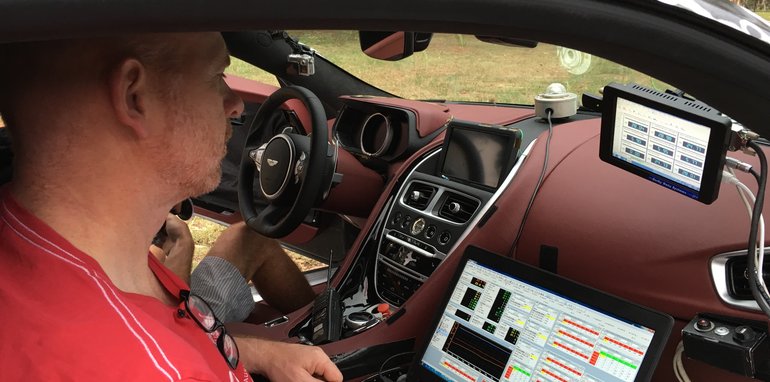 The DB11 is a completely new car from Aston Martin – new aluminium architecture, new skin, new interior, new technology (some of which is borrowed from Daimler's Mercedes-Benz) and a brand new 5.2-litre twin-turbo V12 engine built in Aston's powertrain factory in Cologne, Germany.
Final testing is underway before the the car's global debut at this year's Geneva motor show, followed by customer deliveries commencing July/August.
Extreme cold weather proving is going on in Finland, while hot weather assessment is taking place right here in Outback Australia, where CarAdvice is riding alongside Nadeem Arshad, DB11 Project Engineer of Climate Control Systems, from Alice Springs to Mount Isa (1200km) during which all the data will be downloaded and sent to Aston's HQ at Gaydon in the UK for technical evaluation.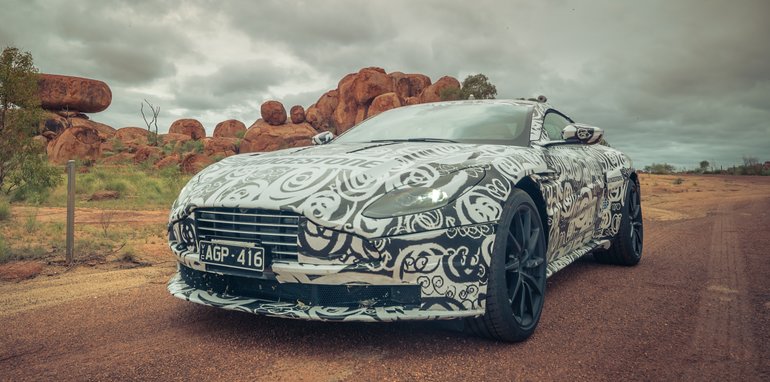 Our relatively brief journey in the DB11 is only a small part of big program encompassing a 9000-kilometre proving drive throughout the hottest parts of Australia, during which all systems will be evaluated, with particular attention paid to the new climate control system, which promises to deliver a whole new level of comfort.
The DB11 is a vastly different car to the outgoing DB9. In fact, the only carryover parts are the door handles, as the rest is all new, such as the specially designed aero blade nestled in behind the C-pillar that channels air out through small holes behind the pop-up rear spoiler, producing downforce. In earlier testing, the system produced so much downforce it was adversely compressing the suspension, requiring airflow to be dialled back.
There are more aero tricks up front too, like the hidden channels under the front wheel arches that re-direct high-pressure air from the front of the car out through the familiar Aston Martin side strakes, which provide greater high-speed stability.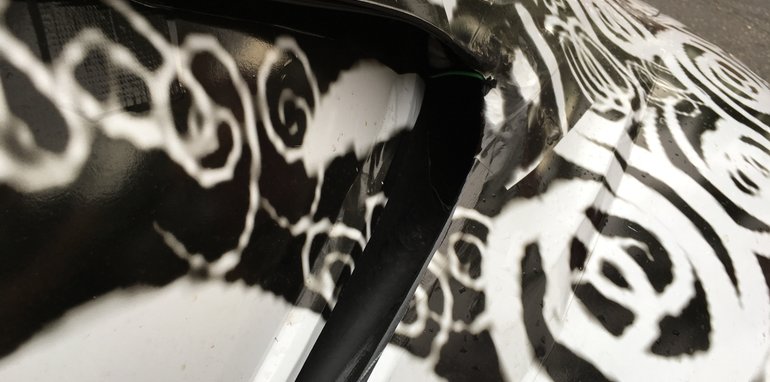 Despite the camouflage that wraps this entire prototype, there's no hiding several styling cues borrowed from the DB10 Bond car, like the ultra-slim taillights and the drilled exhaust tip cowls, which together with newly sculptured panels, clamshell bonnet, and a front splitter that looks to have drawn inspiration from the fire-breathing Vulcan, spells more of a revolution in Aston's design language, rather than any evolutionary process.
Even the car's 20-inch alloys are new, as are the fat Bridgestone tyres they are shod with. These have been specially designed for the DB11 with a unique tread pattern that looks unlike anything we've seen in the past.
But underneath is where you'll find the DB11's piece de resistance – a new 5.2-litre twin-turbo V12 powerhouse of engine developing a brawny 441kW and 700Nm of torque to the rear wheels. Aston claims it will rocket to 100km/h in just 3.9 seconds, while top speed is a ballistic 322km/h.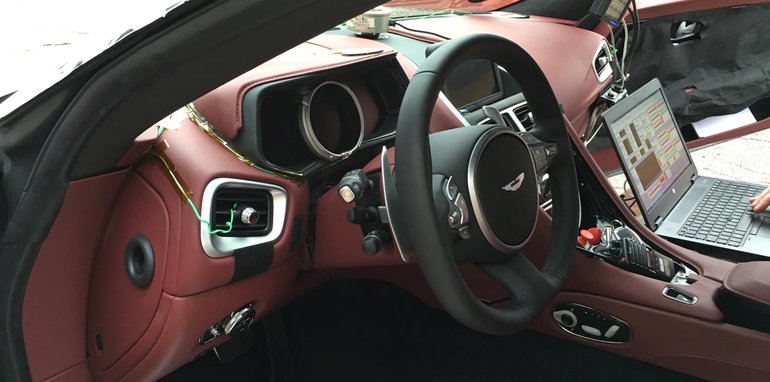 And just like the exterior, Aston has completely redesigned the cockpit for the DB11, with nothing carried over bar the genuine glass start/stop and transmission buttons. Gone are the traditional analogue dials, replaced by a digital instrument panel with a single tachometer gauge taking centre stage. It's practically unrecognisable as an Aston Martin – in a good way.
The smaller, more manageable sports leather steering wheel has been lifted straight from the DB10. The instrument stalks, previously sourced from the Ford parts bin, have been re-designed in-house at Aston's design studio at Gaydon and thankfully look like they belong there.
There's also evidence of Mercedes-Benz parent, Daimler's five per cent stake in Aston Martin. Most noticeable is the new-generation infotainment system sporting a floating screen and Benz-style rotary controller, though the screen itself has effectively been 'Astonised' from an aesthetic perspective. It's light years ahead of anything Aston has employed previously.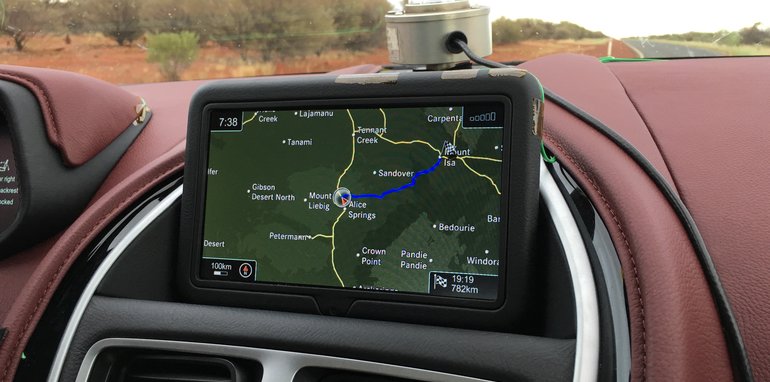 The HVAC unit is cutting edge. Not only can the sensors pinpoint the sun's direction and reconfigure the airflow to the most comfortable setting, the system also eliminates the odour from the windscreen cleaner fluid inside the cabin by effectively shutting off the fresh air intake and recirculating the air, from the the very instant the windscreen wash button is activated.
Despite its prototype status, the DB11 reveals a noticeable upgrade in materials and comfort; the leather trim is beautifully supple and the front buckets are more sumptuous. It's an airier cabin, too, the result of a request by DB9 owners for more rear-seat space.
There's also a vast array of electronic gadgetry on board including auto entry and start, electrically operated heated front seats with memory positioning, Powerfold side mirrors, front and rear parking sensors, Autopark, tyre pressure monitoring and auto temperature control with dual-zone climate control.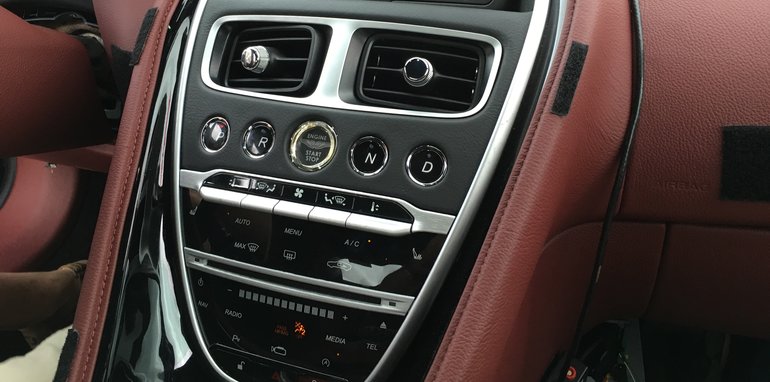 In-car entertainment comprises a 13-speaker 1000-watt Bang & Olufsen sound system and eight-inch LCD screen with rotary controller that's used to access a variety of functions.
While there's a full suite of airbags including dual-stage driver and passenger front and side airbags, curtain and knee airbags, as well as pelvis and thorax seat mounted airbags, active safety systems such as lane departure warning, blind-spot detection, forward collision warning with radar cruise control and auto braking are not yet available.
That said, driver aids include dynamic stability control, anti-lock braking system, electronic brakeforce distribution, emergency brake assist, traction control, hydraulic brake assist, Positive Torque Control modulation, dynamic torque vectoring and launch control.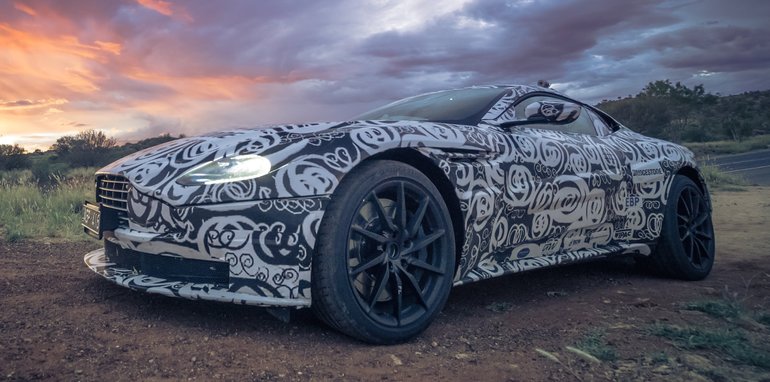 Cruising along on the open road and it's conspicuously quieter inside, and the big V12 is barely nudging 1500rpm at 130km/h. Once we hit the 300 kilometre de-restricted speed zone, Nadeem winds it up to around 240km/h, and it still feels the same – utterly composed and beautifully poised.
There's additional refinement built into this engine, and the latest eight-speed auto transmission from German gearbox specialist ZF seems even more versatile in its ability to deliver the ultimate GT experience; high-speed grand touring in comfort mode in one instant, and race-car-like speed shifting in Sport+ in the next. But even then, as the car is hurtling towards the horizon at warp speed, it still feels like a genuine luxury car experience.
Even when the engineer nails the big GT from a standing start, power delivery feels much like the old naturally aspirated V12, so it's difficult to detect exactly when the twin turbochargers kick in.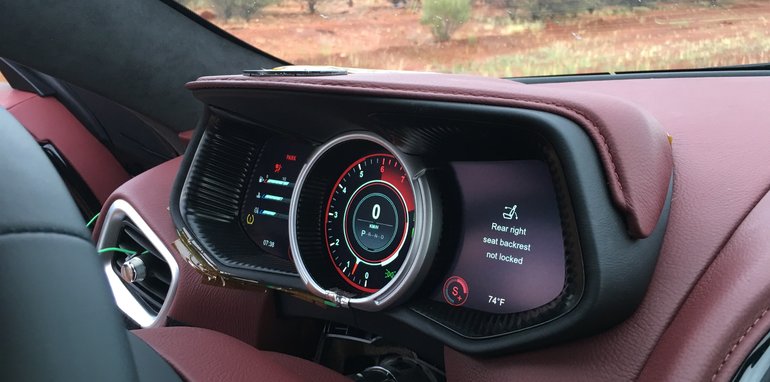 This new 5.2-litre twin-turbo V12 mill is a cracker. Acceleration from the get go is ferocious, more like the current flagship Vanquish than the DB9. From there, it's pulling power feels limitless. Of course, we could legally wind it out to beyond 300km/h, but for the kangaroos and emus that have been sighted on the roads in these parts.
Aston has equipped the DB11 with massive ventilated brakes; six-piston calipers with 400mm steel rotors up front, and four-piston callipers with 360mm discs down back. These are capable of huge stopping power, able to wipe off speed at an impressive rate despite the car's 1770kg dry weight.
Of course, the question on everyone's mind is: does it still sound like an Aston V12 should? Pretty much. You've still got plenty of angry growl going on under full throttle, but there's no denying the turbos have had a slight muzzling affect on the ultimate exhaust note.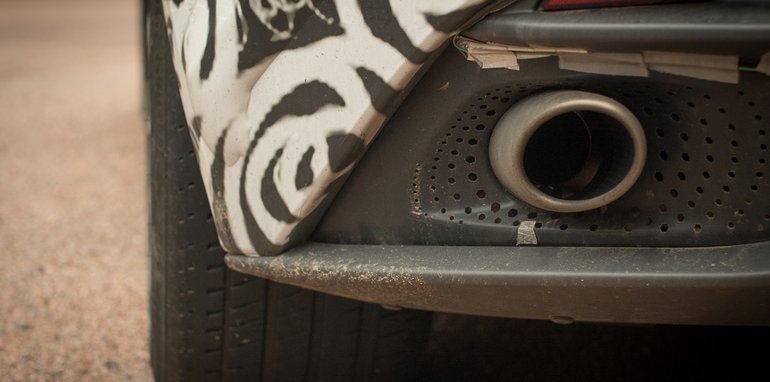 While it's difficult to assess the car's handling prowess in these parts, where the roads are notoriously straight and narrow, ride comfort is extraordinarily good. Bumpy roads full of lumps and depressions are completely anesthetised by DB11's sophisticated new suspension system, despite riding on lightweight 20-inch alloy wheels shod with ultra-low-profile Bridgestone tyres.
Adaptive dampers allow the driver to flick through three suspension settings; GT, Sport and Sport+. Ride is downright supple in GT mode, but firms up substantially in the most extreme setting, though still with a surprising level of compliance underpinning each and every mode.
As we've seen on the floor of the Geneva motor show, the DB11 is a sensationally styled automobile under the camo wrap, and the new twin-turbo V12 delivers blistering performance with plenty of refinement. Comfort and technology levels have also been lifted sharply, while ride comfort is close to benchmark.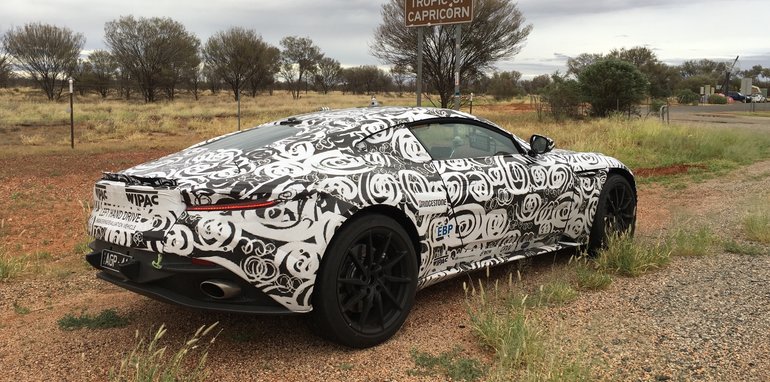 Our final verdict will have to wait until we get behind the wheel at the global media drive later this year, but early indications prove the DB11 is far more revolutionary than evolutionary, and a vastly superior car to the DB9 it will replace.
Keep up to date with Driven
Sign up now to receive DRIVEN news, reviews and our favourite cars for sale straight to your inbox.
By Anthony Crawford, CarAdvice.com.au • 02/03/2016