City Yeti takes versatility to a new level
It's hard to find fault with Yeti City, Skoda's small-medium SUV, says a pleasantly surprised David Linklater
Sometimes, a little sleight of hand is required to stay in the game.
You may have noticed that Skoda's small/medium model range has been substantially renewed over the past year, with an all-new model called Rapid and a completely new generation of Octavia.
With these new models comes a new corporate styling template: a bold new grille, large headlights and a distinctive combination of crease lines - looks more like a piece of folded cardboard, actually - in between the tail lights.
The latest Yeti carries all of the above styling cues.
Looks like it was born to be part of the new range. But of course it wasn't; the new model is a facelift rather than a complete revamp, and a rather minor one at that.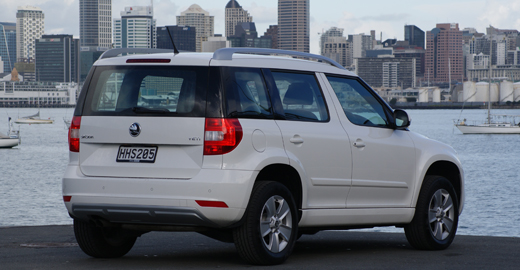 Know what? That's okay, because Yeti is still one of the best small/medium SUVs around in almost any way you'd care to name: powertrain and practicality especially.
We'll understand if you think it looks a bit weird, but the facelift model even addresses that issue.
Perhaps the biggest change with Yeti is more to do with specification and marketing than with the fundamental package.
The two-wheel-drive City model and four-wheel-drive Outdoor version now look quite different.
They're powered differently, too: the City gets the Volkswagen Group's ubiquitous 1.4-litre turbo-petrol (TSI) engine, while the Outdoor has a 2.0-litre turbo-diesel.
The model featured here is the $36,100 City.
You will know it by its body-coloured mouldings and modest 16-inch wheels.
The Outdoor goes for a more aggressive stance, with black mouldings, more silver trim and chunky 17-inch alloys.
In fairness to the City, it looks a good deal more plain in appliance-white than, say, black or silver.
But the Yeti still eschews the current SUV-trend of low roof lines and coupe-like curves for good old-fashioned boxy practicality.
Pulls it off too, achieving a functional shape without looking in the least bit frumpy.
It's fun to drive, thanks to that crisp TSI engine and a dual-clutch automated gearbox that's capable of shifting at lightning speed.
This is the same powertrain that you'll find in any number of VW Group products: it's economical (6.6 litres per 100km) and yet still very eager, with 90kW peak power and 200Nm from just 1500rpm.
Perhaps too eager for the front-drive City at times.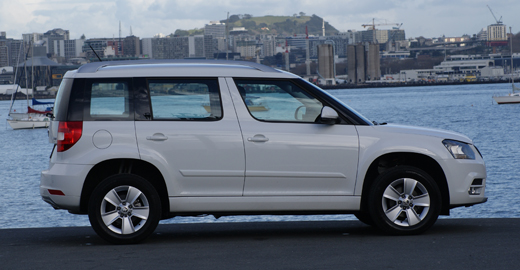 It's very easy to extract a chirp from the front wheels away from traffic lights, as the clutch bites.
The Yeti is quite softly sprung as well, so can suffer from wheelspin in bumpy corners or in the wet.
There's a lesson here.
While front-drive SUVs make a lot of sense because we all know that vehicles of this type very rarely go off-road (not to mention their lower cost), their higher centre of gravity and more compliant chassis setup mean that four-wheel drive can be of real benefit for on-road driving.
Nonetheless, the Yeti City is an engaging machine.
The steering is light but surprisingly accurate, the chassis communicative enough to provide a degree of driver entertainment.
The driving position is old-school: upright and configured for maximum visibility through the large glass areas.
In fact, the Yeti has such a spacious feel inside that it's easy to forget it's more like supermini-size on the outside, with a total length of just 4.2 metres.
Compact exterior dimensions, combined with that commanding driving position, make the City a doddle to manoeuvre and park in the, ahem, city.
But in terms of cabin space and comfort the Yeti can be considered a rival for larger SUVs like the Toyota RAV4 and Mazda CX-5.
Where Yeti does fall down is in ultimate load-carrying volume, with just 321 litres of boot space behind the rear seats.
But it gains ground in load height and sheer versatility.
The Yeti retains the brilliant VarioFlex rear seating of the previous model (also shared with the weird but wonderful Roomster).
It has three individually mounted rear chairs in a 40/20/40 configuration.
Each one slides and folds independently: you can flip the backrest down to get a generous load-through, tip the whole assembly forward for more cargo space or simply remove each seat from the car completely to make the Yeti van-versatile.
There are very few SUVs of this size - if any - that offer anything like the Yeti's level of versatility.