Game review: Forza Motorsport 6
It's not long before you realise the creators of Forza 6 - the sixth instalment of the decade-old series - really want to make a splash.
It's when you're driving in wet conditions, straight through a puddle that takes up half the track and begin to hydroplane straight into a wall.
It's a good thing: Forza 6 is a vast improvement on the previous edition, which, despite speed being key for a car game, was a bit of a rush job. This time, there are roughly 450 cars from 80 different carmakers to choose from, which means plenty of variety.
From street cars, muscle cars, vintage classics to Indycars, pretty much every chassis is covered.
You don't have to start off in a 2007 Honda Civic and work your way up to the supercars either, with the likes of the McLaren F1 and the Lamborghini Huracan unlocked from the start.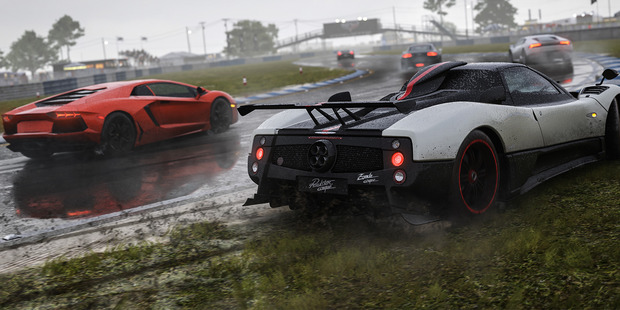 Forza Motorsport 6 now has rain soaked tracks.
There's also a prize wheel, which you can use to win new cars after roughly every second race. My first win was a Bugatti Veyron.
There are 26 race venues, many with multiple track options, including Bathurst, Daytona, Indy, Silverstone, the Nurburgring, and street circuits in Prague, Rio and the Swiss Alps. Trying to challenge Greg Murphy's Bathurst hot lap record in a McLaren F1 is a lot of fun.
The highlight of the game is the Showcases feature.
You experience just how skilful - and possibly insane - Scott Dixon must be as you drive an Indycar around Indianapolis at top speed. In Showcases you can also race an endurance event at Bathurst in a V8 supercar as well as take on Top Gear's Stig. The best bit though, is the Moments in Motorsport section, where you can race as a 1970s Formula One driver, or head around Spa Francorchamps in a 1939 Maserati 8ctf.
The gameplay is improved and the inclusion of a rewind button is helpful when a rival driver knocks you into a wall, ruining your race. You can simply go back to before the crash and avoid the collision.
The visuals are outstanding, especially with night driving and in wet conditions. The street circuits show up really well with the vibrancy of Rio showing through as you speed past.
Rating: 4.5/5 stars
Game: Forza Motorsport 6 
Platforms: XBOX ONE
Rating: G
Verdict: Best car game in the market just got even better
- TimeOut
Keep up to date with Driven
Sign up now to receive DRIVEN news, reviews and our favourite cars for sale straight to your inbox.