Isuzu Mu-X: Un-mysterious but lots of multi
Isuzu's MU-X appeals to Damien O'Carroll
There is a distinct lack of mystery surrounding the new Isuzu MU-X and it is not -- as the unkind may say -- because we have seen it all before with the extremely similar Holden Colorado 7.
No, that is not the reason at all, simply because -- overall body shape apart -- the two are quite different.
The reason for the lack of mystery harks back to a funny little semi-convertible three-door Japanese import SUV that was the original Isuzu MU. Back then, "MU" stood for "Mysterious Utility", but when it comes to the new D-Max-based seven-seat MU-X, this is apparently no longer the case.
Now, according to representatives from the company's Thailand manufacturing plant, "MU" stands for "Multi Utility". The X? Well, that stands for "eXtreme", of course.
So mystery has been quietly dropped in favour of multi, with a bit of extreme thrown in for good measure.
We kinda like the idea of driving a "Mysterious Utility - eXtreme", but never mind.
The non-mysterious MU-X is Isuzu's version of the last project it worked on with General Motors before their financial crisis-prompted divorce. We have already seen the GM part of the equation in the form of the Holden Colorado 7.
Like the Colorado 7, the MU-X is based on a shortened version of the similarly related Colorado/D-Max ute platform and has independent rear suspension, as opposed to the ute's leaf sprung rear.
But here the similarities end (apart from some interior bits and pieces), because the MU-X has a completely different powertrain, as does the D-Max ute.
Under the MU-X's big, blunt bonnet is Isuzu's 130kW/380Nm 3-litre inline 4-cylinder turbo diesel engine that was developed for its light trucks.
It is hooked up to a five-speed automatic transmission that drives either the rear or all four wheels via an electronically selectable four-wheel drive system.
On paper, the Isuzu may seem lacking in comparison with the Holden's brawnier figures of 147kW/500Nm from its 2.8-litre engine, which is hooked up to a 6-speed auto transmission.
But although the Holden is brisker off the line the Isuzu makes up for this by having a far superior suspension set up.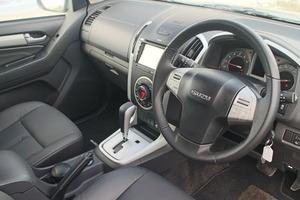 On the road it is far more settled and comfortable than the Holden, making it far more of a torquey, relaxed cruiser than a corner carver -- but it is a large traditional ladder-chassis-based SUV, so expecting it to attack corners with the eagerness of a sports car is really like expecting a fish to play badminton with a high degree of skill.
What it is capable of, however, is surprisingly competent high-speed cruising in a remarkably relaxed and comfortable fashion.
Befitting this relaxed, comfortable on-road attitude is the MU-X's high level of standard specification.
Isuzu is bring the MU-X to New Zealand as a single, top-spec model selling for $65,990.
For that you get seven seats (or five and a huge boot when the rear row is folded down) and a whole load of standard spec, including 17-inch alloy wheels, chrome power mirrors, aluminium side steps, rear privacy glass, roof rails, an electrically adjustable driver's seat, leather seats, climate control air conditioning, cruise control, satellite navigation, a CD/DVD entertainment system with a drop-down 10-inch rear screen, iPod integration, Bluetooth phone connectivity and audio streaming, a reversing camera and extra power outlets in the glovebox and rear cargo area.
The MU-X's 3-litre diesel engine is not the most powerful, but it is extremely flexible and relatively refined for a big diesel, especially one designed originally for a truck.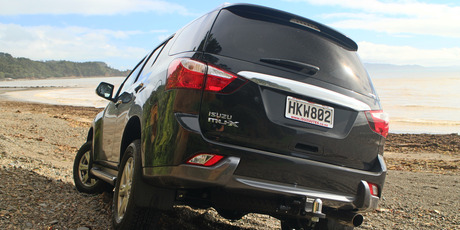 In the MU-X the engine has a different head and timing to that of the D-Max ute, but the five-speed transmission is the same.
When it comes down to it, the MU-X is very much in the vein of an old-school 4X4, with a tough ladder chassis and a big towing capacity, and Isuzu is pinning its hopes for the model on these features, as well as its high spec and large capacity for people and cargo.
The MU-X can pull 3000kg on a braked trailer, so the boat or caravan-owning market will be interested straight away.
The off-road crowd will no doubt pay attention as well, because the MU-X has the same impressive ability off the sealed stuff that the D-Max and the Colorado cousins have.
With huge axle articulation and impressive approach and departure angles of 30.1 and 25.1 degrees respectively, the MU-X packs all the standard off-road specification, including the ability to switch between 2WD and 4WD high at speeds of up to 100km/h (low-range 4WD still needs the vehicle to be stationary).
It also has underbody protection front and rear, and 230mm of minimum ground clearance.
Because the MU-X goes well on the road, goes a long way off it, tows a lot, has loads of standard spec and is spacious and comfortable, Isuzu has aimed it directly at the lifestyle market in New Zealand, hoping those who like the outdoors and live active lives will be attracted to its many charms.
And there would seem to be no real reason they wouldn't.
The MU-X may lack power when compared to its obvious Holden competitor, but the superior ride, high level of spec and undeniably better looks put the Isuzu ahead in that race.
Isuzu is growing at a remarkable rate in New Zealand -- the company had 173 per cent growth last year and is 60 per cent up on that this year -- and the MU-X should help that growth, even if it accounts for a far smaller percentage of those sales than the D-Max ute.
There may be nothing particularly mysterious about the MU-X, but there certainly is a lot that is appealing.
Keep up to date with Driven
Sign up now to receive DRIVEN news, reviews and our favourite cars for sale straight to your inbox.