Jaguar F-Type R Coupe roars to top of the list
Listen to the roar, feel the power ... it's a winner (if you ignore the petrol bill)
Four-oh-four. Rolling those numbers through my head while exiting a corner out in Wopsville during Wednesday's opening of the heavens probably saved Jaguar from a repair bill and me from a place in the dole queue.
The latest version of the gorgeous F-Type was launched this week amid a cacophony of shredding tyres and screaming supercharged V8s -- meet the F-Type Coupe R, the hairy-chested Big Daddy of the modern Jaguar range.
The roadster, which arrived in New Zealand last year to a torrent of awards and motor-noter love, is stunning, but pales in comparison to the hardtop version which Jaguar New Zealand believes will outsell its drop-top stablemate two to one.
And when you consider the price-for-power on offer with the four-machine coupe line-up, it's no wonder that the company is excited about the arrival.
Like the roadster, there's the base F-Type spec ($125K, 250kW V6) and the F-Type S ($140K 280kW V6). There's no F-Type V8 S (normally a 364kW V8), then there's the hardtop-only "R" pictured on this page, with a $185,000 entry price, which compares favourably with powermongers from other corners of the world.
Its power and torque figures are impressive -- 404kW at the flywheel, a bone-jarring 680Nm. Numbers that scare the elder statesmen of the mechanical realm, for sure, but when you consider the thing weighs a paltry 1650kg, the spec-sheet mathematics get scary.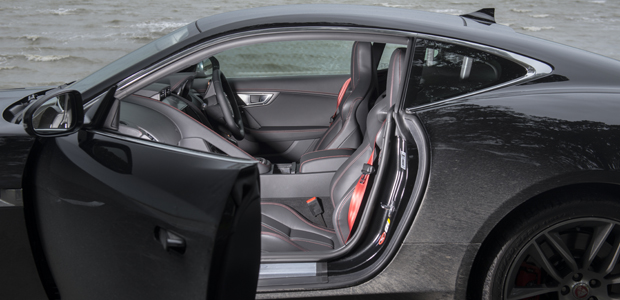 It's a power-to-weight ratio akin to bunging a blown V8 in a hatchback -- and it feels like it.
Slapping through the robo-auto's eight cogs, the sweet spots of power delivery are utterly mad -- it's hard to look cool in your fancy Jaguar when you've got a childish grin plastered across your dial, watching the needle bouncing around the red bit on the car's dial, and giggling like a fool.
It's not the sort of grunt that's easy to get used to -- on a dry road it requires a high level of respect, but in Auckland at this time of year dry roads are as rare as a spot where you can exploit this machine's abilities. A bit of damp underfoot gives the Coupe R pilot two options -- drive it like your grandmother would, if she were able to lower herself into those body-locking leatherbound sports seats, or let the big 295 rear rubber spin its way around the roads, using a great deal of bravery, right-foot feathering and opposite-lock. This option is not ideal considering the bounds of physics and New Zealand traffic law, but there's just something about that five-litre mill and its monstrous tone, interspersed with barks, cackles and backfires, that make driving it like a dear old duck somewhat difficult.
There is an option for quietening things down -- put it in ECO mode and don't push the "loud" button to activate the bi-modal exhaust system. It does seem a bit wrong to take this approach -- the dynamic mode switch and the rowdy button do improve the car's already heady levels of brilliance.
There's a new set of parameters to play with, too -- Dynamic-i, which enables you to set and store your own options for the car's behaviour.
Suspension firmness (rockhard as default in fast mode) and the engine's power delivery are among a set allowing a lot of personalisation -- but beware, if you don't understand what you're telling it to do, there's a good chance that a steep bank or a solid powerpole could fill in the gaps.
In ideal conditions, the R will smash the legal limit in four seconds and it will triple it at the top end, although that's electronically limited. It will, say the factory figures, give a combined consumption figure of 11.1L/100km, but the wide grin on my local servo owner's face every time (and there were a few) I pulled on to the forecourt indicates that this is a number discovered by a driver in a coma or well on the way to one.
Those who enjoy driving -- and they're the ones who'll buy this car -- can expect a bite to the petrol budget like Suarez on a mission.
The looks and performance of the F-Type have always impressed me, but the sweeping lines, incendiary abilities and that orchestral exhaust note have put Coupe R at the top of my Lotto list.